Main content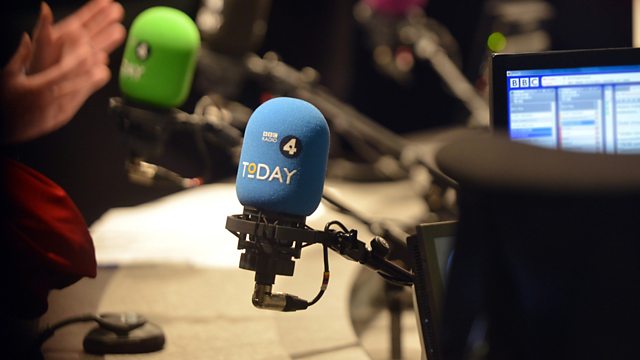 17/09/2015
Morning news and current affairs. Includes Sports Desk, Yesterday in Parliament, Weather and Thought for the Day.
Last on
Clips

Thursday 17th September
0650
Yesterday, the BBC asked Jeremy Corbyn about policy differences within the Labour Party on welfare and on the EU referendum. Norman Smith reports.
0655
As part of our artificial intelligence coverage this week, Simon Jack is reporting live from the Boeing factory in Seattle throughout the programme.
0700
Our North America editor Jon Sopel reports from the Republican presidential debate yesterday.
0710
Reporting live from Seattle, Simon Jack is looking at how robots and humans work together.
0730
This morning's newspapers have dramatic images of masked men in military fatigues dragging away women and children on the border of Hungary and Serbia. BBC chief international correspondent Lyse Doucet reports live from the Serbia-Croatia border and Peter Szabadhegy, Hungarian ambassador to the UK, speaks to us live.
0740
US President Barack Obama has invited a 14-year-old Muslim boy from Texas to the White House, after he was arrested for bringing a homemade clock to school. Ahmed Mohamed wanted to show off his design, but teachers thought it was a bomb. Texas police have decided not to charge him. We speak to Mohamed Elibiary, former United States Homeland Security Department adviser.
0745
It would seem that robots react positively to images that humans might find disturbing. Ryan Calo, Professor of law at Washington university.
0750 
Simon Jack is in Seattle, giving us a tour of the largest building in the world: the Boeing factory.
0830 
The Archbishop of Canterbury has called a special conference for January for all 38 of the Anglican Communion's Primates to talk about some of the key issues dividing the Anglican world. Bishop of Manchester, David Walker and Andrew Symes, executive secretary of Anglican Mainstream in the UK, talk to us about the key issues in dispute.
0835
More from Simon Jack in Seattle, where he's spoke to William Gibson, author of 'Neuromancer'.
0850
The government of Mozambique has just announced that it is declaring the country 'mine free', following The HALO Trust's recent destruction of the last known minefield on its territory. Calvin Ruysen is the HALO Trust's regional director for southern Africa.
0855
Seattle is the fastest growing city in America, where house prices rose 19% in the last year. This is having significant impact on the life of the city at street level, as Simon Jack finds out.
All subject to change.
Broadcast