Main content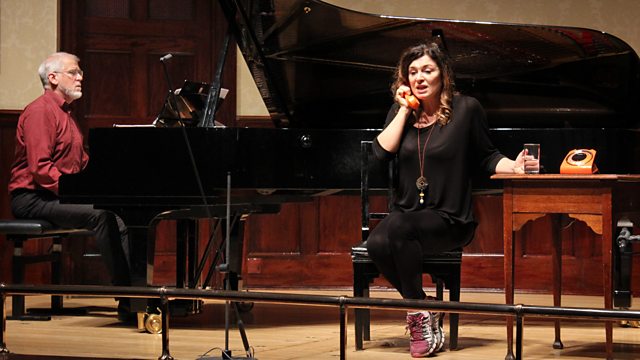 Wigmore Hall Mondays: Anna Caterina Antonacci and Donald Sulzen
Live from Wigmore Hall in London, soprano Anna Caterina Antonacci and pianist Donald Sulzen perform music by Poulenc: La dame de Monte Carlo; La voix humaine.
Live from Wigmore Hall in London, Fiona Talkington presents the opening concert of the new season of flagship chamber-music concerts.
Anna Caterina Antonacci (soprano)
Donald Sulzen (piano)
Francis Poulenc: La dame de Monte Carlo
Francis Poulenc: La voix humaine
Two searching vocal works by that French master of both wit and profundity: Francis Poulenc.
His 1961 monologue "La Dame de Monte Carlo" depicts an elderly woman, addicted to gambling, while "La voix humaine" is a one-act opera, from 1959, setting words by Jean Cocteau in which the pain and torment of a woman rejected by her lover are explored as we hear just her side of their final, fateful, phone conversation.
Italian soprano Anna Caterina Antonacci is accompanied by her regular recital-partner Donald Sulzen in these two searching masterpieces of high-powered emotional intensity.
The concert is the first in the 2016-17 season of Monday Radio 3 Lunchtime Concerts, the network's premier series of chamber concerts which has been broadcast live from London's Wigmore Hall for 18 years. The season runs through until July 2017.