Main content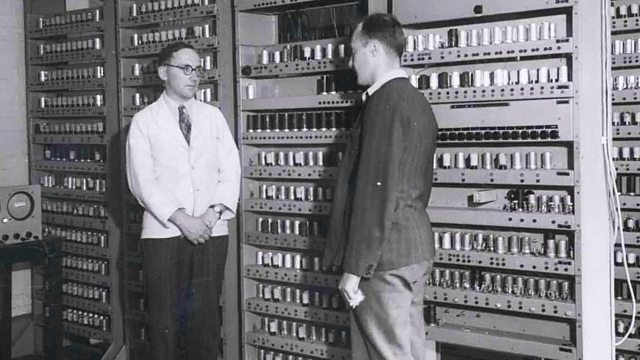 Hannah Fry travels back to the 1940s to hear the incredible story of the creation, in Britain, of computer memory.
From the mobile phone to the office computer, mathematician Hannah Fry looks back at 70 years of computing history, to reveal the UK's lead role in developing the technology we use today.
In the first episode, she travels back to the 1940s, to hear the incredible story of the creation, in Britain, of the computer memory.
Three teams from across the country - in Teddington, Manchester and Cambridge - were tasked with designing automatic calculating engines for university research. But which team would be first to crack the tricky problem of machine memory?
Meanwhile, tabloid headlines proclaimed that engineers were building 'electronic brains' that could match, and maybe surpass, the human brain, starting a debate about automation and artificial intelligence that still resonates today.
Featuring archive from the Science Museum and the BBC Library, plus an interview with technology historian Dr James Sumner from Manchester University.
Presented by Hannah Fry
Produced by Michelle Martin
Photo: Maurice Wilkes and Bill Renwick with EDSAC
Credit: Computer Laboratory, University of Cambridge.
Last on
More episodes
Previous
You are at the first episode
Broadcast

Podcast
Hannah Fry reveals the UK's lead role in developing computer technologies we rely on today