Main content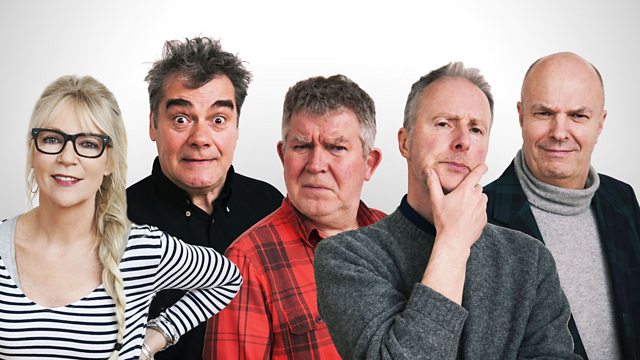 The town council try to hide a scandal and Denzil and Gwynned discuss their son's nativity role. With Pete Baikie. From September 2015.
Members of the cast of Channel 4's hugely popular sketch show Absolutely reunite for a brand new radio series.
Pete Baikie, Morwenna
Banks, Moray Hunter, Gordon Kennedy and John Sparkes are back together with all new material. They are revisiting some of their much loved sketch characters, while also introducing some newcomers to the show.
In 2013, the group got back together for Radio 4's Sketchorama: Absolutely Special, which won a BBC Audio Drama Award in the Best Live Scripted Comedy category.
This second episode of the series features The Stoneybridge Town Council attempting to cover up a possible bribery scandal, Denzil and Gwynned discussing son Codfyl's starring role in a nativity play, the Little Girl's very personal take on having her Tonsils out and Calum Gilhooley trying to get an appointment with a doctor for something "quite urgent".
Mr Muzak sings about the joys of being alone with your computer and the Commissionaire very nearly undergoes an appendectomy. Ther's more from Talking Facebook and the People's War, with stories from those who were nearly there.
Produced by Gus Beattie and Gordon Kennedy
An Absolutely/Comedy Unit production for BBC Radio 4.
Credits
| Role | Contributor |
| --- | --- |
| Performer | Peter Baikie |
| Performer | Morwenna Banks |
| Performer | Moray Hunter |
| Performer | Gordon Kennedy |
| Performer | John Sparkes |
| Producer | Gus Beattie |
| Producer | Gordon Kennedy |