Main content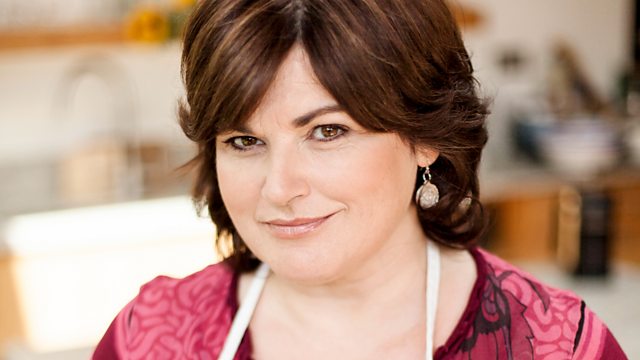 Jam Tomorrow... Today
Series investigating the world of food.
Jam. Think sticky apricot and saccharine strawberry? Think again. Our British love affair with jam goes back to the sweet-toothed 17th century. But now our interest seems to be waning. Shop sales of jam are down amid concerns over the amount of sugar we consume. And anyway, who has time for preserving pans and pretty pots?
But there is another way. In fact there are many. In this programme, 'queen of preserving' and author of 'Salt Sugar Smoke, how to preserve fruit, vegetables and fish' Diana Henry, meets the people thinking differently about jam.
She finds out how to use some of this year's gluts of fruit with Mary Longford, the woman behind Absolute Preserves in Somerset, discovers a beloved but forgotten fruit with gardener and food writer Mark Diacono; And speaks to Fraser Doherty, the man whose healthier jams have made him an international icon with an MBE to boot.
With advice from American preserves blogger for 'Food in Jars' Marisa McClellan, Diana hosts a canning (or jamming) party and explores culinary traditions of jam making from Scandinavia, Ukraine and beyond with food writers Olia Hercules and Camilla Plum. Recipes from around Europe which won't require shiny new kit.
Diana Henry wants you to rise up, and make jam.
Produced in Bristol by Clare Salisbury.
Last on
The Essentials Of Jam Making by Diana Henry
...taken from Salt Sugar Smoke. How to preserve fruit, vegetables, meat and fish. By Diana Henry.
Fruit
The fruit you use should be dry, fresh and just ripe or slightly under-ripe (you can even make decent jam from punnets of rock-hard supermarket apricots). Over-ripe fruit is lower in pectin and acid (two things jam needs), and also doesn't taste as good in the jar... that blowsy over-ripe flavour doesn't compare with juicy freshness. However, I do make some exceptions. If I have a bag of plums which are too soft to eat (not going off, but not in peak condition), I whack them in a pan and make a pot of jam (usually with less sugar, see below).
Pectin
Pectin is found in all fruits and some vegetables. Without it, preserves wouldn't set. It is found in the skins, pith, cores and pips of fruit and also in the cell walls.
Different fruits contain different amounts of pectin. Strawberries, raspberries, peaches and nectarines are low in pectin. Apricots, cherries, greengages and dessert plums are medium. Blackcurrants, redcurrants, damsons, cooking plums (such as Czar), apples and quinces are high in pectin. To produce jams from low-pectin fruit you need to add a high-pectin fruit (apple, or lemon juice), or use sugar with added pectin, or liquid pectin.
Acid
Fruit also contains acid. This helps release pectin, but it's also necessary for flavour. My favourite jams are made from acidic fruits, as they have a good sweet-tart balance. Lemon juice can be added to low-acid fruits to help the release of pectin and 'brighten' the flavour; I often add it after the setting point is reached and before potting, to give a jam freshness.
Sugar
Sugar preserves fruit and allows jams to keep. It also helps pectin to gel and stops it breaking down while the jam is boiling. However, it inhibits the initial release of pectin and toughens fruit skins, so is always added after the first cooking, once the fruit is soft. Traditionally, equal amounts of sugar to fruit are used. This gives a firm set and good keeping qualities, but I find the jams too sweet. It is harder to set low-sugar jams (and they must be refrigerated once open), but I prefer a soft set and a fresher flavour. Use granulated sugar, as large crystals dissolve quickly. I often use sugar with added pectin, usually called jam sugar (not the same as preserving sugar) to help set jams with lower sugar or pectin. Never use it with high-pectin fruit, or you'll get a very hard jam.
Problems
Jam Won't Set
It is too low in pectin or hasn't boiled enough. Boil again with added pectin.  
Jam Is Hard Or Dry
The jam was boiled too much.  
Mould Develops
Jars may not have been fully sterilized or you didn't pot the jam properly.  
Jam Ferments
There wasn't enough sugar, the jam wasn't boiled long enough, the jar wasn't sealed properly, or the fruit was over-ripe.
Olia Hercules' Watermelon Skin Jam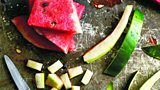 The Kherson region of Ukraine where I am from is watermelon country, and it's where half the country's crop is cultivated (they love the heat). Kris, the photographer, said after seeing them that he could never look at a watermelon in the UK the same way again. During watermelon season in August, there are big trucks by the side of the road full of the huge, firm, stripy beasts.
We do unbelievable things to watermelons. We even (yes, you've guessed it) ferment them with salt. Whole. In barrels. I thought that might be too much for an introductory Eastern European cookbook though, so here is some slightly less scary watermelon skin jam – for those who really hate waste and love jams. I add limes to mine, as I like the kick of acidity and bitterness they give, but you can leave them out if you prefer.
Makes 2 x 450ml ( ¾ pint) jars
500g (1lb) watermelon skin, tough thin green rind peeled and discarded, white skin chopped
300g (10oz) golden caster sugar
4 limes, thinly sliced
1. Mix all the ingredients together in a container, cover with clingfilm and leave in the refrigerator overnight.
2. Cook the mixture in a non-reactive saucepan over a low heat, making sure the sugar melts before it boils, for 50 minutes or until the watermelon skin turns translucent.
3. Pour into 2 warm sterilized 450ml (¾ pint) jars, seal and let it cool. Store in the refrigerator. It should keep unopened for several months.
Taken from Mamushka: Recipes from Ukraine & beyond by Olia Hercules. Published by Mitchell Beazley
Diana Henry's Blackberry and Pinot Noir Jam
My dad used to play lots of Nancy Sinatra and Lee Hazelwood in the car when I was little and one of my favourite songs was Summer Wine ('Strawberries, cherries and a angel's kiss in spring/ My summer wine is really made from all these things'). At that age I didn't associate this with alcohol... I just thought it was a drink that contained the essence of summer. And I wanted to have some. Years later, I think I have made a jam as rich and intoxicating as Hazelwood's voice, and not a million miles away from his 'summer wine'. It is good made with blackcurrants as well. You can use other wines, but pinot noir has a lovely berry fruitiness that gives real depth.<?xml:namespace prefix = o ns = "urn:schemas-microsoft-com:office:office" />
Fills 6 x 225g (8oz) jars
1 small cooking apple, peeled, cored and
chopped into small cubes
1kg (2lb 4oz) blackberries
700g (1lb 9oz) granulated sugar with pectin ('jam sugar')
350ml (12fl oz) pinot noir wine
1 Put the apple into a saucepan with about 4 tbsp water. Cook until it is almost completely soft.
2 Put this into a preserving pan with all the other ingredients (hold back about 30ml/1fl oz of the wine) and slowly bring to a boil, stirring to help the sugar dissolve.
3 Boil hard until the setting point is reached, using a thermometer and doing the 'wrinkle' test(see page 11). Skim the surface of any scum and stir in the remaining wine. Pot the jam in warm, dry sterilized jars, cover with waxed paper discs and seal. This keeps for a year; refrigerate once opened.
Testing For a Set
I use a sugar thermometer (setting point for jam is 104.5°C/220°F, though high-pectin fruits
can set a couple of degrees lower). A thermometer helps you know if your jam is near ready,
but the wrinkle test is the one I rely on, because you get to know the type of set you prefer.
For this, put a plate – I keep a metal one – into the freezer when you start making jam. When
it's time to start testing (when the rolling bubbles have calmed and the jam looks heavy and
glossy), spoon some jam on to the cold plate, refrigerate for a couple of minutes, then push it
with a finger to see if it wrinkles. (Take the pan off the heat while you test, or your jam could
overcook.) If you want a firm set, the wrinkle will stay in place after you have removed your
finger. I pot my jams when they just wrinkle.
Taken from Salt Sugar Smoke. How to preserve fruit, vegetables, meat and fish by Diana Henry. Published by Mitchell Beazley
Mark Diacono's Mulberry Bakewell Tart
I'm not given to risking mulberries' wonderful flavour in baking, but this tart, with the frangipane filling, brings out their best. It works well with blackberries and raspberries too. If you are dozy enough to upend your tart on the work surface, as I did when last I made it, get a plate under it quickly and flip it right side up - scoop the filling in and press it down and while it may look a little rustic, it glues together remarkably well.
For the pastry
170g plain flour
100g unsalted butter
25g caster sugar
1 egg yolk
a pinch of salt
For the filling
125g blanched whole almonds, coarsely ground
125g sugar
90g cold butter
3 eggs
zest of 1 lemon, grated
240g of mulberries (or a generous layer of mulberry jam)
a handful of flaked almonds, lightly toasted
For the pastry - whizz the butter and flour together food processor (or rub together with your hands) until it resembles coarse breadcrumbs. Add the egg yolk, sugar and salt and whizz until the pastry just comes together into a ball. Wrap it in cling film and refrigerate for an hour.
Preheat the oven to 180°C. 
Lightly butter and flour a 25cm tart tin. Roll the pastry out on a lightly floured surface and line the tin with it. Fork the base of the pastry a dozen or so times and cover it with baking beans to stop it rising when cooking. Bake for about 15 minutes or so, until golden.
For the filling - beat the butter and sugar together until pale and fluffy. Stir in the ground almonds, and then add the eggs one at a time, beating as you do. Scatter the mulberries evenly over the pastry case and spoon in the almond mixture. Scatter flaked almonds over the top.
Bake for 35-45 minutes until golden brown. Serve with double cream or ice cream.
Taken from A Year at Otter Farm by Mark Diacono. Published by Bloomsbury.
Credits
| Role | Contributor |
| --- | --- |
| Presenter | Diana Henry |
| Interviewed Guest | Mary Longford |
| Interviewed Guest | Mark Diacono |
| Interviewed Guest | Fraser Doherty |
| Interviewed Guest | Marisa McClellan |
| Interviewed Guest | Olia Hercules |
| Interviewed Guest | Camilla Plum |
| Producer | Clare Salisbury |
Broadcasts