Main content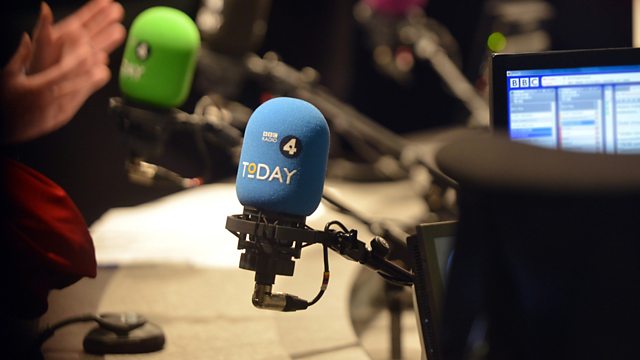 12/09/2015
Morning news and current affairs. Including Yesterday in Parliament, Sports Desk, Weather and Thought for the Day.
Last on
Clips

Today's running order
0710
At the start of the race he had odds of 200/1, but at 11:30 today Jeremy Corbyn is widely expected be announced as Labour's new leader. We hear from Professor John Curtice, professor of politics at Strathclyde University and president of the British Polling Council.
0715
Germany has placed 4,000 troops on standby for this weekend alone to help with incoming refugees, Defence Minister Ursula von der Leyen said on Friday, as the country prepares for the potential arrival of 40,000 migrants. Damian Mcguiness is our correspondent in Berlin.
0720
Hungary's Prime Minister has warned that people who cross the country's border illegally will be arrested from next week. Our correspondent Anna Holligan is on the Hungarian border with Serbia.
0730
Today Jeremy Corbyn is widely expected be announced as Labour's new leader. Sanchia Berg has been asking three people who registered as £3 supporters how involved they plan to be with the party. We also hear from The Times columnist Jenni Russell and David Goodhart, editor-at-large at Prospect magazine, live in our studio.
0740
Russia is holding regional elections tomorrow, and following the mass street protests and accusations of vote rigging during the last federal elections, for the country's liberal opposition it's a chance to test the ground ahead of national elections next year. Sarah Rainsford reports from Kostroma.
0750
The authorities in Saudi Arabia say high winds were responsible for the collapse of a construction crane on to the Grand Mosque in Mecca, which left more than 100 people dead and almost 240 injured. We hear from Sajid Musa, an eyewitness whose mother was inside the mosque when the crash happened, and Baria Alamuddin, foreign editor of Al-Hayat, a leading pan-Arab newspaper.
0810
This week the political crisis in Northern Ireland culminated in the resignation of DUP members of the Northern Ireland Executive in a move they hoped would trigger a suspension of the Assembly by the UK government. We hear from Jude Whyte, whose mother was murdered by loyalist paramilitaries, and Reverend Alan Irwin, whose father and uncle were killed by the IRA.
0820
A section of a vast tapestry depicting 12,000 years of Scottish history has been stolen from public display in Fife.  Speaking on the programme is Jan Rutherford, project manager of the Great Tapestry of Scotland.
0825
In its 40-year history, there has been a great argument about the economic benefits and economic costs of North Sea oil - but there is a human cost too. Jim Naughtie has been exploring the history of North Sea oil for Radio Four.
0830
Today Jeremy Corbyn is widely expected be announced as Labour's new leader. Norman Smith has been assessing the challenge facing the next Labour leader, and we hear from Ken Livingstone, former Mayor of London and Corbyn supporter.
0835
Scientists have been very excited this week about the discovery of a new human-like species in a burial chamber deep in a cave system in South Africa. We have been speaking to Donald Johanson, a paleoanthropologist known for discovering Lucy, a 32-million-year-old skeleton of a hominid in 1974 – at the time the most ancient and most complete early human ever found.
0840
Dozens of people who had fertility treatment might not be the legal parents of their children as a result of "widespread incompetence" in the sector, a judge has said. Jemma Dally is a partner and specialist in fertility law at Goodman Ray solicitors, who represent six of the eight families involved in the case; also joining us live is Peter Thomson, chief executive of The Human Fertilisation and Embryology Authority.
0850
A team of experts is going to investigate recent planning decisions in Edinburgh, putting its world heritage status under threat. Speaking on the programme is Richard Williams, professor of Contemporary Visual Cultures at the University of Edinburgh, and Adam Wilkinson, director of Edinburgh World Heritage.
All subject to change.
Broadcast