Main content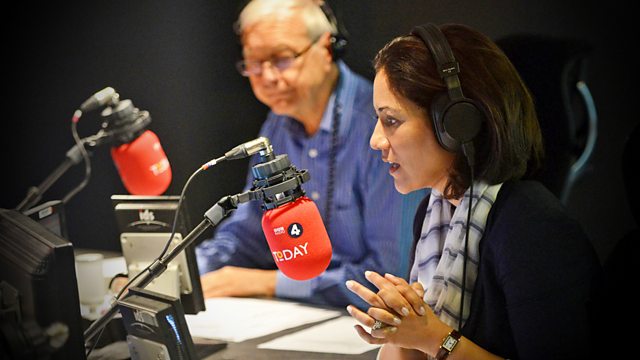 09/09/2015
Morning news and current affairs. Includes Sports Desk, Yesterday in Parliament, Weather and Thought for the Day.
Clips

Today's running order
0650
There are demands for the government to answer a series of questions on a controversial anti-malarial drug given to the armed forces. The Defence Select Committee says it wants to know how many service men and women have complained about side effects after taking Mefloquine - or Larium as it's more commonly known.  The drug is given to soldiers serving overseas - and can cause suicidal thoughts, anxiety, and depression.  In America - it has been banned by the US Special Forces because of its potential side effects. Our reporter Sima Kotecha reports.
0655
The Queen will become the longest reigning monarch in British history today, when she passes the record set by her great-great-grandmother Queen Victoria. Our correspondent Alastair Leithead is at the site of the Treetops Hotel in Kenya, where the Queen learned of the death of her father in 1952.
0710
Britain's marathon world record holder Paula Radcliffe has launched an impassioned defence of her innocence after being in her words: implicated in wide-ranging allegations at a Parliamentary select committee enquiry. Jesse Norman is Chair of the Culture, Media and Sport Select Committee.
0715
The Queen will become the longest reigning monarch in British history today, when she passes the record set by her great-great-grandmother Queen Victoria. Our Royal Correspondent, Peter Hunt reports.
0720
The Government have this week announced plans to resettle 20,000 Syrian refugees in Britain by 2020, although Labour say that figure – which if equally spread works out as 4,000 a year -  is "not enough". In a parliamentary debate yesterday, shadow home secretary Yvette Cooper called for more urgency and said the UK should also take in some of those who have already reached Europe. Home Secretary Theresa May said the government was doing "everything it can" to help refugees most in need. Lord Williams is a distinguished Fellow at Chatham House and former UN Under Secretary General in the Middle East.
0725
HS2 have announced plans, which will be submitted to parliament next week, for the redevelopment of Euston station - including 11 new platforms. But Camden council say the proposals will bring more than a decade of inconvenience to Londoners without any benefit. They also say there's no information about how the Crossrail 2 project will integrate with HS2's plans for the station. Cllr Sarah Hayward is Leader of Camden Council and Rupert Walker is Euston Development Director for HS2 Ltd.
0730
Five years ago - Syria was classified as a lower middle income country - it had high levels of literacy - today the UN says it is the world's biggest exporter of refugees. Half of its population are either displaced within its borders or have fled them. Our Middle East Editor, Jeremy Bowen, reports from Latakia - a stronghold of the Assad regime.  
0740                                                                                                                                   
Two British journalists accused of "working on behalf of a terrorist organisation" in Turkey could face months in prison before learning the extent of the charges against them. Vice News correspondent Jake Hanrahan and cameraman Philip Pendlebury were arrested while filming in the south-east region of Diyarbakir and have allegedly been charged with "assisting Islamic State". They were detained along with a Turkish colleague, who has not been named, while filming clashes between police and youth members of the pro-Kurdistan Workers' Party (PKK) last Thursday. Kevin Sutcliffe is Head of News Programming in Europe for Vice an international online news channel.
0750
On Monday the Prime Minister revealed in parliament that an RAF drone strike killed two British jihadists in Syria in August. David Cameron said it was a legal act of self-defence. On this programme yesterday, Defence Secretary Michael Fallon said the government would not hesitate to launch more secret drone strikes in Syria to thwart terror plots. Some have compared the attack to the approach the US government has taken in Pakistan and Yemen over the past decade or so. Lt Col Tony Shaffer is a Senior Fellow to the London Center for Policy Research who was Defense Intelligence Operative in Afghanistan between 2003-2004 at the time when the US started using drones and Lord Macdonald is a former Director of Public Prosecutions and now Liberal Democrat peer.
0810
The Queen will become the longest reigning monarch in British history today, when she passes the record set by her great-great-grandmother Queen Victoria. Lord Owen is a former foreign secretary and member of the Order of the Companions of Honour, Robert Tombs is Professor of History at the University of Cambridge, and author of The English and Their History and Dr Tracey Borman is a historian.
0820                                                            
Hikers in the Lake District have been warned not to rely on mobile phones to plot their route on the fells, as mountain rescuers in the national park voice concern about the current spike in callouts. Volunteers with the Coniston Mountain Rescue Team in the Lake District have already been sent into action 47 times this year – more than in the whole of 2014. Jeff Carroll is Deputy Leader of Coniston Mountain Rescue Team.
0830
Former BP chief executive Lord Browne has a new book coming out, Connect, in which he urges businesses to rebuild trust with the public by ditching the ignored reports of the corporate responsibility department, getting rid of PR spin and radically engaging with society in an open, honest and ethical way. The book argues that the hate businesses generate by not doing this risks harming global development.
0840
The President of the European Commission Jean Claude Juncker is about to deliver his annual state of the union address - in which he'll lay out a series of proposals for dealing with the crisis caused by refugees and other migrants arriving in the EU in huge numbers. Our Europe correspondent Chris Morris reports.
0845
Andrew Roberts's new book 'Elegy: The First Day of the Somme' suggests that General Haig, the British commander on the Western Front for most of World War One, was neither a butcher nor a genius. He instead proposes a third theory - Haig was a perfectly competent General who was let down by the advice and intelligence he was given.
0850
The government is planning to amend the rules about when children in England can start school - so those born in the summer months do not have to begin their first year in the classroom having just turned four. To coincide with the start of the new school year, the Schools Minister Nick Gibb has written an open letter to parents, local authorities and headteachers setting out his desire to change the School Admissions Code.
0855
Last night Wayne Rooney became England's all-time record goal scorer as Roy Hodgson's team beat Switzerland in a European championship 2016 qualifying game. Wales, at the top of their group, are on their way for qualifying for a major international competition - for the first time in more than 50 years.  Northern Ireland with 17 points are also at the top of their group. Scotland remain confident they can qualify but are fighting it out with the Republic of Ireland for a slot. So is there an improvement in the quality of our home nation football teams or is this a fluke? Two years ago Greg Dyke gave a stark warning about the health of English football. Greg Dyke is chairman of The Football Association and Shelly Kerr played professionally for Scotland and managed Arsenal ladies, the most successful  team in the history of women's football.
All subject to change.