Main content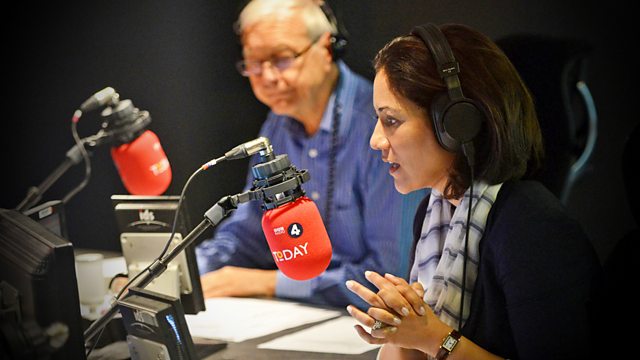 26/08/2015
Morning news and current affairs. Includes Sports Desk, Weather, Thought for the Day.
Today's running order
0650
New initiatives are being introduced to tackle the problem of livestock theft which cost more than six and a half million pounds last year. Tim Price is rural affairs specialist from NFU Mutual.
0710
China yesterday reduced its main interest rate to boost growth in its economy in the latest move to calm the falling markets. Robert Peston is economics editor.
0715
Harriet Harman said yesterday that 3,000 alleged "cheats" have so far been excluded from voting in the Labour leadership contest, with more expected. Max Kolombos is a Labour registered supporter who has been denied a vote in the leadership election. Ian Austin MP is a former special adviser to Gordon Brown.
0720
New details have emerged of the discussions that preceded the Cabinet Office paying a controversial £3m grant to the charity Kids Company in late July, just days before it closed its doors. We speak to Peter John, leader of Southwark Council.
0730
Former MP Harvey Proctor has described Operation Midland, the Met Police inquiry into claims powerful men abused children in the 1970s and 1980s, as a "homosexual witch hunt", a day after being questioned by police for a second time. We hear from reporter Tom Bateman and Clive Driscoll, former Metropolitan Police Detective chief inspector.
0740
Tony Kemp, the first emergency responder at the scene at the Shoreham airshow crash, says a small number of bystanders roamed the crash site in the initial aftermath filming with their mobile-phones. We speak to Mr Kemp this morning.
0750
Up to a thousand migrants are waiting at a holding camp near the Serbia/Hungary border, the majority of whom are from Syria and who had been part of a group of migrants who were detained for days in Macedonia last week. Ed Thomas reports from Hungary.
0810
China yesterday reduced its main interest rate to boost growth in its economy in the latest move to calm the falling markets. John Sudworth reports. We also speak to Sir Martin Sorrell, chief executive of WPP, whose half year results are being released this morning.
0820
Most people can readily conjure images inside their head, known as their mind's eye. This year scientists have described a condition, aphantaisa, which leaves their brain unable to visualise. James Gallagher reports.
0825
The latest book by the author William Boyd begins with a black and white photograph of a young woman, standing in a pool of water, striking a pose with one arm aloft. The caption says it's the photographer Amory Clay, photographed in the 1920s. We are joined by Mr Boyd.
0830
The German chancellor Angela Merkel will visit a refugee centre which was the focus of violent far-right protests over the weekend. Klaus-Peter Willsch is a CDU Politician.
0840
Australian senator Richard Lion-Helm thinks the country has become something of a nanny state. He says Australians' "adventurous spirit" is being paralysed by rules and regulations and he's set up a parliamentary inquiry. Jon Donnison reports.
0845
Greg Rutherford won Gold at the World Championships in Beijing yesterday. We speak to him this morning.
0850
Exams boards have come under fire this week for the lack of female composers on the national curriculum. Errollyn Wallen is the first black woman composer to have a work performed at the Proms. Anna Beer is author of Sounds and Sweet Airs: The Forgotten Women of Classical Music.
All subject to change.