Main content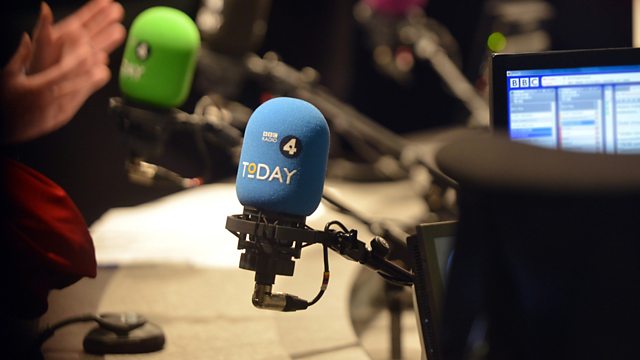 08/09/2015
Morning news and current affairs. Includes Sports Desk, Yesterday in Parliament, Weather and Thought for the Day.
Last on
Clips

Today's running order
0650
The new government has suffered its first defeat in the House of Commons, over changes to rules governing the in/out EU referendum campaign. Ministers wanted to amend purdah rules which limit government activity during the campaign period. But Labour teamed up with rebel Tory MPs to block the move by 312 to 285 and ensure the normal rules would apply. Labour said the defeat was "humiliating" for the Conservative government. Thirty-seven Conservative MPs rebelled – including five former cabinet ministers. Bernard Jenkin is Conservative MP, chairman of the Public Administration Select.
0655
Almost 200 of the UK's most senior scientific research men and women have signed an open letter published in Tuesday's FT calling on the Government to ring fence public spending on scientific research in the upcoming comprehensive spending review. Alison Clough is CEO of the Association of the British Pharmaceutical Industry, the ABPI, and a signatory on the open letter to the Government.
0710
Two British fighters with so-called Islamic State were killed by an RAF drone strike in Syria in an "act of self-defence", David Cameron told Parliament yesterday. Cardiff-born Reyaad Khan was targeted in Raqqa on 21 August and died alongside fellow Briton Ruhul Amin and another fighter. Khan, 21, had been plotting "barbaric" attacks on UK soil, Cameron said, arguing the action was lawful and necessary, despite MPs previously ruling out UK military action in Syria. In the same statement, Cameron announced the UK will accept up to 20,000 refugees from Syria over the next five years, mainly young people currently living in camps in Syria, Turkey and Jordan. Our correspondent Hywel Griffith reports on the reaction of Cardiff Muslims to the news of Reyaad Khan's killing and Philippe Sands QC is barrister and Professor of Law at University College London.
0715
One of the British Vice News journalists who was arrested in Turkey last month says he feels a massive sense of responsibility for his Iraqi translator who remains in custody. In his first interview since his release from prison 3 days ago, reporter Jake Hanrahan has told this programme he won't celebrate being back in the UK until Mohammed Ismael Rasool is also freed. He and his cameraman Philip Pendlebury were arrested along with their translator in the south-east of the country last month.
0720
Hurricanes have names - so why not storms? The Met office is looking for names to give a number of storms expected over the winter - and they are appealing to the public for help. Derrick Ryall is head of the public weather service at the Met Office.
0730
As the fate of tens of thousands of Syrian refugees desperately trying to make their way to Europe continues to dominate the news, people from across the UK wanting to help have been taking matters into their own hands. Clothes, camping gear and tinned food are among some of the items being donated to help those migrants closest to Britain – the roughly 3-4000 living just outside Calais in what's known as the jungle - along with less useful things like musical instruments, frozen food and out of date medicines. Professional charities say this grass roots giving doesn't help – and that donating cold hard cash to them is the best way to help. Nick Harvey is from charity Doctors of the World – who has been operating in Calais 'jungle' since 2003, Nick himself has been 5 times, most recently two weeks ago – it's the only medical charity to be operating in the jungle and Liberty Hughes is a grass roots charity organiser who has been organising donations to Calais migrants.
0740                                                                                                                                   
A controversial sculpture by Sir Anish Kapoor on show at the Palace of Versailles in France has been vandalised for a second time. The huge installation, called Dirty Corner, was covered with slogans, some of which were anti-Semitic. Jim spoke to Sir Anish about his reaction to the vandalism.
0750
Plans to extend free childcare places in England's schools could backfire, leaving fewer children attending school nurseries, according to head teachers. The government has pledged to extend free childcare from 15 to 30 hours a week to working parents from 2017. A NAHT heads' union survey of schools with nurseries suggests most would have to cut places to accommodate children moving from a half to a full day. Our Education editor Branwen Jeffreys reports and Russell Hobby, General Secretary of the NAHT (National Union of Head Teachers).
0810
Two British fighters with so-called Islamic State were killed by an RAF drone strike in Syria in an "act of self-defence", David Cameron told Parliament yesterday (see 0710). Kat Craig is Legal Director of Reprieve's Abuses in Counter-Terrorism team and the Defence Secretary Michael Fallon.
0820                                                            
All parents want their children to be confident and perform well in class. But what is the best way to encourage them to participate if they struggle with shyness or get lost in lessons? There's been a call for the return of "hands up!" from the government's new school behaviour advisor - on the basis that the old methods of class discipline are among the best. But is this the best approach for teachers and children? Kim Knappett is a science teacher in South East London and president of the Association of Teachers and Lecturers and Dylan Wiliam is Emeritus Professor of Educational Assessment at UCL.
0830
The UK will accept up to 20,000 refugees from Syria over the next five years, David Cameron told MPs yesterday. The prime minister said the UK had a "moral responsibility" to those living in camps bordering Syria while doing all it can to end the conflict there. Vulnerable children and orphans would be prioritised in what would be a "national effort", Mr Cameron said. Jeremy Bowen is Middle east editor in Latakia and Lord Ashdown is a former Lib Dem leader.
0840
By the end of the week, we won't just know who the new Labour leader is. The party will also have selected its candidate to be the next London Mayor. Boris Johnson's second term as the capital's figurehead runs out next year. Amongst the favourites to win the Labour nomination is Dame Tessa Jowell; a proud admirer of Tony Blair. So why - when to be seen as a Blairite has apparently been the kiss of death in Labour's leadership race - do some Labour activists in London seem to see things differently? Our Political Correspondent Chris Mason reports.
0850
Indigenous leaders in Brazil have accused the government of pursuing a deliberate policy of genocide after a Guarani Indian leader was killed in the west of the country. The man was shot dead as hundreds of indigenous families invaded farmland which they say is legally theirs. Wyre Davies reports from Matto Grosso do Sul where landowners deny murder but both sides blame the government for standing by and doing nothing.
0855
From today, all employers across England and Wales will be able to refer employees facing long-term sickness into a new support service, aimed at helping them return to work. The government-backed scheme Fit For Work provides the services of occupational health professionals to workers if they have been, or are likely to be, off work for four weeks or more. Each year, as many as 865,000 employees in England and Wales are signed off on long-term sick leave, reckoned to cost the economy £15bn a year. Dr Lucy Goundry is Medical Director at 'Fit for Work'.
All subject to change.
Broadcast