Main content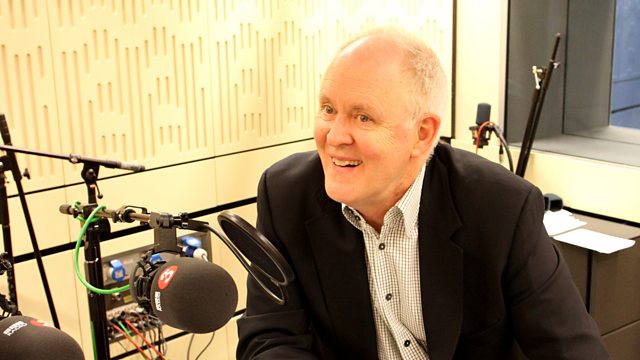 Wednesday - Rob Cowan, plus Sarah Walker with John Lithgow
With Rob Cowan. Including Five Reasons to Love Operetta; Musical challenge; Artist of the week: the Vienna Philharmonic, featured in Beethoven's Symphony No 8 in F.
9am
A selection of music including '5 reasons to love... operetta'. Throughout the week Rob makes the case for this sometimes overlooked genre, showcasing some personal favourites that demonstrate the many delights of light opera: charm, wonderful tunes, great singers and quirky and amusing storylines. You may not hear operetta in quite the same way again!
9.30am
Take part in today's music-related challenge: listen to the clues and identify the mystery person.
10am
Rob's guest this week is Nicholas Parsons. Actor, cabaret performer, stand-up comedian, panel show host and quizmaster, Nicholas has had a long and varied career in show business since he first started working in repertory theatre in the 1940s. He became a household name in the 1970s as the host of game show Sale of the Century but is perhaps best known as the chairman of BBC Radio 4's Just a Minute. Nicholas has chaired the hit comedy panel game since its inception in 1967 and hasn't missed a show in 48 years. Nicholas will be talking about the seven decades he has spent working in radio, theatre and television, and sharing a selection of his favourite classical music every day at 10am.
10.30am
Vintage Proms 1915 - music inspired by a Prom from 100 years ago
During the BBC Proms 2015 Rob takes a look at the Proms season from a century ago and plays music that reflects a time when concert programmes were quite different from those of today. This week Rob showcases highlights including two Elgar rarities, Carillon and Polonia, Parry's Overture to an Unwritten Tragedy and Mendelssohn's Rondo brillant in E flat major, all of which received their Proms premiere during the 1915 season.
11am
Rob's artist of the week is one of the world's finest orchestras, the Vienna Philharmonic. Since its foundation in 1842 the orchestra has earned a reputation as one of the greats, making top recordings stretching back to 1905 and performing over a hundred concerts every season. Throughout the week Rob shares the Vienna Philharmonic's interpretations of works by composers including Mozart, Beethoven and Strauss, under the batons of maestros such as Karl Böhm, Claudio Abbado and Fritz Reiner.
Including:
Beethoven
Symphony No.8 in F Op.93
Vienna Philharmonic Orchestra
Claudio Abbado (conductor).
Music Played
5 Reasons to Love... Operetta

John Lithgow's Choice No.1

John Lithgow's Choice No.2

PROMS ARTISTS OF THE WEEK: VIENNA PHILHARMONIC ORCHESTRA
Mystery Person
Answer: Sviatoslav Richter