Main content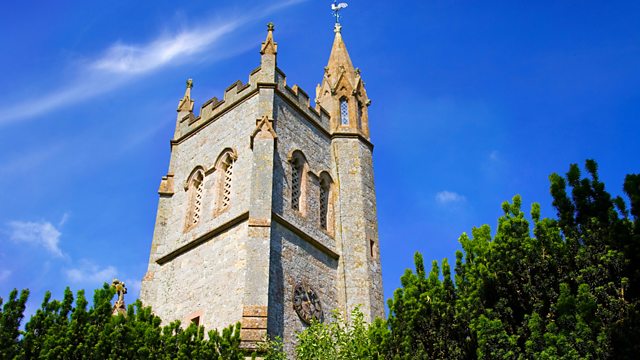 Faith in God's Plan
A service with the staff and students of South Wales Baptist College, Cardiff, in which the principal the Rev Dr Peter Stevenson preaches. Music by Cambrensis.
A live service from Albany Road Baptist Church, Cardiff, led by the Rev. Dr. Craig Gardiner with the staff and students of the South Wales Baptist College. The preacher is the Principal, the Rev. Dr. Peter Stevenson. The Cambrensis Choir is accompanied by Jonathan Davies, and directed by Anne Brown.
Producer: Karen Walker.
Script
Please note:
This script cannot exactly reflect the transmission, as it was prepared before the service was broadcast. It may include editorial notes prepared by the producer, and minor spelling and other errors that were corrected before the radio broadcast.
It may contain gaps to be filled in at the time so that prayers may reflect the needs of the world, and changes may also be made at the last minute for timing reasons, or to reflect current events.
Continuity announcement
BBC Radio 4.  "Faith in God's plan" is the theme for Sunday Worship now, celebrated by the staff and students of South Wales Baptist College.  The preacher is the principal, the Rev'd Dr. Peter Stevenson.  The service, which comes live from Albany Road Baptist Church, Cardiff, is led by the Rev'd Dr Craig Gardiner, and begins with music on a celebratory note – 'Hallelujah, Praise the Lord'. 
ITEM 1                  MUSIC 1               CHOIR/PIANO/BASS/DRUMS  
Gospel Mass : Hallelujah Praise the Lord (Robert Ray)
ITEM 2           INTRO          REV. DR. CRAIG GARDINER    
Good morning and welcome to Cardiff.   For over 200 years the Baptist College here has been training people who've served as ministers and missionaries in the UK and in many other parts of the world.   As well as teaching in Cardiff University our 4 tutors seek to equip men and women for effective Christian service  in a changing world; and at heart we're a community of disciples helping people to explore the nature of their Christian calling.
ITEM 3                  Verses from Psalm 121 WAYNE  & NICOLA
NICOLA - I lift up my eyes to the hills—
from where will my help come?
WAYNE –My help comes from the LORD,
who made heaven and earth.
NICOLA He will not let your foot be moved;
WAYNE - he who keeps you will not slumber.
He who keeps Israel will neither slumber nor sleep.
NICOLA - The LORD will keep you from all evil;
he will keep your life.
WAYNE - The LORD will keep
your going out and your coming in
from this time on and forevermore.
ITEM 4                  MUSIC 2               CHOIR/PIANO/BASS/DRUMS
(Richard Smallwood) - Total Praise
ITEM 5      OPENING PRAYER                        CRAIG  
 Let us pray:
Lord, as we greet this new day,
We lift our voices to you in praise;
For you are the living God;
the one who neither slumbers nor sleeps,
who lovingly watches over us day and night.
Lord, as we think about the struggles we're facing,
and wonder what the future may bring,
We lift our voices to you in praise;
For you are the eternal God,
the one who keeps guard over our lives
How majestic is your name in all the earth. Amen
And now, our College Principal, Peter Stevenson, introduces this morning's theme.
ITEM 6  ADDRESS PART 1             REV DR PETER STEVENSON  
                                It was about this time of year, 40 years ago, that I packed my bags, got on the ferry at Belfast and made the overnight crossing to Liverpool.  The next morning, very much looking forward to going to theological college, I boarded a train at Lime Street heading for Oxford.
                                Not surprisingly, I was excited about the opportunity to discover more about the heart of the Christian faith – but thinking about it now I realise that back then I'd no real idea where it was all going to lead.
                                But over the next couple of years I began to sense that I should find the courage to take the plunge and test out whether or not God might be calling me to become a Baptist minister.
                                Now I have to confess that there wasn't a loud voice from heaven telling me what I had to do, but over a number of months it felt as if God was placing the challenge of ministry in front of me. And after a lot of prayer and heart-searching I felt that I'd always regret it if I didn't have the faith and the courage to say 'Yes' to that challenge.
                                Taking that step of faith was an important turning point in my life – but little did I imagine that one day I'd find myself working in a theological college, walking alongside people who're exploring the shape of God's call upon their lives, And it's a really great privilege for me to do that. Of course God's call comes in many different ways and in Genesis chapter 12 we encounter one famous story of faith which speaks about the patriarch Abraham responding to God's call
ITEM 7                  READING 1          REV. DR. KAREN SMITH   
[Genesis 12:1-9]
                                  Now the LORD said to Abram, "Go from your country and your kindred and your father's house to the land that I will show you. 2 I will make of you a great nation, and I will bless you, and make your name great, so that you will be a blessing. 3 I will bless those who bless you, and the one who curses you I will curse; and in you all the families of the earth shall be blessed."
                                4 So Abram went, as the LORD had told him; and Lot went with him. Abram was seventy-five years old when he departed from Haran. 5 Abram took his wife Sarai and his brother's son Lot, and all the possessions that they had gathered, and the persons whom they had acquired in Haran; and they set forth to go to the land of Canaan. When they had come to the land of Canaan, 6 Abram passed through the land to the place at Shechem, to the oak of Moreh. At that time the Canaanites were in the land. 7 Then the LORD appeared to Abram, and said, "To your offspring I will give this land." So he built there an altar to the LORD, who had appeared to him. 8 From there he moved on to the hill country on the east of Bethel, and pitched his tent, with Bethel on the west and Ai on the east; and there he built an altar to the LORD and invoked the name of the LORD. 9 And Abram journeyed on by stages toward the Negeb.
ITEM 8                  LINK                       CRAIG GARDINER
We sing now of the God who guided Abram and who also guides us on our journeys of faith: Guide me O thou great Jehovah
ITEM 9  MUSIC 3               CHOIR/CONG/ORGAN/VIOLIN
Guide me O thou great Jehovah ( Cwm Rhondda) William Williams/John Hughes
Arranger Jeffrey Howard
ITEM 10                                LINK                       CRAIG GARDINER
Our New Testament Reading from Hebrews chapter 11, beginning at verse 8,  portrays Abraham and Sarah as people who lived by faith.
ITEM 11                READING 2                          MICHELLE
[Hebrews 11:8-16]
8 By faith Abraham obeyed when he was called to set out for a place that he was to receive as an inheritance; and he set out, not knowing where he was going. 9 By faith he stayed for a time in the land he had been promised, as in a foreign land, living in tents, as did Isaac and Jacob, who were heirs with him of the same promise. 10 For he looked forward to the city that has foundations, whose architect and builder is God.
                13 All of these died in faith without having received the promises, but from a distance they saw and greeted them. They confessed that they were strangers and foreigners on the earth, 14 for people who speak in this way make it clear that they are seeking a homeland. 15 If they had been thinking of the land that they had left behind, they would have had opportunity to return. 16 But as it is, they desire a better country, that is, a heavenly one.
                Therefore God is not ashamed to be called their God; indeed, he has prepared a city for them.
ITEM 12                LINK                       CRAIG GARDINER
Those verses from Hebrews chapter 11, were intended to encourage weary believers, and to inspire them to continue living by faith.
And so we affirm and celebrate that invitation to 'walk by faith and not by sight' as the Cambrensis choir sing: 'By faith we see the hand of God...
ITEM 13   MUSIC 4            CHOIR/BASS/DRUMS/VIOLIN      DUR:
By faith, we see the hand of God
(Stuart Townend , Keith Getty & Kristyn Getty / Thankyou Music )
ITEM 14                ADDRESS PART 2                              PETER STEVENSON
                                A few months ago, Michelle Obama gave a speech to university students in Alabama. And during that Commencement Address, America's First Lady was very open and honest about what she felt had been very personal attacks directed at her by various sections of the press.
                                "All of this used to really get to me", she said.   "I had a lot of sleepless nights, worrying about what people thought of me, wondering if I might be hurting my husband's chances of winning his election, fearing how my girls would feel if they found out what some people were saying about their mom.'
                                Having survived those personal attacks, she said 'Eventually, I realized that if I wanted to keep my sanity and not let others define me, there was only one thing I could do, and that was to have faith in God's plan for me.'
                                Now we're all familiar with the idea that most public figures in the UK don't officially 'do God' – so it's very interesting to hear such a high profile person explaining how having faith in God's plan has been such a source of strength
                                And in the extract, which we heard, from Hebrews chapter 11,  it's clear that Abraham was someone who certainly had faith in God's plan for him.
                                For in response to the call and promise of God; by faith Abraham was willing to leave behind family, friends and familiar surroundings, in order to set out on a journey to somewhere new, and remarkably, 'he set out not knowing where he was going.' (Hebrews 11:8)
By faith Abraham…      But what is faith…?
                               At times I wonder if some of us think about faith, in the kind of way that one of the characters in Lewis Carroll's book Through the Looking Glass talks about it?
                                For at one point in the book we find the White Queen talking with a certain officiousness, asking Alice 'hold old are you?' To which the little girl, politely replies, 'I'm seven and a half exactly.'
ITEM 15                EXTRACT              LESLEY
You needn't say "exactly,"' the Queen remarked: 'I can believe it without that.
Now I'll give YOU something to believe. I'm just one hundred and one, five months and a day.'
'I can't believe THAT!' said Alice.
'Can't you?' the Queen said in a pitying tone.
'Try again: draw a long breath, and shut your eyes.'
Alice laughed. 'There's no use trying,' she said: 'one CAN'T believe impossible things.'
'I daresay you haven't had much practice,' said the Queen. 'When I was your age, I always did it for half-an-hour a day. Why, sometimes I've believed as many as six impossible things before breakfast.
ITEM 16                PETER CONTINUES ….
                                For some perhaps, faith is hard to take seriously because they feel that faith means making a superhuman effort to force yourself into believing things you just know aren't true?
                                But when we turn to the experience of Abraham, we can see that faith is not about believing six impossible things before breakfast – because, faith means trusting and obeying God.
                                Even if Abraham didn't know all the details about where he was going, he reckoned that God was faithful, that God was trustworthy.   And so when God called Abraham to set out on his risky pilgrimage, he trusted Him enough to obey -  he embarked on his travels trusting that the God who'd called him would never leave him or forsake him.
                                And the living God still today calls us to trust and obey  Him  – even if we haven't got all the answers.   And we have so much more reason to trust God than Abraham ever had.
                                The book of Hebrews calls Jesus the pioneer and perfecter of our faith, whose death and resurrection, Jesus show that God's love is stronger even than death.
                                Earlier this year, my wife Susan and I booked a week's holiday in Cyprus. And so on the Wednesday after Easter Sunday we flew out from Cardiff to Paphos.
                                On the way out to dinner we spotted a notice about a trip to a local Orthodox church's Easter celebration. 
                                But as we were starting to feel sorry that we'd missed that opportunity we remembered that the Orthodox Christians  use  a different calendar  and their Easter Celebrations would actually take place in just a few days' time.
                                And so on Saturday night we found ourselves in a church jam-packed with people
                                We squeezed our way in and then just before midnight all the lights went out. After a moment or two the priest emerged from behind the screen holding a candle, and the church began to fill with light as people lit their candles from the priest's candle and then shared the light with one another.
                                They processed outdoors to carry on with their Easter liturgy, and Christ is risen was the message that came through over and over again.
                                each time the priest announced that Christ is risen - everyone raised their candles to celebrate that the Lord is risen – he is risen indeed.
                                So having celebrated Easter in Cardiff we got a double dose of Easter in Cyprus.
A double-dose of Easter…
                                I suspect that our hopeless world needs a double dose of Easter – that it needs to know the good news that Christ has conquered death – that he's alive for evermore.
                                None of us knows what the future will bring, but we believe that whatever the different seasons of life throw at us, the living Christ is able to keep his promise never to leave us or forsake us.
                                It's because Christ is Risen, - because the living Christ is with us, that it's possible to trust God in the good times and in the difficult times too as we follow God's calling to faith. And the trustworthiness of God is the message we declare as we sing 'Bless the Lord O my soul.'
ITEM 17     MUSIC 5  CHOIR /CONG /PIANO/BASS/VIOLIN
Bless the Lord O My soul (10,000 reasons)
(Graham Maule & John L. Bell. Copyright © 1987 WGRG, Iona Community)
ITEM 18                ADDRESS P3       PETER STEVENSON    DUR:
                                In that Commencement Address back in May, Michelle Obama not only mentioned how important having Faith in God's plan is in helping her navigate choppy waters – but she also offered that insight as a resource to those young people who're wondering what the future's going to bring their way.
                                And it's interesting to notice how she unpacked that idea for them, by talking to them about the importance of fulfilling their duty towards others.
                                She said '… if you rise above the noise and the pressures that surround you, if you stay true to who you are and where you come from, if you have faith in God's plan for you, then you will keep fulfilling your duty to people all across this country.'
                                And I'm glad she said that because it's a healthy reminder that when Christianity invites us to trust in God's purposes, that the desire of God is to work in us and through us in order to bring blessing to others.
                                For that's the idea we see emerging in our earlier reading from Genesis chapter 12.
                                Because God doesn't call Abraham to move out of his comfort zone just to make him feel homesick or uneasy. As we follow the story it's very clear that God calls Abraham to leave familiar things behind, and to step out in faith, so that through him all the families of the earth will be blessed.
                                As we follow the biblical narrative we begin to see that being called by God isn't about getting special privileges – it's much more about accepting special responsibilities.
Whatever path of life He calls us to God invites us to co-operate with His loving purposes in order that others will be blessed.
                                And that's not surprising when we realise that another dimension of trusting God's plan is to recognise that the divine intention is to make people more and more Christ-like.
                                Recently I was reading a book by the Rector of St Martin in the Fields in London – Dr Sam Wells, - who's becoming a familiar voice on Radio 4. He was writing about that famous passage in Romans chapter 8 which says that in all things God works for the good of those who love him.
                                He writes about his initial fear that those verses might be used as a sort of pious sticking plaster which ignores the harsh realities of life. But then he began to see things from a different perspective, and realised that the apostle Paul had a very specific definition of 'good', because 'his definition' of good 'is "looking like Jesus".
                                All of which leads him to suggest that 'the whole purpose of God among human beings (was) making and remaking us to look like Jesus.'
And those comments help me to see that trusting God involves recognising that God's intention is for us to be conformed to the image of His Son – to be like Jesus Christ
                                And as Sam Wells helpfully explains: 'faith means cooperating with that process'.
                                Faith means co-operating with the Holy Spirit And that process takes place as we run the race of faith with our eyes fixed on Jesus, the pioneer and perfecter of faith (Hebrews 12:1-3)
                                And today this living Jesus invites us to have faith in God's good purposes and he says to you and to me 'Will you come and follow me.
ITEM 19                MUSIC 7  CHOIR/CONG/ORGAN/VIOLIN
Will you come and follow me if I but call your name?  (John L Bell)
ITEM 20                LINK                       CRAIG GARDINER
We respond to the God who calls us to follow as we pray together
ITEM 21  PRAYERS            WAYNE  & NICOLA                                          DUR:
NICOLA               
Lord Jesus Christ,
You call us by name,
inviting us to live by faith.
But with so many voices clamouring for our attention,
we confess that we are easily distracted.
Open our ears to hear your voice.
Move us by your Spirit to trust and obey your commands.
And help us to follow wherever you may lead us.
WAYNE
                                Lord, we pray for those thousands of people, made in your image, who're on the move today, seeking a safer homeland, not knowing if they'll survive,  or where their journey will end.
                                We pray for wise and compassionate responses to those seeking refuge and shelter.
                                We pray also for real efforts to address the underlying causes of the poverty and conflict which drive people from their homes, leading them to risk everything on such a desperate search for places of peace and justice.
ITEM 22                LORD'S PRAYER                 CRAIG & ALL 
                                Faced with such complicated situations we hardly know how to pray. But we can pray for the coming of God's kingdom.
For God's will to be done here on earth.
We pray as Jesus taught us to pray:-
Our Father in heaven, hallowed be your name,
your kingdom come, your will be done,
on earth as in heaven.
Give us today our daily bread.
Forgive us our sins  as we forgive those  who sin against us.
Lead us not into temptation  but deliver us from evil.
For the kingdom, the power, and the glory are yours
now and for ever.  Amen.
CRAIG
Craig Gardiner - We gather up our worship this morning as we sing: 'Be thou my vision'.
ITEM 23                MUSIC 8               CHOIR / CONG /ORGAN 
Be Thou My Vision
Tr. Mary E. Byrne & Eleanor H. Hull
ITEM 24                BLESSING                            PETER STEVENSON
1                              May the strength of God pilot us,    
May the power of God preserve us,
May the wisdom of God instruct us,
May the hand of God protect us,
May the way of God direct us,
May the shield of God defend us,
May the host of God guard us
Now and always. Amen
2                              Faithful God, so unchanging,
grant us grace to live by faith,
trusting and serving you day by day,
building for your coming kingdom,
looking forward to the victory of Jesus Christ, our Lord. Amen
3                              May the Lord bless you and take care of you;
May the Lord be kind and gracious to you;
May the Lord look on you with favour and give you peace.
Amen
ITEM 25                ORGAN PLAYOUT                            JONATHAN DAVIES
Nun Danket Alle Gott Op 65 / Sigrid Karg-Elert
BACK ANNO:
Albany Road Baptist Church in Cardiff was the host to staff and students of South Wales Baptist College in this morning's Sunday Worship.  The service was led by the Rev'd Dr. Craig Gardiner and the address was given by the Principal, the Rev'd Dr. Peter Stevenson.    Cambrensis was directed by Anne Brown, and the accompanist was Jonathan Davies.  The producer was Karen Walker.  Anticipating the beginning of the Rugby World Cup, next week's Sunday Worship comes live from the chapel of Rugby School and takes the life and sayings of Jesus as an example for when to make, bend, and even break the rules!