Main content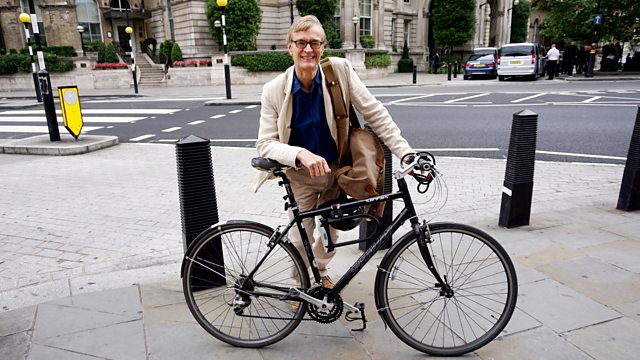 Sustrans
Nick Crane presents The Radio 4 Appeal for Sustrans
Registered Charity No 326550
To Give:
- Freephone 0800 404 8144
- Freepost BBC Radio 4 Appeal, mark the back of the envelope 'Sustrans'.
- Cheques should be made payable to 'Sustrans'.
Last on

Sustrans
Sustrans enables people across the UK to travel in ways which benefit their health and the environment. With obesity on the rise and vehicles polluting our streets, there is an urgent need to transform the way we travel and create public spaces which are safe for people.

By working in schools, workplaces and communities, we give millions of people the skills, knowledge and confidence they need to travel more by bike, on foot and by public transport. We also design and create walking and cycling routes in rural and urban areas to give people a safe journey from their doorsteps. 
The National Cycle Network: connecting communities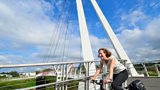 In 1995 Sustrans began developing the National Cycle Network, and now nearly five million people use the walking and cycling routes every year. Over the last 20 years, The National Cycle Network has had a huge impact on our health and well-being.

Photo: a cyclist rides over a new bridge in Worcester 

(Credit: J Bewley/Sustrans)
Giving children a safe journey to school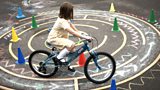 As well as giving thousands of children a safe route to school on the National Cycle Network, Sustrans works with 2,400 schools across the UK to help children to develop healthy travel habits that will last a lifetime.
Photo: a pupil practices steering during a cycle session in the playground
(Credit: J Bewley/Sustrans)
Making a difference in the community – Our dedicated volunteers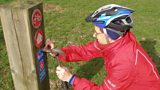 Sustrans relies on the support of 2,500 volunteers to help keep the routes on the National Cycle Network fit for purpose. Sustrans' volunteers work together to carry out essential maintenance work; they re-sign routes, clear foliage, run community events and host walks and rides to introduce people of all ages and abilities to their local routes.
Photo: a Sustrans volunteer updates a signpost on the National Cycle Network
(Credit:  J Bewley/Sustrans)
Broadcasts