Main content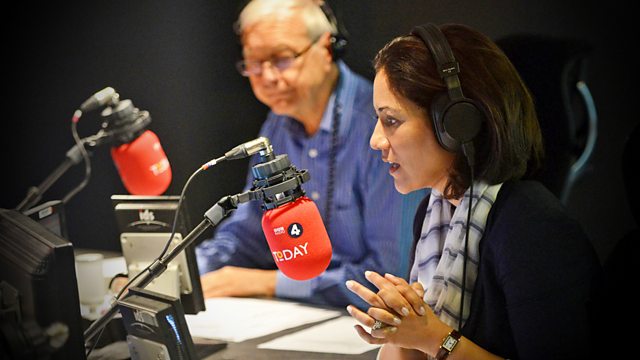 02/09/2015
Morning news and current affairs. Includes Sports Desk, Weather, Thought for the Day.
Clips

Today's running order
0645
The main Hindu wedding season is drawing to a close. It's big business here in the UK - worth about £3 billion a year. In India, the industry has given birth to many other sub-industries, like online arranged marriages, astrological match apps...and private detectives. Thousands of middle class Indians are now turning to private detectives to check that the chosen bride or groom is all they claim to be online. They're particularly popular with families in England that want a partner from India for their son and daughter. The BBC's Vishala Sri-Pathma is in Delhi .
0650
The results of tests on four skeletons unearthed in a mass grave in Durham are due to be revealed later today. The remains were discovered two years ago, but have we reached archaeology saturation point, what useful information is there left to learn from excavating another skeleton or ruined building?  Professor Carenza Lewis is a Professor of Public Understanding of Research from the University of Lincoln.
0655
More than a million NHS workers in England are to be offered a range of health checks aimed at cutting absence rates. The Chief Executive of NHS England, Simon Stevens, says the organisation must "put its own house in order" and do more to support the health of its workforce, in an attempt to reduce the amount of money lost to sickness pay. Dr Clare Gerad is a GP and Medical Director of the Practitioner Health Programme, the only NHS service for doctors and dentists with mental or physical health concerns.
0710
The government is to announce changes to its plans for suspending purdah during the EU referendum campaign. They're expected to back down but ask for some exemptions. Sir Bill Cash MP is Chairman of the European Scrutiny Committee.
0715
Top biomedical research bodies have called for a national debate on the ethics of genetically modifying embryos and other human tissues to take account of possible medical advances. Professor Robin Lovell-Badge is Head of the Division of Stem Cell Biology and Developmental Genetics at the Francis Crick Institute which is the Medical Research Council's National Institute for Medical Research and is a member of the Medical Research Council.
0720
The Shadow Home Secretary and Labour leadership contender, Yvette Cooper, has said Britain should take in ten thousand vulnerable refugees. She said the UK seemed "paralysed" in the face of the humanitarian crisis - describing the government's response as "immoral" and "cowardly". Downing Street said the UK had a proud history of providing refuge and that it should continue to do so. She said it is time to ask the Scottish and Welsh Governments for their support. Leanne Wood is the leader of Plaid Cymru and Humza Yousaf is Scotland's Minister for Europe and International Development.
0730
The Labour frontbencher, Chuka Umunna, has called for solidarity in the Labour party once the new leader is elected, set out the failings of New Labour and called on Labour to "harness the energy" of the hundreds of thousands of people who have signed up to vote in the leadership election. He has said before he would not serve in the Shadow Cabinet of the Labour leadership frontrunner - Jeremy Corbyn - and he has co-founded a new group of Labour MPs which has been described as "the resistance" to a Corbyn leadership. So how loyal will he be to Corbyn and why have the social democrats in the party been so unsuccessful in this leadership campaign?
0740                                                                                                                                   
Two British journalists accused of "working on behalf of a terrorist organisation" in Turkey could face months in prison before learning the extent of the charges against them. Vice News correspondent Jake Hanrahan and cameraman Philip Pendlebury were arrested while filming in the south-east region of Diyarbakir and have allegedly been charged with "assisting Islamic State". They were detained along with a Turkish colleague, who has not been named, while filming clashes between police and youth members of the pro-Kurdistan Workers' Party (PKK) last Thursday. Kevin Sutcliffe is Head of News Programming in Europe for Vice an international online news channel.
0750
The Rugby World Cup comes to England later this month with a focus on the sheer joy of the sport but also on rugby's troubles, on injuries, on refereeing, and of course on team selection:  is it right that the recent rugby league convert Sam Burgess is in the England squad while players like the flanker Steffon Armitage are out because they play in France?  No one better to address all of this than the man who kicked the drop goal that won the world cup for England in 2003, Justin sat down with Jonny Wilkinson to find out.
0810
The migrant crisis is spinning further out of control with EU countries blaming each other and its rules on asylum seekers and its internal borders in tatters. Are the Schengen rules on passport-free travel between EU member states now under threat? Is there any chance that the EU countries will reach agreement on sharing responsibility for taking migrants and should Britain be making a contribution? Our Berlin Correspondent Jenny Hill has been following migrants on a train from Austria into Germany and we speak to the veteran euro-federalist Guy Verhofstadt former Belgian prime minister, now an MEP and president of the Alliance of Liberals and Democrats for Europe group in the European Parliament.
0820                                                            
New research suggests that people with learning difficulties are more likely to be prescribed powerful antipsychotic drugs even if they have no mental illness. Writing in the BMJ, researchers say it seems that drugs are still being used to manage challenging behaviour, despite years of campaigning to cut the inappropriate use of medication. Dr Rory Sheehan is an Academic Clinical Fellow in intellectual disability at University College London and author of the paper in question and David and Jill Jack are a couple whose son James, now 41, has been prescribed antipsychotics several times with detrimental effects.
0830
The latest round of free schools to be given permission to open in England has been confirmed. The 18 schools include a performing arts college in Leeds and a special educational needs school in Cheshire.  David Cameron says it's an indication of the government's determination to open 500 free schools during this parliament. Nicky Morgan is the Education Secretary.
0835
Has the Yemen civil war allowed Al-Qaida and ISIS to infiltrate and take over parts of Aden? Disturbing reports are emerging of the execution of prisoners by jihadists in this former British colony by jihadists and a report by Human Rights Watch is out today. Frank Gardner is our Security Correspondent.
0840
Parts of Kielder forest in the north-east of England are being turned into wild research laboratories to work out the environmental triggers for common diseases like asthma and allergies. The aim is to study how the immune systems of rodents are affected by the environment. Scientists from the University of Liverpool are capturing and studying field voles, and following them throughout their lives to see what makes each individual more or less vulnerable to infection. Victoria Gill reports.
0850
Growth in the sales of biscuits and cakes have been subdued, in part because of the popularity of home baking as well as competition from other sectors, according to British Baker magazine. The popularity of shows like the Great British Bake-Off has seen enthusiasm for home baking soar in the UK. Frances Quinn was the Bake Off Winner 2013 and author of 'Quinntessential Baking' and Dr Polly Russell is the Curator for Contemporary Politics and Public Life at The British Library and Food Historian for the BBC 2 series 'Back in Time For Dinner' which ran earlier this year.
0855
New research has found 1.9 million married couples actively try to keep their finances secret from their partner. When it comes to disclosing financial information Noddle found 30% of people in relationships do this on a 'need to know basis'. Yet, this leads to a situation where 44% of married people don't know exactly what their spouse earns – with 5% admitting they don't think it's any of their other half's business. Jacqueline Dewey is the Managing Director of Noddle who commissioned the report and Arabella Russell is a relationship therapist who works for Relate.
All subject to change.