Main content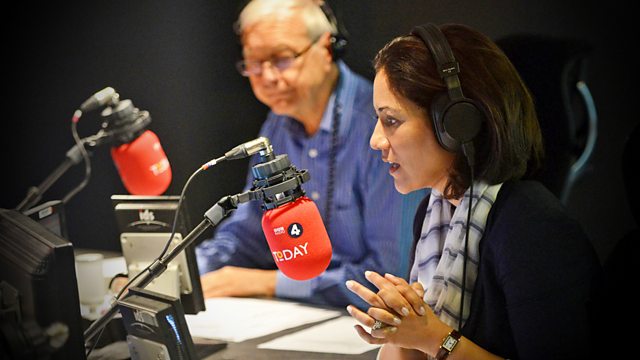 03/09/2015
Morning news and current affairs. Includes Sports Desk, Weather, Thought for the Day.
Today's running order
0645
James Naughtie has a report from Hilary Clinton's campaign headquarters in Brooklyn, New York where he was shown around by spokeswoman Adrienne Elrod.
0650
Seventy years after World War II with whole libraries dedicated to the war the thoughts of ordinary Germans, surprisingly, have not been heard until now. Professor Nicholas Stargardt, one of Britain's foremost scholars of Nazi Germany at Oxford University has examined letters and diaries for his new book "The German War" to provide an insight into the lives of ordinary Germans fighting the war.
0655
There are about three trillion trees on Earth, according to a new estimate.  The number is substantially higher than previous assessments, which counted perhaps four hundred billion at most. Thomas Crowther is the lead author of the Yale University Study, now at Netherlands Institute of Ecology.
0710
The view at Downing Street is that accepting a few thousand more refugees would not solve the problem of millions of displaced people. Yesterday Italy, France and Germany have called for the 'fair' distribution of migrants across the EU, after signing a joint document on immigration. The document underlines that the crisis has "clearly shown the limits and defects" of the current rules, - and calls for the rules to be discussed at a meeting of EU foreign ministers in Luxembourg tomorrow. Sandro Gozi is the Deputy Secretary to the Prime Minister of Italy for European Affairs.
0715
The car manufacturer Nissan is investing £100 million in its UK factory on building a new generation of one of its models, securing thousands of jobs. The Japanese firm announced that the Sunderland plant will build the new Juke, securing 34,000 jobs at the site and in suppliers beyond 2020. Nissan bosses have spoken in the past about the possibility of pulling out of the UK if it leaves the EU, so does this investment suggest a change of heart at Nissan or confidence that Britain will remain an EU member state?  Paul Willcox is chairman of Nissan Europe.
0720
China marks Victory Day today - a one-off public holiday marking the 70th anniversary of China's victory over Japan in World War II and which is accompanied this year with a military parade in Beijing's Tiananmen Square. 12,000 troops are expected to march through the square as over 100 planes form a flypast; in the largest such event since Xi Jinping gained the presidency in 2012. Analysts claim this is more about promoting the power of the head of state - widely seen as China's most powerful since Mao - than commemorating WWII. Carrie Gracie reports.
0730
Times change and legislators try to make sure they change with them. But they seem to be failing in our schools. Sexting is often in the news but we've been speaking to a 14 year old boy who, after sending a picture of himself naked to a girl at his school, had his name recorded on a police intelligence database alongside a crime of making and distributing indecent images of a child. Although he was not charged with anything he has been told that he could fail an advanced (DBS – new name for CRB) check if he applies to work with children in the next ten years. The boy attends a school in the north of England, one of many across the UK that has a police officer embedded. Justin has been to meet him and his mother, who told me how she found out what had happened:
0740                                                                                                                                   
The picture of a tiny little boy lying face down on a Turkish beach has provoked furious debate on social media about where exactly we as a country and a continent are doing for what is now the worst refugee crisis since World War Two. Many have tweeted their anguish and anger over the Government's failure to act. It's not the first time that a photograph has provided pause for thought. Can a photograph define a moment in a so-called crisis and do images still have the impact to change people's minds? Brett Rogers is Director of London's Photographer's Gallery and Jenny Matthews is a reportage photographer covering conflicts and author of 'Woman and War'.
0750
More details of emails sent and received by Hillary Clinton when she was Secretary of State have emerged this week. How much damage do they spell to her campaign and what are the other dangers to her chances of getting the Democrat nomination and ultimately making it to the White House? James spoke with Joel Benenson, chief strategist for Hillary Rodham Clinton's 2016 presidential campaign.
0810
Pressure is growing on Britain to take more refugees. Yesterday, the Liberal Democrat leader, Tim Farron, and the Roman Catholic leader in England and Wales, Cardinal Vincent Nicholls joined those condemning Britain's response to the migrant crisis. David Cameron said the problem cannot be solved "simply by taking more and more refugees". Andrew Mitchell is a former International Development Secretary and Lady Sayeeda Warsi is a Conservative peer, former Conservative Party chairwoman, former Communities and Foreign Office minister.
0820                                                            
Times change and legislators try to make sure they change with them (see 0730). Mark Fenhalls is Chairman of the Criminal Bar Association and Olivia Pinkney is Sussex Police's Assistant Chief Constable and the National Police Chief Council's lead on children and young people.
0835
The image of a dead boy on a Turkish beach is now fixed in the minds of politicians and voters debating how Europe should cope with many thousands of refugees. Europe is struggling with its biggest migration crisis since World War Two, with unprecedented numbers of refugees and other migrants seeking asylum in the EU. Sir Nicholas Winton organised the rescue of hundreds of children, most of them Jewish, from Czechoslovakia at the beginning  of the Second World War in an operation later known as the Czech Kindertransport - John Fieldsend was one of them. He has been watching the current refugee crisis unfold and in particular the plight of children.
0840
Paul Theroux has been writing about his travels for more than five decades. As well as his novels he's been celebrated for his exploration of unfamiliar places, and people, on every continent. But his latest book takes him close to home. Describes himself as 'a fortunate traveller in an overlooked land' in exploiting the American Deep South, in his new book of that name.
0845
We've been hearing this morning about children being criminalised in schools for sending naked pictures of themselves. The case raises important questions about the role of the police in schools and how they, and the schools themselves, should deal with disputes arising from social media. Shauneen Lambe is Director of Just for Kids Law, which provides support, advice and legal representation for young people in difficulty and Brian Lightman is General Secretary of the Association of School and College Leaders.
0850
The veteran theatre critic Michael Billington has selected his 101 greatest plays in a book which comes out this morning. One of the big surprises is the omission of Samuel Beckett's 'Waiting for Godot' which was once voted "the most significant English language play of the 20th century" in a National Theatre poll of playwrights, actors and critics. What makes a great play? And why doesn't Godot reach this benchmark? Michael Billington is the theatre critic  for The Guardian and author of '101 Great Plays' and Lisa Dwan is an actress who is currently on an international tour of a one-woman Samuel Beckett trilogy.
All subject to change.