Main content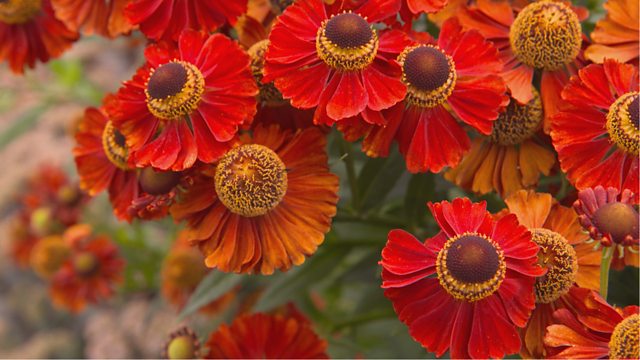 Gardening magazine. It's the Bank Holiday weekend and there is plenty to be getting on with in the garden. Monty Don takes stock of what has and and has not worked at Longmeadow.
It's the Bank Holiday weekend and there's plenty to be getting on with in the garden. Monty Don takes stock of what has and hasn't worked at Longmeadow, with a view to planning ahead to the autumn. Meanwhile, James Wong goes behind the scenes at Bristol Zoo to find out more about how the animals are kept fed throughout the year.
Clips

Garden visited
Sussex Prairie Garden,
Morlands Farm,
Henfield,
West Sussex BN5 9AT,
Phone: 01273 495 902
This stunning 8 acre garden is open from 1st June to 11th October 2015, 1pm to 5pm daily except Tuesdays. 
Garden visited
Bristol Zoo,
Bristol Zoo Gardens,
Clifton,
Bristol BS8 3HA,
Phone: 0117 974 7300
Open daily (except Christmas Day) 9:00 am - 5:30 pm.  Travel by bike, bus or train for an exclusive discount.  
Sussex Prairie Garden: Top 10 recommended plants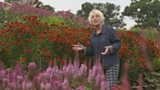 Here are Sussex Prairie Garden's top 10 recommended plants for making the perfect pocket size prairie:
Echinacea purpurea 'Rubinglow': Classic prairie plant with wonderful flowers and seed heads
Aster ericoides 'Blue Star': A bewitching later flowering aster with minute pale blue flowers
Rudbeckia fulgida var. sullivantii 'Goldsturm': A little piece of sunshine fallen to earth with a mass of gold daisy flowers with brown eyes
Thalictrum 'Splendide': A tall stunning plant with a cloud of lilac pink, ball shaped flowers held in an airy cloud.  A real cracker that flowers for nearly two months
Persicaria amplexicaulis 'Blackfield': Much under used in British gardens.  These plants form mounds of attractive leaves so dense weeding is seldom required!  Add dark scarlet flower spikes in profusion through to October/November and you have a top plant!
Aster laterifolius var. horizontals: Flowering in late September and October this beautiful plant has masses of small, white, daisy like flowers with red centres and tiny black leaves
Miscanthus sinensis 'Ghana': Beautiful leaf colour; reds, orange and umber.  One of the best autumn grasses
Amsonia hubrichtii: This unusual plant has fine needle like foliage turning superb shades of red, orange, yellow and green in autumn.  It also has beautiful starry blue flowers in early summer
Vernonia arkansana 'Mammuth': Dark, brooding deep purple flowers atop 7 foot stems make this Canadian giant a great back of border plant
Panicum virgatum 'Shenandoah': Well behaved upright growing grass whose leaves turn a strong purple in the autumn topped by a mass of dark purple seed heads
Hedge cutting
Half the battle with hedge cutting is getting the top of the hedge straight.  As Monty says an easy way to achieve this is to place a cane either side of the hedge with string tied taut on to each cane at the desired hedge height.  Use a spirit level placed on the top of the cut hedge to check levels and start cutting from the bottom up; falling stems should drop cleanly to the ground and it's easier to see what you are doing.  When cutting slope the hedge slightly inwards so that the top is narrower than the bottom to allow more light to reach the lower leaves. 
Jobs for the weekend: sow winter salad leaves
There is still time to sow seeds of salad leaves such as mizuna, mibuna, rocket, land cress as well as winter varieties of lettuce for harvesting winter to early spring.  Sow the seeds thinly in seed trays filled with free draining compost, water well either from above or below, place somewhere sheltered and prick out young seedlings after they develop their true leaves.
Jobs for the weekend: pinch out wallflowers
Wallflowers are grown as bedding or perennials.  Bedding wallflowers are biennial which means they grow their leaves in year one, flower and set seed in year two and now is the time to plant out year one growth bedding plants.  To keep the plants stocky and not too elongated, pinch out the tip of the middle stem of each plant with either thumb and forefinger or cut using a pair of sharp secateurs, pinching out or cutting to just above a set of leaves so that the middle stem height is level with the height of all the stems each side of it.
Jobs for the weekend: take cuttings from yew and box
It's easy to take semi-ripe cuttings from yew and box plants and now is a good time to do it. Select and cut healthy shoots into lengths of 10-15cm (4-6").  Remove the soft tips and the lowest third of leaves. Place the cuttings around the edge of a pot pre-filled with free draining compost, water well, label and place the pots somewhere sheltered. Leave until rooted which can take between 6-9 months. Alternatively take heel cuttings by gently pulling a side shoot away from the main stem leaving a thin slither of the main stem attached as part of the cutting. Continue in the same way as outlined above.
Credits
| Role | Contributor |
| --- | --- |
| Presenter | Monty Don |
| Presenter | James Wong |
| Presenter | Carol Klein |
| Series Producer | Chloe Rawlings |
| Series Editor | Liz Rumbold |