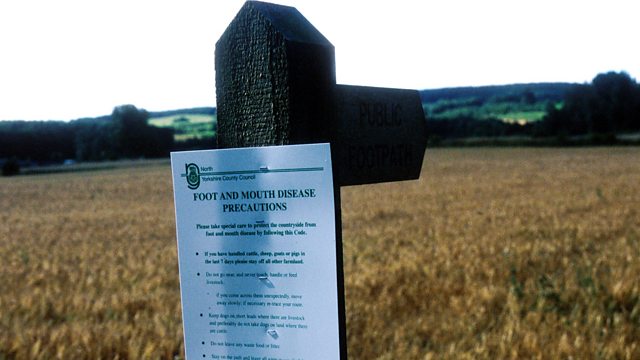 Foot-and-Mouth Disease
Sue MacGregor reunites five people whose lives and livelihoods were dramatically changed by the Foot and Mouth epidemic of 2001.
In February of that year, Foot and Mouth disease hit the UK. During the next eight months there were 2,030 confirmed cases and more than ten million animals were destroyed. Across the country, dead bodies were piled onto huge pyres that took days to burn. The result was the creation of a sheep-free zone extending throughout the north of Cumbria, and Dumfries and Galloway.
The disease was spotted by a vet carrying out a routine inspection at Cheale Meats abattoir in Essex. Within a week, it became clear that Britain was experiencing its first major foot-and-mouth epidemic for 34 years.
Life in the countryside changed immediately. The owners of infected farms and their neighbours were quarantined in their homes as vets began destroying animals. During the first three weeks of the epidemic 1,100 suspected cases were reported, but with only 240 permanent veterinary staff, few of whom had any experience of Foot and Mouth Disease control, the authorities were overwhelmed.
Within weeks of the first confirmed case, the government ordered a mass cull of animals. The army was called in to help. It was estimated to be the biggest combined civil and military exercise in more than 30 years.
Sue MacGregor is joined by: Dr Alex Donaldson, the scientist called in to make the first official diagnosis; vet Peter Frost-Pennington who oversaw the slaughter of animals on infected farms in Cumbria; Brigadier Hugh Monro who was responsible for the cull in Southern Scotland; and farmers Paula Wolton from Devon and Peter Allen from Cumbria.
Producer: Emily Williams
Series Producer: David Prest
A Whistledown production for BBC Radio 4.
Last on