Main content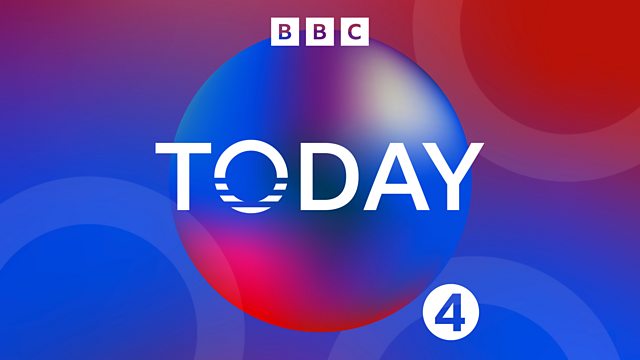 01/09/2015
Morning news and current affairs. Includes Sports Desk, Weather, Thought for the Day.
Last on
Clips

Today's running order
0640
A previously unknown type of 'sea scorpion' which was more than a metre and a half long has been found in Iowa, according to the journal BMC Evolutionary Biology. The species – which is more than 460 million years old – is the oldest found to date. Dr James Lamsdell is the Lead Author and Postdoctoral Associate, Department of Geology and Geophysics, Yale University.
0645
The threshold for contactless payments is going up - to £30. This is where you touch your card on the reader to pay, rather than having to input your PIN. It's taken off massively in the last year or do, after a slow start. Contactless payments in the first six months of the year are now at twice the level they were for the same period last year. But there are concerns that the technology might be vulnerable to fraud. Richard Koch is the Head of Policy at UK Cards Association.
0650
Thousands of pounds of NHS cash is being spent on treats for patients, including holidays, aromatherapy, new clothes and a summer house, according to an investigation. The budgets were introduced by the Government to allow people with long-term conditions and disabilities greater choice and control over the healthcare and support they receive. Together with an NHS team or GP, patients develop a care plan on how the money should be spent.  Nigel Praities is the editor of the GP magazine, Pulse that investigated what budgets are being spent on.
0655
About 90% of seabirds have eaten plastic and are likely to retain some in their gut, a new analysis estimates. Dr Erik Van Sebille is the co-author of the research reported in the Proceedings of the National Academy of Sciences journal.
0710
David Cameron has set out higher penalties for employers who fail to pay their workers the new national minimum wage when it's introduced in April. He said businesses that fail to pay staff what the Government is calling the new "national living wage" will face fines of up to £20,000, doubling the current level of fines. Nick Boles is Minister for Skills.
0715
A record numbers of refugees and migrants arrived on the Greek island of Lesbos this weekend, according to the International Rescue Committee. 4,000 people turned up on its shores on Saturday alone. Every boat adds to the pressure on Europe to do more to address this crisis. Some countries are trying to strengthen their borders but others feel the EU has a duty to help those fleeing conflict. Chris Buckler has been speaking to some of the Syrian refugees who have arrived in Greece within the last few days.
0720
A year after it was established, Britain's national sperm bank has admitted it has only nine registered donors – prompting its boss to urge men to prove their manhood by donating sperm. Laura Witjens is Chief Executive of National Sperm Bank.
0730
The Information Commissioner's Office is looking into claims that personal details of an 87-year-old man were sold and passed on by charities up to 200 times. Information was also passed on to fraudsters according to a report in The Daily Mail, which says former army colonel Samuel Rae, who has dementia, lost £35,000 to scams. Christopher Graham is the Information Commissioner.
0740                                                                                                                                   
Victoria Pendleton won two Olympic gold medals for cycling. Since then she has transferred the skills of one sport to another - horse racing. Last week she was granted a licence by the British Horse Racing Authority and Yesterday in Ripon in North Yorkshire she applied her retraining to the latest stage of her attempt to make it to next year's Cheltenham Festival. Rob Bonnet was there to see how she got on.
0750
Scotland's First Minister, Nicola Sturgeon, will put education and welfare at the core of her new Programme for Government which she'll set out in the Scottish Parliament today.  Nicola Sturgeon will set out the top priorities for action at the start of the final session before Holyrood goes to the polls next May. Labour's new leader in Scotland, Kezia Dugdale, is calling on the SNP to improve its record on education. Labour says she has put education at the heart of her leadership.
0810
UKIP will not join forces with either of the two 'no' campaigns that have been established for the UK's referendum on staying in the EU. Instead the party's leader will launch its own campaign later this week designed to mobilise thousands of supporters at public meetings across the country. The decision once again highlights splits that emerged after the general election when some in his own party said he was too divisive to lead the 'no' campaign. Nigel Farage is the leader of the UK Independence Party.
0820                                                            
The Monkees were one of the biggest bands of the 1960s, widely touted as America's answer to the Beatles. Their biggest hit, 'I'm A Believer' sold over 10 million physical copies and was at the top of the UK singles charts for four weeks in 1967. But the band were stigmatised by their formation - having been put together for a TV show, and banned from playing their own instruments on their early singles. Micky Dolenz and Peter Tork are two of the members of the Monkees.
0830
From today, the MenB vaccination will be added to the NHS Childhood Immunisation Programme in England to help protect children against a devastating disease which can cause meningitis and septicaemia which are serious and potentially fatal illnesses. Babies will be offered the MenB vaccine with the other routine vaccinations at two months, four months and 12-13 months of age. Dr Jane Wells MBE is co-founder of the UK meningitis movement, three of whose family have died of meningitis.
0835
Scotland's First Minister, Nicola Sturgeon, will put education and welfare at the core of her new Programme for Government which she'll set out in the Scottish Parliament today (see 0750). Derek Mckay is the Scottish Transport Minister.
0840
If a director is known for working in both television and film - chances are that they started in the former and progressed to the latter. Shane Meadows did it the other way around. His 2006 film 'This is England' sparked a Channel 4 series featuring the same group of characters - working-class teenagers of the 1980s. It was a hit - there was a second series and now a third - which places the cast in 1990 - Thatcherism, which defined their growing up years, is coming to an end.
0850
Andrew Lownie first started investigating the life of Guy Burgess, one of the Cambridge spies, thirty years ago. The biography titled Stalin's Englishman, published next week is currently serialised in the Daily Mail.
0855
The state news agency in China says nearly two-hundred people have been punished for spreading false rumours on the Internet, some related to the turbulent stock markets. It's part of a government crackdown on politically sensitive discourse.  No details of the penalties have been made public. Duncan Wrigley is an Economic Analyst at NSBO – An investment bank specialising on research on China and Diane Wei Liang Chinese is an author and former Tianenmen Square protestor.
All subject to change.
Broadcast