Main content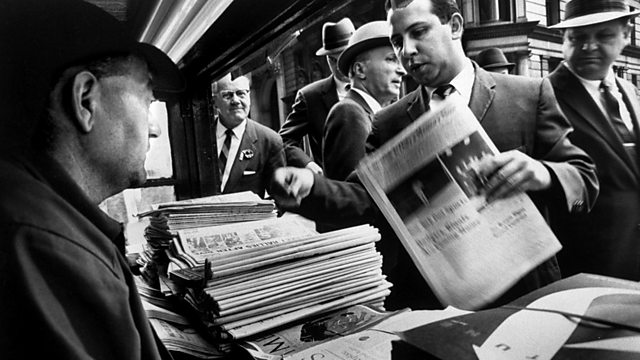 VJ Day Anniversary Special
Peter Snow marks the seventieth anniversary of VJ Day at the end of the Second World War with stories from the Times for 16 August 1945.
Peter Snow turns the pages of The Times for 16th August 1945, reporting VJ Day the day before.
Commemorations of the end of the Second World War tend to focus on VE Day rather than VJ Day. Yet, in marking the defeat of Japan, VJ Day celebrated the final end of hostilities.
The newspaper reports of the wild jubilation at Piccadilly Circus, and the programme talks to Gwendolen Hollingshead, who was there. Filling out The Times' description of events in Liverpool, Merseysider Irene Gill recalls joining the crowds while three months pregnant.
Dean of St Albans, Jeffrey John, discusses his predecessor's refusal to allow the Abbey to be used for a VJ Day thanksgiving service - because of the atomic bombing of Hiroshima and Nagasaki. Labour peer and historian Lord Morgan talks to Peter about the King's Speech at the State Opening of Parliament on VJ Day - when the famous programme of the post-war Labour government was announced, embracing nationalisation and the creation of the NHS. Historian Jessica Reinisch meets Peter at Church House in Westminster where, on VJ Day, the preparatory session for the creation of the United Nations took place.
Gwendolen Hollingshead also describes her memories of Rainbow Corner, near Piccadilly Circus - an American servicemen's club where she was a volunteer worker. She recalls music from Glenn Miller and the death of an American she was planning to date.
Finally, POWs Maurice Naylor and Bob Hucklesby movingly describe coming home after being long-term captives of the Japanese in Thailand.
Producer: Andrew Green
A Singing Wren production for BBC Radio 4.