Main content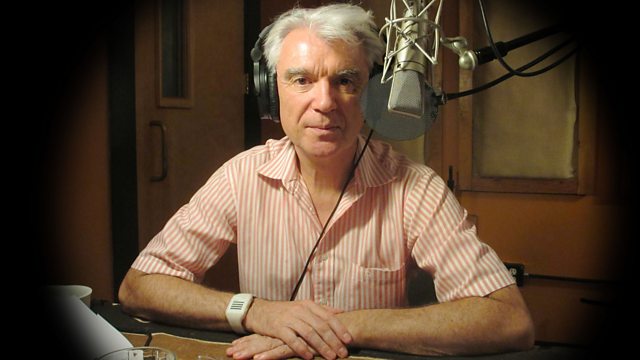 The David Byrne Radio Show
David Byrne presents a show recorded in his home city of New York, featuring music from some of the artist playing at the 2015 Meltdown Festival, which Byrne curated.
David Byrne will be presenting his own show - recorded recently in his home city of New York - in which he selects his personal music choices from around the globe inlcuding some of the artists he has picked to perform at this year's Meltdown Festival at the South Bank Centre in London. From the Spanish flamenco sounds of Enrique Morente, to Nigerian funk and synth pioneer William Onyeabor via Paris with Benjamin Clementine, expect to hear lots of tracks that may surprise you and you've never heard before.
Born in Scotland then raised in the US, Byrne was the co-founder, frontman and main song-writer for new wave band Talking Heads who were inducted into the Rock and Roll Hall of Fame in 2002. He is also recognised and highly regarded for his solo work and collaborations with other major artists including Brian Eno, Morcheeba and Fatboy Slim. Forty years on his career is formidable; as well as being a musician, Byrne is also a multi-instrumentalist, composer, photographer, actor, artist and author.
Last on
Music Played
Enrique Morente

Manhattan

Carmen Consoli

Madaci Una Cartolina

Anna von Hausswolff

Mountain Crave

Alabama Shakes

You Ain't Alone

William Onyeabor

Better Change Your Mind

Young Marble Giants

Colossal Youth

Curtis Mayfield

We the people who are darker than Blue (live at Bitter end)

City of Prague Philharmonic Orchestra

Planet of the apes the search and hunt

Hypnotic Brass Ensemble

Spottie

Frank Ocean

Novacane

Island Def Jam Music Group.

Dirty Projectors

Impregnable question

Lonnie Holley

Here I stand knocking on your door

Just Before Music.
Dust-to-Digital.

Hot Chip

One Life Stand

CD SINGLE.
PARLOPHONE.
1.

Anna Calvi and David Byrne

Strange Weather

CocoRosie

After the Afterlife

Tales of a Grass Widow.
City Slang.

Future Wife

No Comfort for the Lonely (feat..Colin Stetson)

We're Gonna Die.
Young Jean Lee's Theater Company.

Sun 0))))

Alice

Monoliths & Dimensions.
Southern Lord.

Benjamin Clementine

London

Cornerstone - EP.
Behind Records.

François & the Atlas Mountains

Ayan Filé

L'Homme Tranquile.
Domino.
001.

Psapp

The Words

The Only Thing I Ever Wanted.
Domino.

Moses Sumney

Man on the Moon

Mid-City Island.
Sumney Records.

Dirty Projectors

Cannibal Resource

Amigo Orada Vol. XI.
Domino.

John Luther Adams

The Place where we began

The Place We Began.
Cold Blue Music.

Estrella Morente

Que Quieres qeu te Traiga
Broadcast