Main content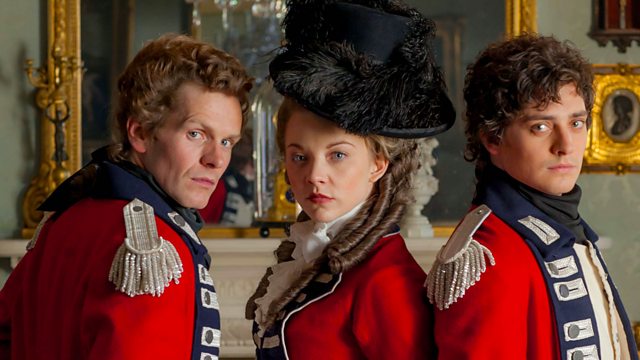 The Scandalous Lady W
The amazing true story of Lady Worsley, whose elopement prompted her husband to sue her lover and sparked one of the greatest scandals of 18th-century England.
In 1781, wealthy heiress Seymour, Lady Worsley, caused outrage when she cuckolded her husband, respectable MP Sir Richard Worsley, and ran away with her lover Captain George Bisset. Furious, Sir Richard responded by suing Bisset for criminal conversation and demanding a record £20,000 for the damage done to his property - Lady Worsley. While Seymour and Bisset hid out in a London hotel, Sir Richard and his lawyers set about proving his wife's infidelity through a series of devious schemes. When the case came to court, Sir Richard lied about his relationship with Seymour, painting a perfect picture of their marriage and persuading others to do the same. Bisset looked sure to be facing penury and prison until Seymour devised a bold plan. To save her lover from ruin, she disclosed a shocking secret - one that astounded the court, put her reputation in jeopardy and turned the trial into the greatest sex scandal of the 18th century.
What was the reality for women like Lady Worsley and Jane Austen?
Clips

Filming locations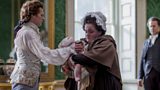 Scenes for The Scandalous Lady W were filmed at Clandon Park in Surrey before the devastating fire in April.
The Marble Hall, Green Drawing Room, Hunting Room, Saloon were used to represent Appuldurcombe House, Sir Richard Worsley's estate and the Palladio Room was dressed as a hotel room.
Located near to Wroxall on the Isle of Wight, the real Appuldurcombe House is today the shell of a large 18th-century baroque country house cared for by English Heritage.  
Credits
| Role | Contributor |
| --- | --- |
| Writer | David Eldridge |
| Producer | Madonna Baptiste |
| Director | Sheree Folkson |
| Author | Hallie Rubenhold |
| Seymour, Lady Worsley | Natalie Dormer |
| Sir Richard Worsley | Shaun Evans |
| George Bisset | Aneurin Barnard |
| Wet Nurse | Rebecca Cooper |
| Baby Jane (Newborn) | Albie Frost |
| Mr Hesse | Robert Morgan |
| Captain Leversuch | Alex Beckett |
| Mrs Leversuch | Kirsty Hoiles |
| Elizabeth Figg | Elizabeth Rider |
| Mary Sotheby | Jessica Gunning |
| Hannah Commander | Rose Shalloo |
| Ann Ekelso | Scarlett Brookes |
| Viscount Deerhurst | Oliver Chris |
| James Farrar | Peter Sullivan |
| Lord North | Richard McCabe |
| Baby Jane (4 Months) | Thomas Parker |
| Baby Jane (4 Months) | Tyler Parker |
| Mr Bearcroft | Will Keen |
| Mr Wallace QC | Craig Parkinson |
| Clerk | George Fouracres |
| Lord Chief Justice Mansfield | David Calder |
| Jury Foreman | Jonathan Coote |
| Footman | Thomas Coombes |
| Lord Peterborough | Tom Edden |
| Dr Osborn | Michael Bott |
| Mary Marriott | Sandra Huggett |