Main content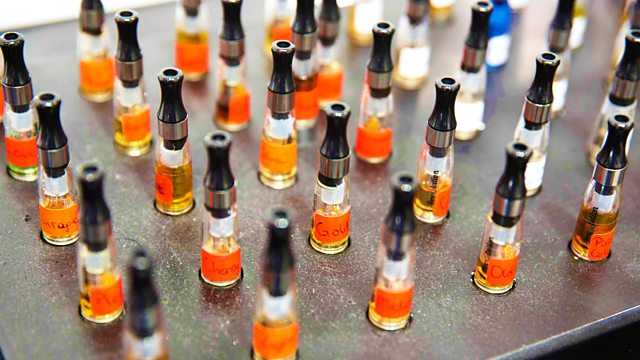 E-Cigarettes: Another Puff
More than two million people are thought to use electronic cigarettes in Britain. Wesley Stephenson looks at their use and asks if they safe or if they should be restricted.
More than two million people in Britain are thought to have used electronic cigarettes. Whitehall civil servants think that e-cigarettes are one of the most significant public health success stories of our generation.
Just last week Public Health England published an update on the best evidence available. It found that e-cigarettes have become the number one quitting aid used by smokers. The report said the health risks of using e-cigarettes are minimal when compared to the harm associated with smoking cigarettes. Yet nearly half of all adults perceive e-cigarettes to be at least as harmful as traditional tobacco.
Why?
In Wales, the principality's government plans to ban their use in public places and hopes that a new law will be passed within the next 12 months. Wesley Stephenson asks why the two governments have such different approaches, and who's right?
Presenter: Wesley Stephenson
Producer: Smita Patel
A version of this programme was first broadcast on 3rd July, 2014.
What influence does the tobacco lobby have in the fight over new laws on cigarettes?

Making money from products with a controversial image. Evan Davis and guests discuss.