Main content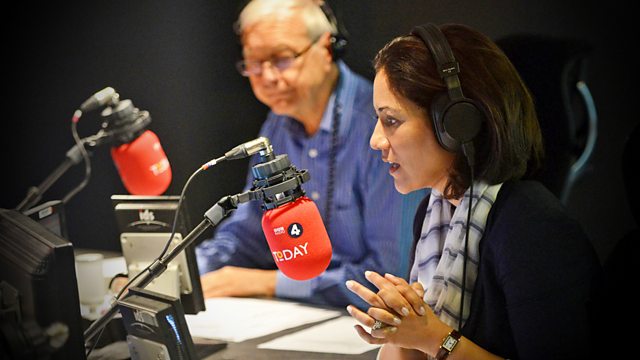 27/08/2015
Morning news and current affairs. Includes Sports Desk, Weather, Thought for the Day.
Today's running order
0650
Scientists have developed a blood test that can detect cancers that have started to grow again after treatment. Kat Arney is science information manager at Cancer Research UK.
0710
New figures will confirm today whether a key immigration measure is at record levels. Sunder Katwala is British Future director and Alp Mehmet is vice chairman at Migration Watch UK.
0715
More than 40 new peers are likely to be announced today, according to leaks in the Telegraph and FT this morning, many from the ranks of former MPs, party advisers and donors. Professor Meg Russell is deputy director of the Constitution Unit at UCL.
0720
As part of his northern powerhouse plan, the Chancellor established Transport for the North to bring together northern transport authorities, and tasked it with working with government to create the first ever comprehensive transport strategy for the region. Sir Richard Lees is chair of Transport for the North.
0730
The Ulster Unionist Party intends to leave the Northern Ireland Executive, the party's leader has said. We speak to Mike Nesbitt, Ulster Unionist leader, and Jeffrey Donaldson, DUP MP.
0745
Councils have started restricting memorial benches. Zoe Conway reports from Bradford.
0750
Writer and director Armando Iannucci has launched a passionate defence of the BBC and said British television needs support amid political attacks. We speak to him this morning.
0810
Sir John Chilcot has attempted to explain to families of British soldiers killed in Iraq why his inquiry is taking so long to complete. Roger Bacon's son Major Matthew Bacon was killed in Iraq in 2005. Crispin Blunt is chair of the Foreign Affairs Committee.
0815
Shares on Wall Street finished with their biggest rise in four years ending another rocky day of trading on global markets. Economics editor Robert Peston reports.
0820
Sir Terry Pratchett's final Discworld novel has hit the shelves as fans gathered for a midnight release. The book met with rave reviews from critics, who hailed it as a "magnificent sign-off". Philippa Dickinson has been editor of Terry Pratchett's novels for 27 years. Pat Harkin is a superfan of Sir Terry Pratchett.
0830
More than 20 British soldiers died to protect the district of Musa Qala during the war in Afghanistan. The battle to retake the town in December 2007 has been held up as one of the great military successes of the war. But yesterday Musa Qala fell back into Taliban hands. Colonel Richard Kemp is former commander of British forces in Afghanistan.
0840
Three weeks on from the outbreak, some 300,000 households are still boiling their water in Lancashire after the discovery of cryptosporidium at a water treatment works near Preston. Professor Roger Pickup is an expert in environmental microbiology at Lancaster University.
0850
Labour leadership contender Jeremy Corbyn says he'll consider women-only rail carriages to help stem a rise in assaults. We speak to Guardian columnist Daisy Buchanan and Independent columnist Yasmin Alibhai Brown.
All subject to change.