Main content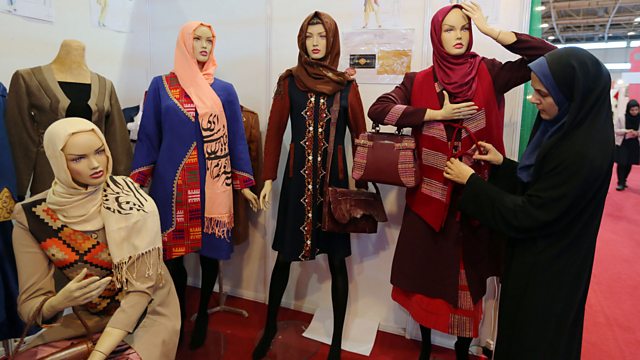 Iranian fashion industry, Dragons' Den entrepreneur Ellen Green
A look at why the fashion industry is booming in Iran, Dragons' Den entrepreneur Ellen Green and the legacy of Hillary Clinton's 1995 speech on women's rights. With Emma Barnett.
Following a religious edict in Iran that fashion and modelling are permissible under Islam, the Iranian fashion industry, which has operated in the shadows for over three decades since the Islamic Revolution, has been going through a revolution of its own. Fashion weeks are popping up across Iran, with over a 100 catwalks in the last year alone. BBC Persian reporter Rana Rahimpour explains how fashion and modelling are gaining a foothold in the Islamic Republic, and what restriction female models still face in Iran.
In her latest book, Downstream, the writer, Caitlin Davies, explores the history of swimming in the River Thames and celebrates the stories of the pioneering female swimmers who have undertaken long distance swims in the river. One of these was Mercedes Gleitze, who in 1927 became the first British woman to swim the Channel. Mercedes' daughter, Doloranda Pember, has written a book about her mother's swimming achievements, which she is hoping to have published. Louise Adamson went to the towpath at Putney where she met Doloranda and Caitlin.
Emma talks to the co-authors of "The Hillary Doctrine: Sex & American Foreign Policy," Valerie Hudson and Patricia Leidl. They explore just how far American foreign policy has come in regards to women since 1995, when Hillary Clinton stated for the first time that "Women's Rights are Human Rights."
If you watched last Sunday's episode of Dragon's Den you will have seen Ellen Green pitching her business 'The Blue Badge Company.' Her products are made in the UK and 40% of the workforce is disabled or primary care givers. She talks to Emma about her experiences.
Presenter: Emma Barnett
Producer: Claire Bartleet.
Chapters
Iranian Fashion Industry

BBC Persian reporter Rana Rahimpour on the growth of catwalk fashion shows in Iran

Duration: 09:53

River Thames Swimming

History of swimming in the River Thames with Doloranda Pember and Caitlin Davies

Duration: 12:03

The Hillary Doctrine

Valerie Hudson and Patricia Leidl on American foreign policy and women's rights

Duration: 10:53

Ellen Green

Ellen on pitching her business for disability products on Dragon's Den

Duration: 08:01

Iranian Fashion Boom

Following a religious edict in Iran that fashion and modelling are permissible under Islam, the Iranian fashion industry, which has operated in the shadows for over three decades since the Islamic Revolution, has been going through a revolution of its own.  Fashion weeks are popping up across Iran, and with over a 100 catwalks in the last year alone and an increasing need for models, a modelling agency with both male and female models on its books has became the first to obtain official permission to operate. Many see this as part of the general opening in Iran under President Rouhani and the rapid warming of relations between Iran and the West following the nuclear agreement reached on 14 July in Vienna. Emma is joined by BBC Persian reporter Rana Rahimpour to explain how fashion and modelling are gaining a foothold in the Islamic Republic, and what red lines female models still face.

Thames River Swimming

In her latest book, Downstream, the writer, Caitlin Davies, explores the history of swimming in the River Thames and celebrates the stories of the pioneering female swimmers who have undertaken long distance swims in the river.  One of these was Mercedes Gleitze,  who in 1927 became the first British woman to swim the Channel.   Mercedes began her long distance swimming in the Thames and used the river as a place to train for her Channel crossing.   Mercedes' daughter, Doloranda Pember, has written a book about her mother's swimming achievements, which she is hoping to have published.  Louise Adamson went to the towpath at Putney where she met Doloranda and Caitlin. 

Downstream by Caitlin Davies is published by Aurum Press.

Ellen Green

If you watched last Sunday's episode of Dragon's Den you will have seen Ellen Green pitching her business 'The Blue Badge Company' which sells gifts which are also disability aids. Her products are all made in the UK and 40% of the workforce is disabled or primary care givers. She talks to Emma about how she got her business started, why she believes she's spotted a gap in the market and the ethos behind her company.

The Hillary Doctrine

Emma spoke with co-authors of "The Hillary Doctrine : Sex & American Foreign Policy"  Valerie Hudson and Patricia Liedl about the way in which women's issues and US foreign policy are connected, and just how far American foreign policy has come in regards to women since 1995, when Hillary Clinton stated for the first time that "Women's Rights are Human Rights". 

Credits

| Role | Contributor |
| --- | --- |
| Presenter | Emma Barnett |
| Interviewed Guest | Rana Rahimpour |
| Interviewed Guest | Louise Adamson |
| Interviewed Guest | Valerie Hudson |
| Interviewed Guest | Patricia Leidl |
| Interviewed Guest | Ellen Green |
| Producer | Claire Bartleet |