Main content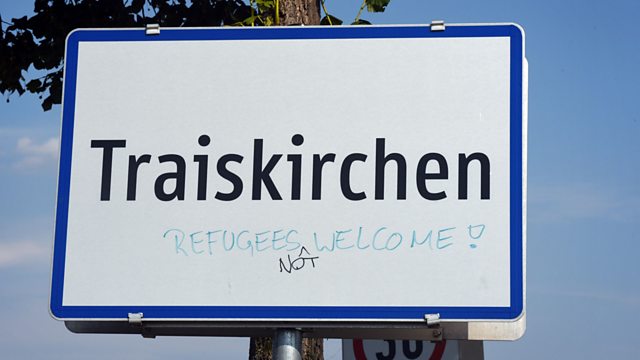 Sir Peter Fahy, Refugees in Austria, A sacred walk through Bristol
Sir Peter Fahy talks to Edward Stourton about his faith and his concerns for the police force as he heads towards retirement. Bob Walker takes a sacred walk in Bristol.
The Chief Constable of Greater Manchester Police, Sir Peter Fahy, talks to Edward about his faith and his concerns for the police force as he heads toward retirement.
Bob Walker completes his final pilgrim walk in Bristol and discovers that the city landscape there is steeped in spirituality.
This week Amnesty International criticised the conditions at Traiskirchen Refugee Camp in Austria as thousands of people from Syria are sheltering there. Journalist Hazel Southam has been to the camp and has recorded a personal audio diary for Sunday.
Following this week's apology by the Scottish Catholic Church to victims of child abuse, Trevor Barnes reports on where the Church goes from here.
This weekend, around 30,000 members of the global Ahmadiyya Muslim Community will gather in the UK for an international conference. Author Simon Valentine, who spent 18 months living among the community in Bradford, explains their beliefs and practices.
More students than ever before, chose to study religious studies at A-Level, more than doubling since 2003. But later this year there are plans to change the curriculum. Will this turn students away from wanting to study religion? Edward asks Ben Wood, Vice-Chair of the National Association of Teachers of Religious Education
Producers
Tara Holmes
Carmel Lonergan
Editor
Phil Pegum.
Chapters
Religious Studies

More students than ever before chose to study religious studies at A-Level.

Duration: 05:32

Austria Refugee Camp

Journalist Hazel Southam has been to the Traiskirchen Refugee Camp in Austria.

Duration: 04:24

Ahmadiyya Muslim Community

Author Simon Valentine spent 18 months living among the Ahmadiyya community in Bradford.

Duration: 05:50

Sacred Bristol

Bob Walker completes his final walk in Bristol, a city steeped in spirituality.

Duration: 05:25

Scottish Catholic Church Apology

After this weeks apology to victims of child abuse, where does the Church go from here.

Duration: 07:23

Chief Constable of Greater Manchester Police

Sir Peter Fahy and his concerns for the police force as he heads towards retirement.

Duration: 13:32