Main content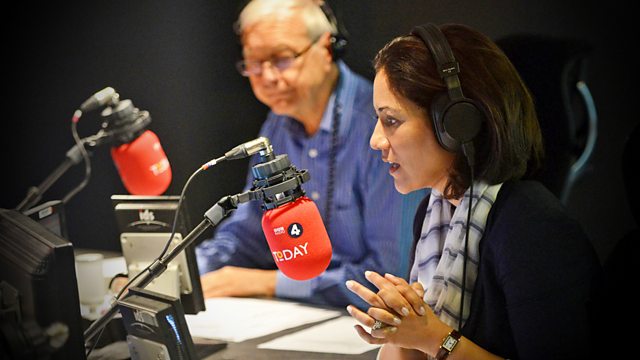 12/08/2015
Morning news and current affairs. Includes Sports Desk, Weather, Thought for the Day.
Clips

Wednesday 12 August
0650

An inspection report into Yarl's Wood immigration removal centre in Bedfordshire says it's failing to meet the needs of the most vulnerable women who are held there.  Nick Hardwick is the chief inspector of prisons.

0655

Scientists at Cambridge University have found that a zebra's stripes are unlikely to protect it from predators, contrary to the view held by many scientists. Anna Hughes, lead researcher of the study explains.

0710

80% of the country has superfast broadband. The government wants to reach 95% by 2017. Christopher Price, Director of Policy for the Country Land and Business Association, speaks to us on the government's nationwide roll-out of superfast broadband.

0715

Unions representing workers on the London Underground are meeting with Transport for London bosses again today to discuss another two 24-hour walkouts that will take place later this month. Nick Brown is managing director of London Underground.

0720

There have been reports that Hillary Clinton's attorney has handed over the private email server she used while secretary of state to the FBI. Jon Sopel reports. 

0725
The driver of a bin lorry that crashed in Glasgow in 2014 killing eight people is expected to give evidence at a fatal accident inquiry this week. Professor James Chalmers is Regus Professor of Law at the University of Glasgow.

0725

The oil giant Shell has just started preliminary drilling offshore in the Arctic. Roger Harrabin is our environment analyst.

0740

Researchers at the University of Cambridge have built a mother robot that can independently build its own children, and 'evolves', so each generation is better than the last. Dr Fumiya Iida is the lead researcher on the project. 

0750

The number of people prosecuted because their child has played truant from school has risen sharply, with more parents being fined and even sent to jail. Stewart Sutherland is a father of three and Kenny Frederick is a representative of the National Association of Head Teachers. 

0810

The government is announcing that more than three million homes and businesses have been reached by the government's nationwide roll-out of superfast broadband. The investment specifically targets areas which are hard to reach. Simon Jack talks about the broadband divide from Devon and Ed Waizey, minister of state for Minister of State for Culture and the Digital Economy, speaks to us. 

0820

The Chelsea manager Jose Mourinho has banned his first-team doctor from the bench because of his rage after the first game of the season, when Eden Hazard was taken off the pitch for treatment. Sammy Margo was the first female physiotherapist to work in football in England and Mark leather is head of medicine at Bolton Wanderers. 

0830

The Iranian Foreign Minister is visiting Lebanon today as part of a regional tour to seek support for what Tehran says is a new Iranian four-point peace plan aimed at ending the Syrian crisis. James Rubin was assistant secretary of state during the Clinton administration.

0840

Treasury ministers have demanded an end to rip-off VAT charges by some airport stores as the grassroots passenger rebellion against the racket gathers pace. Simon Calder is an independent travel editor.

0845

Peace in our time, the lamps are going out - history is littered with political sayings and slogans that echo down the years.  Now a new choral work tries to capture some of that flavour.  David Sillito has heard an early rehearsal.

0850

A new documentary on test cricket is arguing that there was a golden age of test cricket that's gone. Sam Collins directed 'Death of a Gentleman' and we're also joined by sport journalist Mihir Bose.

0855

Micro Films are extremely short films, sometimes less than 90 seconds long, and shot on minimal budgets. The phenomenon has been big in China since 2010, and now it's coming to the UK. Faith Blakemore is the director of the Nottingham International Micro Film Festival and Philip Dodd is the chairman of Made In China, a cultural agency working between China and Europe.

All subject to change.