Main content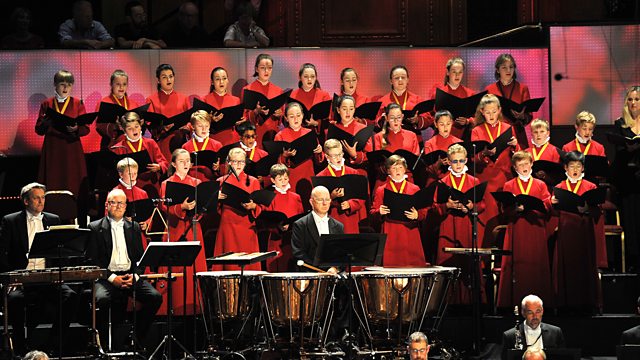 The Danish National Symphony Orchestra and Concert Choir conducted by Fabio Luisi. Nielsen: Three Motets; Hymnus amoris; Symphony No 2 (The Four Temperaments).
Violinist Nikolaj Znaider, the Danish National Symphony Orchestra and Fabio Luisi, live at the BBC Proms, in music by Brahms and Nielsen
Live from the Royal Albert Hall, London
Presented by Ian Skelly
Nielsen: Overture 'Helios'
Brahms: Violin Concerto in D major
8.35pm
INTERVAL
8.55pm
Nielsen: Three Motets
Nielsen: Hymnus amoris
Nielsen: Symphony No. 2, 'The Four Temperaments'
Nikolaj Znaider (violin)
Anna Lucia Richter (soprano)
David Danholt (tenor)
Choristers of Winchester Cathedral
Danish National Concert Choir
Danish National Symphony Orchestra
Fabio Luisi (conductor)
The BBC Proms celebration of Nielsen's 150th anniversary continues, with a performance of the Second Symphony by his compatriots from the Danish National Symphony Orchestra. Subtitled 'The Four Temperaments', the symphony is an arc of contrasting moods and textures - the 'Temperaments' of the subtitle are the four 'Humours' of Greco-Roman medicine; the building blocks of emotional and physical well-being: Choleric, Phlegmatic, Melancholic and Sanguine.
Nielsen's choral works are less often performed. Tonight's Prom offers the chance to experience the luminescent beauty of Hymnus amoris, inspired by a Titian painting, and the Three Motets that pay homage to Renaissance polyphony.
And in the concert's first half, Danish-Israeli violinist Nikolaj Znaider performs the ever-popular Brahms Violin Concerto, with its warmly romantic central movement and dizzying, gypsy dance-inspired finale.
This prom will be repeated on Friday 4th September at 2pm.
More episodes
Next
You are at the last episode
Tom Service travels to Denmark in search of Carl Nielsen, the man and his music.