Main content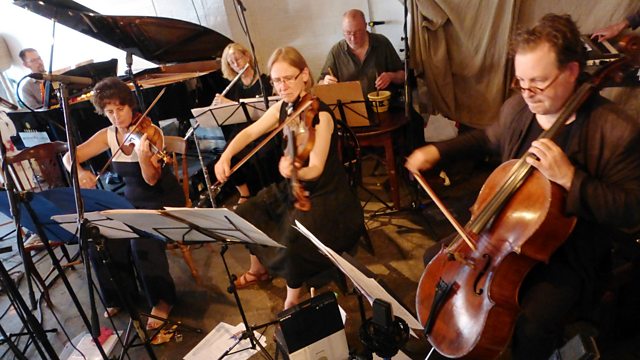 Apartment House at 20
Robert Worby presents a concert given at Cafe Oto in London by Apartment House. Music by Jennifer Walshe, Luiz Henrique Yudo, George Maciunas, John Cage and Henning Christensen.
Hear and Now: Apartment House at 20
Robert Worby presents a birthday concert given last month at Café Oto in East London by the award-winning group, hailed as, 'one of the most innovative and exciting chamber ensembles in Europe.' Robert talks to the cellist, Anton Lukoszevieze, Apartment House's founder and director, about the ensemble and its innovative programming. Tonight's concert is a typically eclectic mix: there's music from the 1960s by the Lithuanian-born New Yorker George Maciunas which explores the boundaries of music and performance art, a 20-minute work of proto-minialism by the Dane Henning Christiansen, and a seminal score from the 1950s avant-garde by John Cage.
Jennifer Walshe: This is Why People OD on Pills
Luiz Henrique Yudo: CHINESE WALL PAPER Version I
George Maciunas: Solo for Balloons; Music for Everyman
Luiz Henrique Yudo: CHINESE WALL PAPER Version II
Laurence Crane: 20th Century Music
Henning Christiansen: fluxorum organum Part II
George Maciunas: Solo for Violin (Gordon Mackay - violin)
John Cage: Concert for Piano and Orchestra - Aria
(Philip Thomas - piano, Lore Lienberg, mezzo).