Main content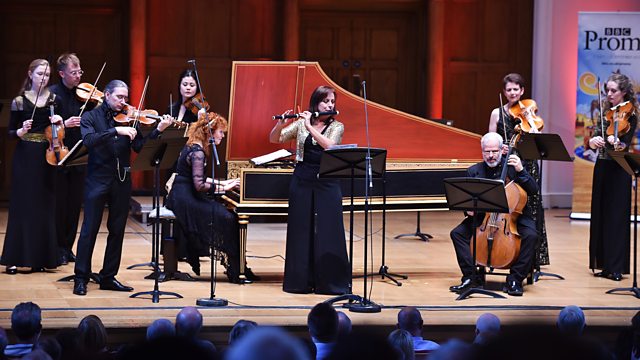 PSM 3: Apollo's Fire
Live from Cadogan Hall in London, Apollo's Fire under Jeannette Sorrell with violinist Alina Ibragimova. With music by CPE Bach, Vivaldi, Telemann and Bach.
Apollo's Fire and Jeannette Sorrell at the BBC Proms, live from Cadogan Hall, London.
Presented by Christopher Cook
CPE Bach: Symphony in B minor, Wq 182/5 'Hamburg'
Vivaldi: Violin Concerto in D major, RV 234 'L'inquietudine'
Telemann: Burlesque de Quixotte, TWV55:G10 (excerpts)
JS Bach: Violin Concerto in E major, BWV 1042
JS Bach: Brandenburg Concerto No. 5 in D major, BWV 1050
Alina Ibragimova (violin)
Apollo's Fire
Jeannette Sorrell (harpsichord / director)
Apollo's Fire - otherwise known as the Cleveland Baroque Orchestra - has been a lively force in early music for over 20 years. Now, under director Jeanette Sorrell, this quirky, energetic band makes its BBC Proms debut in the second of this season's early music Proms Saturday Matinees. The ensemble is joined by violinist Alina Ibragimova, soloist in much-loved concertos by Bach and Vivaldi. Bach's Brandenburg Concerto No. 5, with its brilliant writing for harpsichord and its bittersweet slow movement, and music from Telemann's vividly colourful suite following the adventures of Cervantes's knight-errant Don Quixote, complete the mix.
This Prom will be repeated Wednesday 19th August at 2pm.