Main content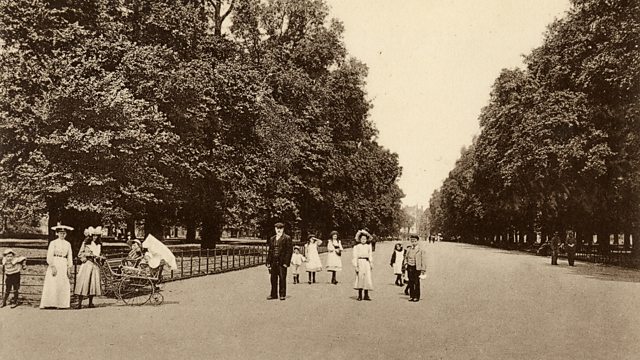 Woolf biographers Hermione Lee and Alexandra Harris perambulate the Round Pond in Kensington Gardens, wondering about the effect of the park on the young budding writer.
A hundred years since the publication of Virginia Woolf's first novel, author Alexandra Harris wonders at the link between her writing and her passion for walking - this week exploring where it all began, in Kensington Gardens.
Accompanied by Woolf biographer Dame Hermione Lee - the pair set out on a walk which Virginia and would have done probably 20,000 times - from 22 Hyde Park Gate, across the busy traffic and into the park.
Re-enacting the scene, Hermione and Alex recall how - 'calling for his dog and his daughter' - Leslie Stephen, father to Virginia Woolf, set off twice daily for a constitutional walk around the park.
Passing the woman selling her "balloon of quivering airballs", the young girl entered a public world and set her imagination to work on all she encountered: people talking and shouting, skaters, statues, ranks of uniformed nannies.
All her life she would remember in vivid detail the early routines of sailing boats on the Round Pond, touching the bark of the 'Crocodile Tree', reading in the grass and starting to match words to experience.
Mike Fitt, the Royal Parks honorary historian joins them, to add his particular knowledge of Kensington Gardens to the mix.
Producer: Sara Jane Hall.
Last on
Broadcasts