Main content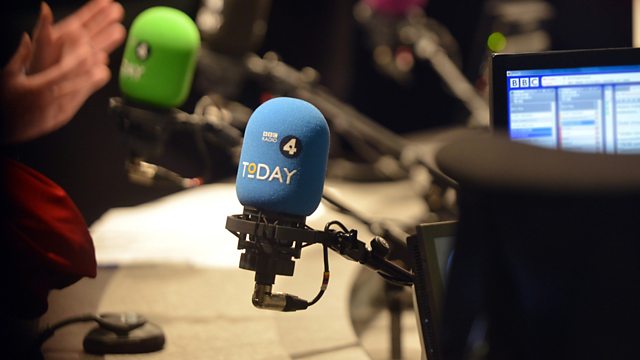 18/08/2015
Morning news and current affairs. Includes Sports Desk, Weather, Thought for the Day.
Today's running order
0650
According to new research, farmers seeking to protect their cattle from bovine TB who take matters into their own hands by trying to control illegally the population of badgers on their lands may actually make the situation worse. We hear form Neil Reid, lecturer in Conservation Biology at Queen's University, who conducted the research.
0655
This week marks the start of the school year in Scotland and Nicola Sturgeon, Scotland's First Minister, will today deliver a major speech outlining what she sees as the successes of education policy in Scotland and the approach her government will take to try to improve attainment levels for children. We hear from Branwen Jeffreys, BBC Education Editor, and Angela Contance, SNP MSP and cabinet secretary for Education and Lifelong Learning.
0710
Officials in the Thai capital Bangkok say 22 people have been killed and more than 120 injured in a bomb explosion in one of the best-known shrines in the centre of the city. Mark Kent is the British ambassador to Thailand.
0715
The latest inflation figures are out later today which will be used to calculate how much many rail fares will increase by next year. Paul Nowak is assistant general secretary of the Trades Union Congress.
0720
Iran's vice president Masoumeh Ebtekar has told the BBC that the nuclear agreement reached a month ago gives Iranian reformers leverage over other parties in the country. Dennis Ross was a special adviser for the Persian Gulf and Southwest Asia to the Obama administration from 2009 -2011. He was also Middle East peace envoy under Bush and Clinton and is now a counselor at The Washington Institute.
0725
Much of the focus of the collapse of charity Kids Company has been on its finances and its flamboyant founder Camilla Batmanghelidjh - what has increasingly been overlooked is the fate of the people who relied on it. Our social affairs correspondent Michael Buchanan reports.
0730
Grave warnings from Labour's most senior figures not to choose Jeremy Corbyn have come almost daily, and yet the left winger's rivals are still certain that he is the candidate they must defeat. We speak to leadership contender Andy Burnham.
0740
The 50th International Association of Athletics Federation Congress opens in Beijing today, where Lord Coe will run for the IAAF presidency. However, yesterday another athlete was found guilty of doping and has been banned for eight years, suggesting the problem will not be going away. Speaking to us today is Lisa Dobriskey, GB middle distance runner and former Commonwealth champion.
0750
The body which advises the NHS about medicines says doctors and dentists should face action from their regulators if they fail to prescribe antibiotics appropriately. We are joined live by Mark Baker, director of the NICE Centre for Clinical Practice, and Tim Ballard, vice chair of the Royal College of GPs.
0810
Our world affairs correspondent Kim Ghattas has spent the last week in Iran. It's the longest time a BBC correspondent has been granted permission to report in Iran since 2009: we hear Kim's report from the capital, Tehran.
0820
Today, the band Talking Heads continue to influence modern music. This week David Byrne curates the Meltdown festival in London and will be performing the music of a little-known Nigerian musician - William Onyebor. David Byrne spoke on the programme.
0825
The latest inflation figures are out later today which will be used to calculate how much many rail fares will increase by next year.  We hear from rail minister Claire Perry.
0830
The Home Secretary, Theresa May, is being urged to look into the case of a retired Asian police officer who was investigated over allegations of sexual abuse by the police force that had previously been found to have racially discriminated against him.  We hear from Gurpal Virdi, independent councillor in Cranford.
0840
Large supermarkets are becoming a thing of the past - shoppers are increasingly using smaller shops, discount stores, and local retailers. What might those changes mean for our towns? We hear from retail consultant and broadcaster Mary Portas, and Matthew Price reports.
0850
Labour leadership contender Yvette Cooper said on yesterday's programme that she wants to take 'a feminist approach to the economy'. But what does that mean in practice? Jane Humphries is Professor of Economic History at the University of Oxford, and Polly Trenow works for the Women's Budget Group, a network of feminist economists and activists.
All subject to change.