Main content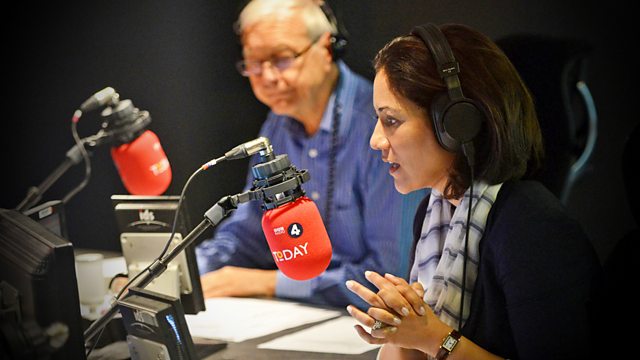 17/08/2015
Morning news and current affairs. Including Sports Desk, Weather and Thought for the Day.
Clips

Today's running order
0650
The number of people with diabetes in the UK has grown by 60% in the past 10 years. Barbara Young is the chief executive of Diabetes UK.
0655
Farming leaders will meet government ministers in London today after a week of upheaval in the dairy industry. We speak to Phil Bicknell, head of food farming at the National Farmers' Union.
0710
How can Labour become a winning force in the South of England? A letter signed by 13 candidates who failed to win in the May elections was last week sent to the party's leadership and deputy leadership candidates. Ben Bradshaw is deputy leadership candidate and Labour MP for Exeter – he is one of just three Labour MPs south of London.
0715
Chinese authorities have confirmed that the number of people that were killed by the massive explosions in Tianjin in China is now 112. Speaking to us live is Hillary Su, a member of Young China Watchers, an international group of young professionals that encourages discussions about the most pressing issues facing China.
0720
On Saturday's programme we heard from listeners who were fed up with their broadband service. Rory Cellan Jones is our technology correspondent.
0730
There's a call for an immediate ban on controversial drugs being given to British Soldiers. Mefloquine - also known as Lariam - is used as an anti-malaria medication, but for years now, its side-effects have been linked to severe depression and other mental illnesses. Sima Kotecha reports.
0745
New research suggests that owls use what scientists and engineers are calling 'stealth technology' to help them capture prey. We hear from Helen Czerski, a physicist at UCL.   
0750
The first votes will be cast in Labour's leadership contest today, and ballots are expected to arrive by post this morning. Speaking on the programme is Labour leadership contender Yvette Cooper.
0810
On Saturday's programme we heard from listeners who were fed up with their broadband service, saying the rollout isn't happening fast enough in rural areas and that speeds are still too slow, even in some parts of cities. This morning we get the response from BT Openreach who maintain and roll-out the broadband network. Live from the studio is Joe Garner, CEO of Openreach.
0820
The Government will today announce that young people claiming out of work benefits will be made to undertake a three week 'boot camp' to get them back into work. Speaking to us live is Matt Hancock, paymaster general.
0825
When the United States invaded Afghanistan after the 9/11 attacks, Osama Bin Laden went on the run, abandoning his Kandahar base. Among the finds of what he left behind was a library of over 1,500 audio cassettes - the BBC's security correspondent Gordon Corera has been granted rare access to this unique collection.
0830
Since 1965 more than half of us have given up their large weekly shop - now one of the big four supermarkets, Sainsburys, has told this programme that only a third of people coming through its doors do so to stock up for the week. Speaking to us is Phillip Jefferies, a university lecturer from Kent.
0840
New figures show there are now more than three million people diagnosed with Diabetes. Carel Leroux is a consultant at Imperial college Healthcare NHS Trust specialising in obesity and metabolic medicine.
0845
Accounts of HMRC show that if they lose out on some of the biggest court cases against large companies they could be forced to pay out billions in tax refunds. Speaking on the programme is Patrick Stevens, tax policy director at the Chartered Institute of Taxation.
0850
A pair of British acts have been voted through to the semi-finals of America's Got Talent, the US TV talent search. We hear from John Van Der Put, a comic and magician who performs as Piff the Magic Dragon, and we are joined in the studio by ventriloquist Paul Zerdin.
All subject to change.