Main content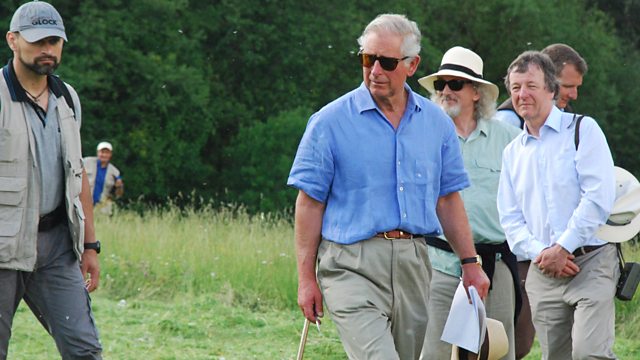 Royal Special: Prince Charles on the Future of Rural Communities
HRH the Prince of Wales shares his hopes and fears for the future of farming communities. Presented by Charlotte Smith.
His Royal Highness The Prince of Wales opens the door to his holiday home in Transylvania for a rare and exclusive interview. In the shade of the house he bought and renovated in the village of Zalanpatak, a relaxed Prince Charles speaks openly to Charlotte Smith about his efforts to support remote farming communities. This part of Romania, he says, is "where we see true sustainability and complete resilience."
Farmers here still scythe hay meadows by hand, keep just one or two cows and load milk churns onto horse-drawn carts, rumbling along potholed tracks to village collection points. Charlotte questions the sustainability of such old-fashioned practices but Prince Charles is adamant these "ancient patterns of life" should be preserved.
To that end he has created a village cooperative, encouraging people to market their homegrown and handmade products. He sees the potential for eco-tourism and rents out two rustically-restored houses, offering visitors an authentic Transylvanian experience. And as if to prove his commitment to the culture and traditions of this region, the future king sits at a table in a meadow and judges a scything competition.
But is the Prince preserving a way of life, or a museum? Charlotte explores that question, and many others, on her journey through a landscape unchanged by the modern world.
And from subsistence farms in the foothills of the Carpathian Mountains to a dairy farm on the Duchy Estate, we explore the challenges facing rural communities in the UK. The Prince of Wales believes there are similar threats to their survival but shares his thoughts on the solutions; on how to keep young people on the land and family farms thriving in the future.
Presented by Charlotte Smith and produced, in Romania, by Anna Jones.
Last on
Broadcast