Main content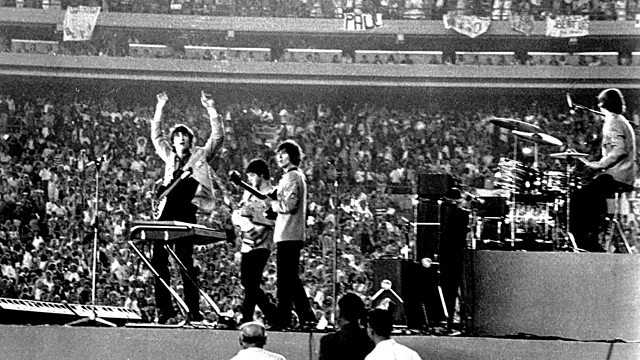 Stadium Rock at 50
Fifty years to the day after the Beatles played New York's Shea Stadium, Kate Mossman traces the history of Arena rock, from frankly a shambles to a multi-million pound industry.
On 15th August 1965, The Beatles played Shea Stadium in New York. It was a pioneering gig, the promoter counted record takings - and the fans had a terrible time. They were penned on a sports field, where the Fab Four seemed miles away and were largely inaudible. For The Beatles, the show turned into a joke, with John Lennon playing a keyboard with his elbows towards the end of the set.
Half a century later, stadium rock is a very serious business. Tremendous advances in sound, lighting, design, video, choreography and computer technology have created a global musical experience unimaginable 50 years ago - the stadium or arena show. And it's become more vital for the balance sheet as recording revenues plummet.
In this 'Archive on 4' music journalist Kate Mossman charts the journey from Shea Stadium to the present - with tales of get-lucky promoters, bands whose imaginations ran riot, the rise of the stadium anthem, and the art of reaching out to tens of thousands of fans.
Producers: Melanie Brown & Paul Kobrak.
Last on

Broadcasts