Main content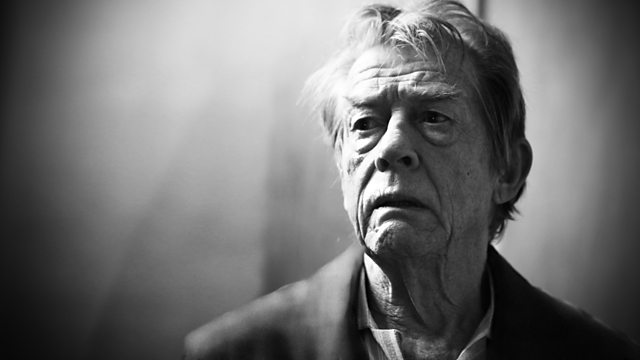 Jeffrey Bernard Is Unwell
4 Extra Debut. John Hurt stars as the dissolute, plain-speaking Soho drinker, gambler and raconteur. With frequent, very strong language.
Starring John Hurt. A dying Soho, seen through the eyes of the notorious columnist of The Spectator - plain-speaking drinker, gambler, wit and raconteur. With frequent, very strong language.
Keith Waterhouse's biographical play of Jeffrey Bernard is a recreation of a time in London when poets, painters, artists and writers (Dylan Thomas, Francis Bacon, Lucien Freud, and Elizabeth Smart) lived alongside the local Low Life of No Knickers Joyce and Sid the Swimmer, inhabiting the clubs and pubs of Dean Street. Jeffrey knew and wrote about all of them.
The play is set very early in the morning at the Coach and Horses pub in Soho, where Jeffrey spent most of his days, when not 'at the Races'. The Coach and Horses was his 'office'. Jeffrey has passed out in the Gents, missed closing time and wakes up to find himself alone in the pub with the door locked. He spends the night re-visiting incidents in Soho past and present, his childhood, gambling, women, racing and drink - fuelled by vodka.
Alongside John Hurt in the lead role, the cast includes Nichola McAuliffe, Jeff Rawle, Amelia Bullmore and Miles Jupp.
Recorded on location in Gerry's Club in Dean Street Soho.
Producer: Celia de Wolff
A Pier production for BBC Radio 4 first broadcast in August 2015.
Credits
| Role | Contributor |
| --- | --- |
| Jeffrey Bernard | John Hurt |
| Actor | Nichola McAuliffe |
| Actor | Jeff Rawle |
| Actor | Amelia Bullmore |
| Actor | Miles Jupp |
| Writer | Keith Waterhouse |