Main content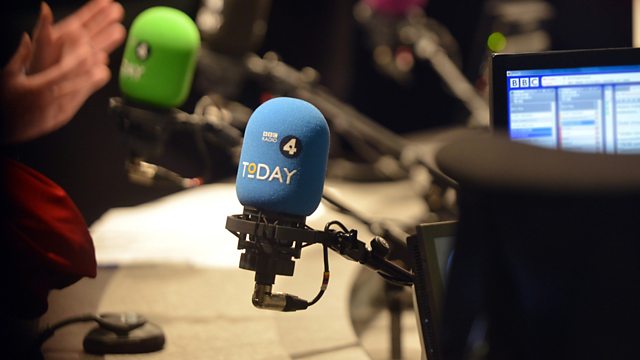 15/08/2015
Morning news and current affairs. Including Sports Desk, Weather and Thought for the Day.
Today's running order
0710
The new leader of the Scottish Labour party will be announced in Stirling later this morning. James Shaw is our Scotland reporter.
0715
The Japanese Emperor Akihito has led an official memorial ceremony as Japan marks the 70th anniversary of the end of World War Two. Rupert Wingfield Hayes is our correspondent in Japan.
0720
Germany receives more refugees than any other country in Europe. Four hundred thousand people are expected to apply for asylum there this year, and towns and cities are struggling to cope with the influx. Jenny Hill reports from Berlin.
0725
Parents are being warned to be vigilant for children visiting rogue tattooists. We hear from Peter Fleming, Local Government Association spokesman, and Julie Barratt, director of the Chartered Institute of Environmental Health in Wales.
0730
New figures show that more than three million homes and businesses now have superfast broadband under the government's scheme to improve connectivity. We hear from Bob Neill, co-chair of the All Parliamentary Group on London and MP for Bromley and Chislehurst, and Dido Harding, CEO of Talk Talk.
0740
One of the biggest issues during the Conservative Government's first one hundred days has been migration. Our political correspondent, Ross Hawkins, reports on fresh demands from within the Conservative party over freedom of movement.
0745
Chelsea manager Jose Mourinho played down the significance of dropping two members of his medical staff from match-day duties for treating an injured player, saying on Friday "we need disagreements to improve." We speak to Dr Ralph Rogers, former first team doctor at Chelsea FC and current medical advisor to the National Basketball Association.
0750
This week Turkey said it had restarted operations along with its NATO ally, the USA, against so-called Islamic State jihadists operating along its southern border. We have been speaking to the Turkish Ambassador to NATO, Mehmet Fatih Ceylan.
0810
It is one hundred days since David Cameron led the Conservatives to victory in the general election, winning a majority which few predicted. Prime Minister David Cameron is live in the studio.
0830
70 years ago today Prime Minister Clement Attlee announced victory over Japan. We have been speaking to Rouse Voisey, an RAF veteran who worked on the Sumatra railway as a prisoner of war, and to Barbara Sowerby, who was a civilian internee at a prison in Hong Kong.
0840
End-of-war commemorations have already been taking place in Japan, where Emperor Akihito has led an official memorial ceremony marking the 70th anniversary of the end of World War Two. Jim Naughtie reports from Trafalgar Square.
0845
When Kensington Palace issued its appeal to world media on Friday not to publish unauthorised images of Prince George, it said it wanted to "inform discussion" on unauthorised photography of children. We hear from Hannah Weller, founder of Protect: The Campaign for Children's Privacy (and wife of Paul Weller).
0850
A-level statistics out this week show that the number of people taking geography has risen by 12.7 percent – one of the biggest increases amongst the 'core' subjects, many of which have proved more popular this year. Jo Debens is head of Geography at Eggars School in Hampshire, and Wayne Hemingway is a fashion designer and chairman of the South Coast Design Forum.
All subject to change.