Main content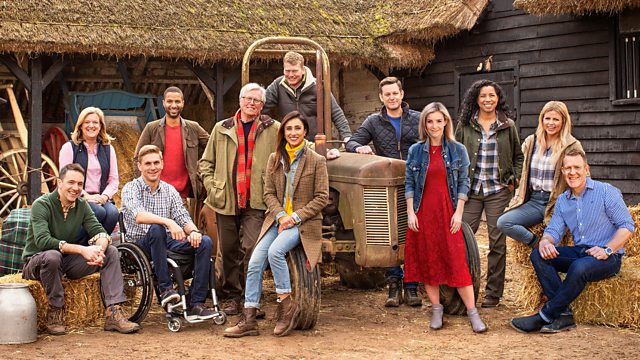 Sheep Theme
The team look at all things sheep. Joe Crowley heads to the Yorkshire Dales to visit a traditional upland farm where the shearing is in full swing.
In this programme, we look at all things sheep. Joe Crowley heads to the Yorkshire Dales to visit a traditional upland farm where the shearing is in full swing. He lends a hand and hears how on this farm they've found a niche market for their wool. Joe meets the hand-weaver who's provided this niche market, and has a go at this long-forgotten art. He then heads to a dairy in Thirsk, where they are making their own version of feta cheese using ewe's milk. Finally, Joe hits the streets to find out what people reckon to the taste of sheep milk, and asks why we don't drink more of it.
Anita heads to Hereford, where she meets the first-time farmers putting mutton back on the map. She discovers that, with the right approach and right preparation, mutton can be as high-end as good steak. She then heads for west Wales to meet the artisan felt worker making incredibly lifelike birds from wool that she either buys or forages for in the fields.
Adam is in Cumbria to see the breaking up of the most famous herd of fell ponies in the country. Tom finds out why lamb prices are plummeting and what can be done to halt the slide.
Wool working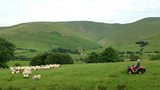 Joe Crowley journeys north to the borders of the Yorkshire dales near Sedbergh where shearing is in full swing. 800 Swaledales, Cheviots and blue faced Leicester's will go under the clippers in the next few days. Joe joins John Hutchinson and lends a hand with the shearing and finds out how and why wool prices have declined in recent years. All is not lost though as the Hutchinson's have found a niche outlet for some of their product by selling to one very special buyer, Laura Rozenzweig. Laura's gone back to pre-industrial basics and is hand weaving high end artisan fabrics. Joe learns that wool built cities like nearby Bradford and Leeds and how over time the hand looms like Laura's gave way to mechanisation and huge mills.
Woollen wonders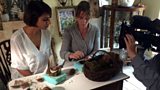 Eve O'Neill is a taxidermist, but rather than dead animals she uses nothing but wool to create incredibly lifelike and incredibly detailed birds and mammals.  She gets her wool from local farms and from foraging trips in the field. Anita joins Eve on such a forage and together they stalk the highways and byways, farms and fields near Eve's home in the Welsh countryside. Anita learns about Eve's fascination for Victorian taxidermy and how she takes her inspiration from the Welsh landscape and from the history of the Welsh woollen industry.  Back at Eve's studio Anita sees for herself the range and beauty of Eve's work.  It's a wonderland filled with small felt birds, exotic and bizarre tableaux, intricate and delicate sculptures.  It's here Anita discovers just what goes into Eve's art.
Fell ponies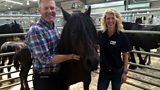 Adam Henson is on the Cumbrian hillside helping round up a very special herd of semi-wild ponies. The Murthwaite Herd of Cumbrian Fell Ponies were built up by highly respected breeder Thomas Capstick over fifty years.   His ponies are one of the few near-feral ponies still roaming the fells, but Thomas had such success with breeding that his reputation has spread across the world; the Queen, an avid horse lover, owns three of his ponies. Sadly Thomas died earlier this year following a long illness.  When he became ill, he and his family decided it was time to break up the herd and sell his 54 remaining Fell Ponies. Adam joins family members and neighbours as they round up the herd and take them to auction – where there's huge interest including buyers from America and a Royal bidder. 
Sheep's milk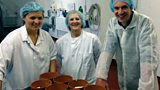 Long before we drank cow's milk we drank sheep's milk. Joe travels to Thirsk to find out more about how one family-run dairy is making award winning cheeses from Sheep's milk and championing it in a big way. Joe gets stuck in with the cheese making process and speaks to Judy Bell, the founder, to find out her drive for making sheep's cheese. Finally Joe takes some samples to the market square to see if ewe's milk can win the public over with a Countryfile taste test!
Mutton renaissance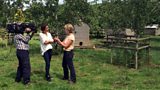 We used to eat much more mutton than we do now.  Back before WWII the cost of rearing sheep for meat was offset by the profit from the wool on their backs. When wool prices collapsed in the 1960's it made less economic sense to keep older sheep for meat.  Now there's a renaissance and a new breed putting mutton back on the nations plates.  Anita Rani travels to Herefordshire to meet the city slickers who swapped corporate life for the country. Helen and David Pickersgill knew absolutely nothing about farming when they bought their first Lleyn ewes back in 2009.  Now they sell top quality mutton including supplying high end restaurants in the area.  Anita discovers that it's the way the David and Helen treat the meat that makes it so special.
Shearing superstars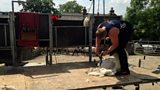 They may not be household names like the Beckhams and Rooney's but these guys are big in the shearing world.  Joe is joined by the England National Sheep Shearing Team, fresh from their success at the Great Yorkshire Show. Joe is stunned by how fast the top guys work and finds out more about both machine and hand shearing techniques.
Lamb prices
It's peak season for British lamb but farm-gate prices are the lowest they've been for five years, with some farmers losing up to £25 a lamb. Tom Heap examines how factors such as the retail price, imports from New Zealand and the exchange rate have affected the domestic and international market, and asks what can be done to ensure a sustainable future for British sheep farmers. On his travels he meets a Welsh farmer using techniques from New Zealand to boost productivity and a hill farmer who has also been trying to make the most of the season in the face of the fall in prices.
Credits
| Role | Contributor |
| --- | --- |
| Presenter | Joe Crowley |
| Presenter | Anita Rani |
| Presenter | Adam Henson |
| Presenter | Tom Heap |
| Executive Producer | William Lyons |
| Series Producer | Joanna Brame |