Main content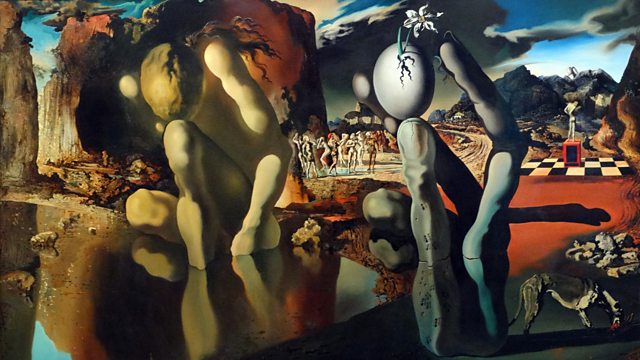 Dali's Metamorphosis of Narcissus
Dr Janina Ramirez visits Tate Modern in London with Professor Dawn Ades to try and unravel the mysteries of Salvador Dali's 1937 painting, the Metamorphosis of Narcissus.
Dr Janina Ramirez introduces the second programme in a new series on BBC Radio 4 in which three great masterworks are examined in minute detail. Recorded in the galleries in which the pictures hold pride of place, Janina is joined by experts who can provide context, biographical background and artistic insight, all combining to decode these masterworks for today's audience.
Today she visits Tate Modern on London's South Bank, with Professor Dawn Ades and the Tate's own Matthew Gale to look at Salvador Dali's Metamorphosis of Narcissus.
It was completed in 1937 and not long after Dali brought it to London where he showed it to Sigmund Freud. What the picture told Freud about the subconscious of its creator and what that creator wanted to reveal is the subject of this programme. As Prof Ades points out the backdrop, rather than dream or myth-scape, is rooted in the Catalan coastline familiar and loved by Dali. The main figure of Narcissus, doubled and transformed into an upturned hand holding an egg is altogether more challenging. Is there optimism in the flower emerging from the 'split head' as Dali refers to it in his poem accompanying the picture, or is there an inherent darkness in the self-absorption that results in Narcissus melting into the background.
No-one is prepared to claim an absolute decoding but there are fascinating insights into Dali's workings before the days when his staring eyes and flamboyant moustache rather obscured the fact of his brilliance as a painter.
Producer: Tom Alban.
Last on
Broadcast