Main content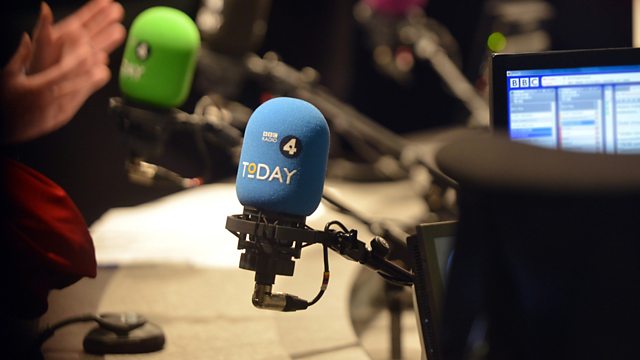 13/08/2015
Morning news and current affairs. Includes Sports Desk, Weather, Thought for the Day.
Last on

Clips

Today's running order
0650
Migration Watch has released a report this morning arguing that the Government needs to take new measures to tackle illegal immigration from Calais including the eventual introduction of ID cards in the UK. We hear from Lord Andrew Green, chairman of Migration Watch.
0655
The Royal Society for Public Health is calling for a ban on smoking outside of pubs, restaurants and bars. Speaking on the programme is Shirley Cramer, chief executive of the Royal Society for Public Health.
0710
More than 600,000 people are set to choose the next Labour leader, amid warnings of legal action should the party not pause the contest. We hear from John Curtice, professor of politics at the University of Strathclyde.
0715
Massive explosions have hit the city of Tianjin, in northern China, leaving at least 17 people dead and hundreds more injured. Vafa Anderson was an eyewitness at the scene.
0720
Today marks two important events in the astronomical calendar: the annual spectacle of the Perseids meteor shower will have reached its peak overnight, and ESA's Rosetta spacecraft will monitor Comet 67P as it reaches perihelion (the closest the comet gets to the sun). Victoria Gill reports from Northumberland International Dark Sky Park.
0725
A Latvian girl, now aged seven, who was taken away from her mother in 2010, should be adopted in Britain, the Court of Appeal has ruled. Speaking to Today is Igor Pimenov, a Latvian politician who's been supporting the mother.
0730
Shale gas planning applications will be fast-tracked under government measures announced today. We hear from Jennifer Mein, Labour MP and leader of Lancashire County Council, and Amber Rudd, the Secretary of State for Energy and Climate Change.
0740
Britain's double Tour de France champion Chris Froome has urged athletics to follow cycling's lead and invest a lot more money in anti-doping.  Froome's been speaking exclusively to our sports editor Dan Roan who started by asking him how he'd been feeling these past two weeks
0750
Relatives of servicemen and women killed in the Iraq War have issued Sir John Chilcot with a two-week ultimatum to set a date to publish his report into it before they take legal action. Matthew Jury is the lawyer representing the families, and he explained the legal thinking behind the letter.
0810
More than 600,000 people are set to choose the next Labour leader, amid warnings of legal action should the party not pause the contest. We hear from Ken Livingstone, former Mayor of London and friend of Jeremy Corbyn.
0820
A-level results are released across England, Wales and Northern Ireland today. Provisional figures show entries for English, Maths, Science and computing qualifications have increased. Speaking on the programme is Mary Curnock Cook, chief executive of UCAS.
0825
The annual spectacle of the Perseids meteor shower having reached its peak overnight, we hear from Marek Kukula, public astronomer at the Royal Observatory, and Teresa Anderson, director of the Jodrell Bank Discovery Centre.
0830
The European Commission says it has asked EU member states to provide more assistance to help deal with the record numbers of migrants arriving on the shores of Greece. Chris Buckler reports, and we speak to Nikos Sofos, former head of the Kos Unified Tourism board.
0835
Saturday will mark seventy years since Japan surrendered and the Second World War ended. Nick Higham reports on the 'Dulwich Boys', who were key players in the post-war relationship between Britain and Japan.
0840
The last-minute surge in the electorate for the Labour leadership has led some to suggest that the party is being infiltrated by leftwingers who support Jeremy Corbyn as leader. Steven Fielding is professor of Political History at Nottingham University.
0850
Just how much was the life of a black slave worth in the 18th century? We hear from Ryan Cronin, communities officer at St. John's College Cambridge.

0855
As thousands of pupils receive their A Level results today, does the growing trend of social media signal the end of the days when one's results would stay private? We hear from Rosie Millard, a journalist whose eldest daughter is getting her results today, as well as Dr Alicia Blum-Ross, a researcher at the London School of Economics' Department of Media and Communications.
All subject to change.
Broadcast