Main content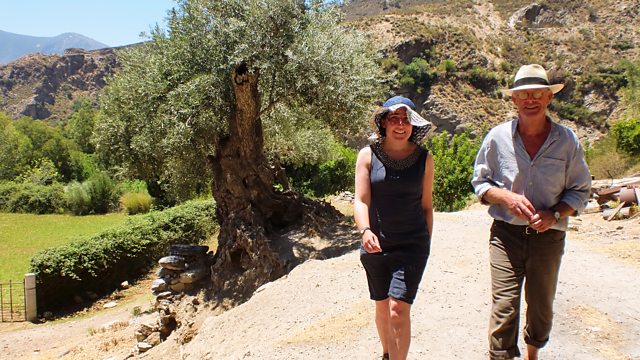 Virginia Woolf walking in Andalucia - an unexpected holiday location for the determined Bloomsbury writer! Biographer Alexandra Harris follows in her footsteps with Chris Stewart.
Virginia Woolf, sun hat firmly in place, scrambling along the dusty footpaths of Southern Spain - an unexpected image of the very English, upright writer more commonly associated with Bloomsbury. But in 1923 Woolf and her husband Leonard made an adventurous journey by boat, train, bus and mule to the remote mountain village of Yegen, where the British writer Gerald Brenan had made his home.
In a burst of intense, exploratory friendship, Woolf walked with Brenan through a landscape of goats and asphodels, opening up to him, and opening herself to the allure of Spain. "The mind's contents break into short sentences. It is hot; the old man; the frying pan; the bottle of wine".
She wrote about riding mules, about village sounds, and as she got into the rhythm of rural Spain fantasised about a new life abroad.
Virginia Woolf was the perfect exponent of the belief that walking clears the mind, expands the soul and strengthens the leg. On the centenary of Woolf's first published novel, Woolf biographer. Alexandra Harris takes us on four walks which inspired her, shaped her writing and character, and tell her story.
In part one Harris seeks out the paths where the determined walker would have tramped - through olive groves, past tangled vines, in thrall to the smell of orange blossom. She is accompanied in this Spanish sojourn by another writer, also seduced by the beauty of the Alpujarras, Chris Stewart, of "Driving Over Lemons" fame. Stewart was inspired 27 years ago to move to the area described in 'South From Granada', Gerald Brenan's classic portrait of Andalucía, in which Virginia Woolf's visit is also described.
They scramble up hillsides, leap into pools of icy water, and are deafened by the sound of cicadas, contemplating Virginia Woolf's time, walking and writing under the Spanish sun.
Producer: Sara Jane Hall.
Last on

Broadcasts