Main content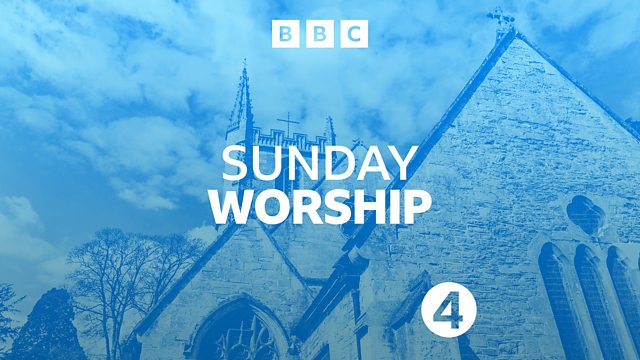 Care for Our Common Home
The Right Rev John Arnold, Bishop of Salford, preaches on the Pope's encyclical Laudato Si' from the Holy Name of Jesus Roman Catholic Church in Manchester.
A service of Morning Prayer from the Church of the Holy Name of Jesus in Manchester. The Right Reverend John Arnold, Bishop of Salford, preaches on Pope Francis' recent encyclical "Laudato Si'- On care for our Common Home". Taking for its basis the Canticle of the Sun, a prayer of St. Francis, which celebrates the wonder of creation, this letter is concerned with the relationship between humanity and the environment. The service reflects on our responsibility to the natural world and to one another in the 21st Century and celebrates the beauty of creation. It is led by Fr Tim Byron SJ, Chaplain to University of Manchester, Man Met and RNCM with music from The Coventry Singers directed by Paul Leddington Wright.
Producer: Katharine Longworth.
Last on
Script - BBC Radio 4, Sunday Worship from the Church of the Holy Name of Jesus in Manchester
Please Note
This script cannot exactly reflect the transmission, as it was prepared before the service was broadcast. It may include editorial notes prepared by the producer, and minor spelling and other errors that were corrected before the radio broadcast.
It may contain gaps to be filled in at the time so that prayers may reflect the needs of the world, and changes may also be made at the last minute for timing reasons, or to reflect current events.
Opening Announcement:
Time now for Sunday Worship which comes live from the Holy Name church in Manchester, The service is led by Fr Tim Byron and begins with an anthem by William Byrd: Haec Dies – "This is the Day that the Lord has made." 
MUSIC – Haec Dies – William Byrd 
Speech: Fr Tim Byron 
In the Name of the Father and of the Son and of the Holy Spirit: Amen 
The Lord be with You: And with your spirit 
We welcome you to this service of Prayer and Worship from the Holy Name Church and University Chaplaincy in Manchester. We are delighted the Bishop of Salford John Arnold who be preaches today as we reflect on the Pope's desire that we listen to the Call of the Poor and the Call of the Planet.  Bishop John is taking as our theme the recent encyclical of Pope Francis, Laudato Si – 'Care For Our Common Home'. I am the Catholic Chaplain here at the Universities in Manchester and like Pope Francis a Jesuit Priest.  A papal encyclical historically was a letter that was sent to the Bishops of the Church - however Laudato Si, the second encyclical of Francis, has been addressed to 'every person living on this planet'. Although the Environment is a central concern for the document it would be a mistake to call this an environmental encyclical as there is a deeper point being made. Building on the teaching of previous popes, Francis identifies a problem that runs deeper than environmental issues, namely the human ecology that is leading to a throwaway culture – in which – in his view - unwanted people as well as unwanted items are being thrown away.  Laudato Si – 'Praised Be' -  repeats the words of St Francis – where the whole of creation – the good and the bad - is used to praise God.  Brother Fire, and Sister Water as well as Lady Poverty and even Sister Death.   
Our Opening Hymn is All Creatures of 'Our God and King,'
MUSIC: All Creatures of Our God and King
Speech: PRAYER  (Bishop John ) 
God of mercy and compassion, you sent food to strengthen the prophet Elijah for the journey to the place where he would meet you. You sent bread to strengthen your people in the desert for the journey to the promised land. You send us in Christ the bread of life to strengthen us for our journey on the road of discipleship. Sustain us in courage, faith, and hope, that we may one day see you face to face, through the same Christ our Lord.
Amen
INTRO TO READING (Fr Tim)  
Today's readings have a clear Eucharistic Theme.  We begin with the great prophet Elijah, who is weary in the desert, ready to give up, but is then fed miraculously and given enough energy to continue his journey.  
Reading  - Stephanie Meredith
First Reading              1 Kings 19:4-8    
A reading from the First book of Kings, Chapter 19.
Elijah went on into the desert, a day's journey, and sitting under a furze bush wished he were dead. 'Yahweh,' he said, 'I have had enough. Take my life; I am no better than my ancestors.'  Then he lay down and went to sleep. Then all of a sudden an angel touched him and said, 'Get up and eat.' He looked round, and there at his head was a scone baked on hot stones, and a jar of water. He ate and drank and then lay down again. But the angel of Yahweh came back a second time and touched him and said, 'Get up and eat, or the journey will be too long for you.' So he got up and ate and drank, and strengthened by that food he walked for forty days and forty nights until he reached Horeb, God's mountain.
The Word of the Lord – Thanks Be to God   
(Fr Tim)
Like Elijah – Francis is challenging us, with a prophetic urgency, to look at the way we work, the way we live. In Laudato Si Pope Francis says "On Sunday, our participation in the Eucharist has special importance. Sunday, like the Jewish Sabbath, is meant to be a day which heals our relationships with God, with ourselves, with others and with the world. … It also proclaims "man's eternal rest in God. In this way, Christian spirituality incorporates the value of relaxation and festivity.  We tend to demean contemplative rest as something unproductive and unnecessary, but this is to do away with the very thing which is most important about work: its meaning."  
Many of us experience a constant pressure to make money, to meet targets, to always be online and available for these purposes. The encyclical calls us to be mindful about how we work – a mindfulness that leads us to gratitude towards the Creator.  And so the day of rest, centred on the Eucharist, the bread of life, sheds its light on the whole week. 
MUSIC  - Responsorial Psalm  (Choir)    Psalm 34
Speech
Fr Tim -  Todays Gospel comes from the Sixth Chapter of John 
MUSIC - ALLELUIA (CHOIR)
SPEECH - Gospel    JN 6:41-51  
Bishop John Arnold
The Lord be With You   
R:   And with your Spirit
A Reading from the Holy Gospel According to John 
R: Glory to you Lord 
They were complaining to each other about Jesus, because he had said, 'I am the bread that has come down from heaven.'  They were saying, 'Surely this is Jesus son of Joseph, whose father and mother we know. How can he now say, "I have come down from heaven?" 'Jesus said in reply to them, 'Stop complaining to each other. 'No one can come to me unless drawn by the Father who sent me, and I will raise that person up on the last day. It is written in the prophets: They will all be taught by God; everyone who has listened to the Father, and learnt from him, comes to me. Not that anybody has seen the Father, except him who has his being from God: he has seen the Father. In all truth I tell you, everyone who believes has eternal life. I am the bread of life. Your fathers ate manna in the desert and they are dead; but this is the bread which comes down from heaven, so that a person may eat it and not die. I am the living bread which has come down from heaven. Anyone who eats this bread will live for ever; and the bread that I shall give is my flesh, for the life of the world.'
The Gospel of the Lord 
R: Praise to you Lord Jesus Christ  
MUSIC - ALLELUIA (CHOIR)
Speech: Homily
Bishop John Arnold 
Laudato Si – A Single Tapestry of Life
Is it fair to say that Pope Francis' encyclical, Laudato Si took us by surprise? I have personally never known a papal document to be so anticipated, both within the Church and well beyond its membership. And when it was published, I could almost hear the sharp intake of breath from scientists, politicians, theologians and charities engaged in humanitarian work. Everyone seemed to find passages that included them, their work and their aspirations.
Perhaps it is the term "integral ecology" that best describes the overall vision of the text. Everyone and everything is drawn into a single great tapestry of creation, of which we are reminded that we are stewards. But the document states clearly and emphatically that our stewardship has not been good. We have exploited so much of our worldly resource and exploited people, too. We have – the Pope says - become caught up in an obsession with industrial growth, profit and material wealth to the point that we have lost sight of the well-being of creation and the need to provide for ourselves, and all peoples, in a sustainable way. We have not been aware of the consequences of our actions, and only now is the extent of the damage becoming clear. Pope Francis connects us together as a single family with a single common home. We are responsible for one another but we have forgotten about the care that we need to have for each other and for the animal kingdom and the plant life of the world in which we live. 
The encyclical describes something of the destruction that we have imposed upon our planet, the extermination of thousands of species of animals and wild-life, the destruction of so many varieties of plant-life and how through the unwitting abuse of the world's resources we have put our whole planet in danger. We are reminded that 'each organism, as a creature of God, is good and admirable in itself' (LS:140). The sorry truth is that the people who have done least to advance this destruction and waste are the very people most likely to directly suffer as a consequence.  As the Pope says It is the peoples of some of the poorest countries who find themselves affected by pollution, over-farming, and rising sea levels. Pope Francis does not hide the severity of his observations. He goes as far as saying  that we have made much of our planet resemble a mountain of filth. 
The skill of the encyclical is that it connects everything and everyone together. The environmentalist is placed in close association with the agriculturalists, the conservationists, the animal –lover, the politicians and the scientists. Each, working in their own field, is shown to have connections with and an impact on the work of others. Skills are to be shared, ideals and aspirations placed in a single coherent vision. And the connection of all creation is also made clear: Each local ecosystem has its own regenerative ability and by our care we allow the earth to heal itself. "Integral Ecology" is a comprehensive approach to environmental problems. As Pope Francis says "We are part of nature, included in it", so "we are faced not with two separate crises, one environmental and another social, but rather with one complex crisis which embraces us all." (LS:139).
Pope Francis had already put important foundation stones for his encyclical in place. In his previous encyclical Evangelii Gaudium – The Joy of the Gospel – he had reminded all the members of the Church that we are all, without exception, called to be "missionary disciples". Our Faith is not to be just something that we observe privately in our lives, but something that we are challenged to employ in all our actions and choices. There can be nothing timid in our profession of Faith. We are to be "other Christs" in the way that we live, preaching the love of God and neighbour in our actions. As St Francis of Assisi has been portrayed as saying: "Preach the Gospel always. Sometimes use words". Pope Francis has reminded us that Christianity is a way of life, not something that is merely abstract and limited to a sterile type of spirituality or prayer. In addition to reminding us that we are "missionary disciples", Pope Francis has called for a Year of Mercy during which we endeavour to develop all those channels of mercy which not only concern our relationship with God and neighbour but which reach all humanity and creation. It is in Laudato Si  that he combines all these elements into a coherent unity – a tapestry where everything is intricately connected and the many strands weave together to make one single picture.
The complexity of the challenge that Pope Francis lays before us is not to be under-estimated. He speaks of the Earth as our common home, where we are all one family. There is great need to understand how industrialisation and the demands of market forces have affected our shared home. We need first to understand the enormity of the problem and then consider the various ways in which we may begin to reverse the damage done. On the one hand the Pope acknowledges that "business is a noble vocation, directed to producing wealth and improving our world." But he also concludes that we all have to take responsibility for our actions in the damage that we have done to God's creation. And this applies to us all - big businesses, industrialists, politicians, agriculturalists, and all of us as private individuals and members of a throw away society.- 
The world is entrusted to us, with its rich diversity of animal and plant life. We must care for one another, maintaining the dignity of each and restoring that dignity when it has been lost. We must care, too, for every creature, and protect their place in the extraordinary balance of Nature. Having stated his warning to us all in no uncertain terms, Pope Francis speaks with hope and enthusiasm for all that we can achieve and the health that we can restore to our global family and our common home.
Let us be grateful for the warning given by Pope Francis and pledge our best efforts to steward well all that is entrusted to us, for the sake of our children and future generations.
Bishop John Arnold 
MUSIC: Canticle of Brother Sun – Grayston Ives
Grayston Ives' setting of the prayer of St. Francis, The Canticle of Brother Sun sung by The Coventry Singers directed by Paul Leddington Wright.
As we find in Laudato Si', St Francis is quoted as inviting us to see nature as a magnificent book in which God grants us a glimpse of his infinite beauty and goodness.
Now we join together to sing a hymn which perfectly expresses how we might respond when we open that book to view the many wonders of God's creation. How Great Thou Art
MUSIC: How Great Thou Art
SPEECH: Introduction to the Prayers
Fr. Tim This weekend sees the opening games of the Premier League, eagerly awaited here in Manchester were the two main teams have already spent in excess of £150 million reinforcing their squads. And these are only 2 out of 20 clubs spending similar sums. The students in the Catholic chaplaincy here run a foodbank which brings them in touch with many local people who just don't seem to be able to make ends meet.  -   In Laudato Si – Pope Francis is calling us all to a conversion of the heart. The call to live a simpler life is not easy to respond to, we need each other and we pray for God's grace to help us ……..
Reader:
We pray for the grace to see God reflected in all that exists, so that our hearts are moved to praise the Lord for all his creatures and to worship in union with them 
Lord hear us ……………  Lord Graciously hear us 
Reader: 
We pray that we are not blind to the injustices in our communities ... that our desire grows for the common good so that we can live in solidarity with the poorest of our brothers and sisters.
Lord hear us ……………  Lord Graciously hear us
Reader:
We pray for all those displaced by war, for those children missing school, for families who have been separated, for the elderly and vulnerable, We also pray for those communities who are called to host them, that they may respond with compassion and generosity 
Lord hear us ……………  Lord Graciously hear us
Reader:
We pray for unity of all people of faith and good will that we may seek to respond together to the urgent problems that threaten our common home 
Lord hear us ……………  Lord Graciously hear us
Our Father, Who art in heaven
Hallowed be Thy Name; Thy kingdom come,
Thy will be done, on earth as it is in heaven.
Give us this day our daily bread, and forgive us our trespasses,
as we forgive those who trespass against us; and lead us not into temptation, but deliver us from evil. Amen.
We now sing together of the Beauty of God's creation, not only of the wonder of the natural world, but also the love that we share with all those who inhabit it.
Music: For the Beauty of the Earth
Speech Goodbye & Blessing
Fr. Tim Byron:
We hope that this service of prayer and praise from Manchester has been a help to you and that you have been able to find inspiration and encouragement. Before the choir sings a closing paean of praise from Haydn's Creation, I Invite Bishop John to lead us as we ask for  God's blessing together.
Bishop John:
May the God of all consolation order your days in his peace and grant you the gift of his blessing.
(All) Amen.
May he free you from every distress and confirm your hearts in his love.
(All) Amen.
May he look upon you with kindness, and give you his peace.
(All) Amen.
May almighty God bless you, the Father, and the Son, + and the Holy Spirit.
(All) Amen.
Go in peace & Give God Glory with your lives
Music: Haydn – Achieved is thy Glorious Work
Organ voluntary
Closing anno: Sunday Worship came live from the the Church of the Holy Name in Manchester. The leader was Fr Tim Byron and the preacher was the Bishop of Salford The Rt Revd. John Arnold. The music director was Paul Leddington Wright and the organist Simon Leach. The producer was Katharine Longworth. Terry Waite is the preacher on next week's Sunday Worship from Lichfield Cathedral marking the 70th anniversary of VJ Day.
Broadcast