Main content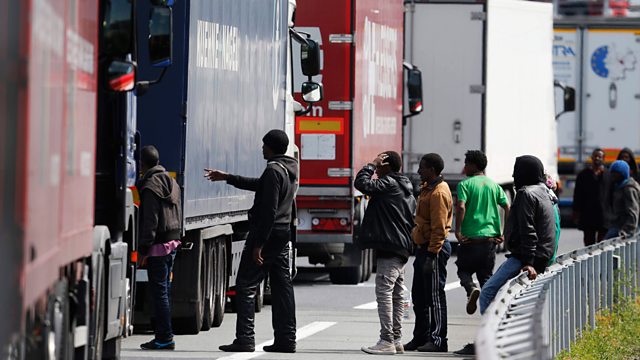 Calais migrants, Anglican Communion, North Wales pilgrim walk
As migrants try to get into the UK, is fear about 'the other' justified? Plus the next pilgrim walk from north Wales and the new secretary general of the Anglican Communion.
The Bishop of Dover made headlines this week when he accused senior political figures, including the Prime Minister, of forgetting their humanity when talking about migrants. The Rt Rev Trevor Willmott and Douglas Murray from The Henry Jackson Society debate how we can address the use of language and discuss what the Churches should be doing to help.
On Sunday in America, the residents of Ferguson mark the first anniversary of the death of black teenager Michael Brown. William Crawley speaks to Pastor Tommie Pierson about his church's plans for the weekend and his fears that planned civil disobedience could turn violent.
Trevor Barnes reports on the future of the Worldwide Anglican Communion as its new Secretary General Archbishop Josiah Idowu-Fearon takes up his post. William interviews the Archbishop about the challenges ahead and whether the Anglican Communion can continue in its current form.
Our series of essays on Christian persecution continues with BBC correspondent Yalda Hakim reporting on the situation in Eritrea.
Last week it was reported that there was an increase in the number of anti-Semitic incidents in the UK. The Labour MP John Mann is Chair of the All Party Parliamentary Group Against Anti-Semitism. He is the author of a new book, "The Oldest Hatred" which tries to reshape the debate on this hate-crime.
Bob Walker continues our series of summer walks as he explores the North Wales Pilgrims Trail which begins at a site in Holywell which has been sacred to Christians for centuries.
Producer:
David Cook
Peter Everett
Editor:
Christine Morgan.
Chapters
Ferguson Anniversary

How a local church is marking the anniversary of Michael Brown's death.

Duration: 04:17

Anti-Semitism Book

John Mann MP, author of Anti-Semitism - The Oldest Hatred.

Duration: 06:18

Worldwide Anglican Communion Feature

What are the main challenges for the new Secretary General?

Duration: 06:04

Anglican Communion Interview

Archbishop Josiah Idowu-Fearon outlines his position on key issues.

Duration: 06:32

Pilgrim Walk

Bob Walker explores the North Wales Pilgrims Trail.

Duration: 06:52

Christian Persecution

Yalda Hakim reports on the situation for Christians in Eritrea.

Duration: 03:28

Calais Migrant

Abil from Eritrea explains why he is determined to get to Britain.

Duration: 02:05

Migrant Debate

What should Churches be doing to help those wishing to claim asylum in the UK?

Duration: 06:42