Main content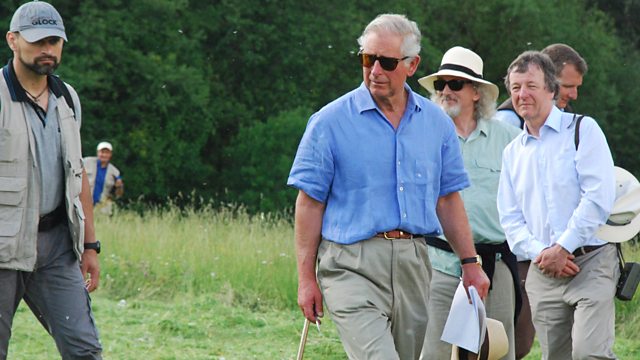 Royal Special: Prince Charles on Biodiversity
HRH the Prince of Wales shares his passion for the meadow-rich landscapes of Transylvania. Presented by Charlotte Smith.
When His Royal Highness The Prince of Wales first visited Transylvania nearly 20 years ago, he was captivated by the region's "timelessness", and said it reminded him of stories he read as a child. Bears roam the forested slopes of the Carpathians, mountain pastures tinkle with the sound of cowbells and farmers scythe their hay meadows by hand. But for Prince Charles it wasn't just about storybook images - it was biodiversity at its very best. He saw a landscape teeming with wildflowers, cacophonous with insect-life and untouched by modern farming methods.
The Prince has been spending holidays in Transylvania ever since and, for this special edition of On Your Farm, he invites Charlotte Smith to join him. He talks passionately about biodiversity - a word mistaken for a new type of washing ingredient when he first started campaigning for its preservation in the 1990s. He is open about his fears for the environment and, with a little help from Robert Byron, describes the natural world he wants his grandchildren and all future generations to inherit.
We also look at environmental projects The Prince of Wales is supporting in Romania and back home in the UK.
Presented by Charlotte Smith and produced, in Transylvania, by Anna Jones.
Last on
Broadcast