Main content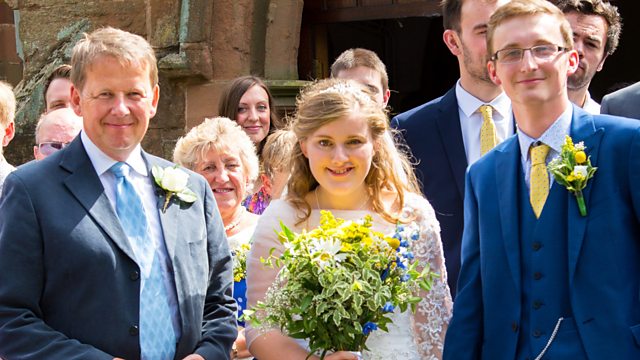 26/07/2015
The wedding season is upon us. Bill Turnbull joins a couple on their big day to find out how they prepared for a lifetime together, and we meet the wedding angels helping couples realise their dreams.
Clips

Music Played
Timings (where shown) are from the start of the programme in hours and minutes
Music
Praise My Soul, The King Of Heaven was performed by the ORNC Chapel Choir and congregation at the Chapel, ORNC, Greenwich.
This is Amazing Grace was composed by Jeremy Riddle, Josh Farro and Phil Wickham at New Community Church, Southampton.
Just The Beginning was composed by Kurt Carr at the New Testament Assembly, Tooting.
Together was performed by Doña Oxford at the Trinity Church, Gosworth.
The Lord's My Shepherd was performed by the congregation at St Peters Episcopal Church, Lutton Place.
Love Divine All Loves Excelling was performed by Olly Hamilton at Manchester Cathedral.
Lord For The Years was performed by the choirs and congregation of Coventry Cathedral.
Stories
Wedding Feature
Bill Turnbull is the guest at Phil and Anya's wedding. Josie d'Arby meets the couple a few days before the wedding to hear how they have prepared for their marriage. In the final story Phil and Anya meet Graham and Anne to get tips on a happy marriage.
Episode Image © 2015 by jbjwphotography
Wedding Angels
Claire McCollum visits a unique charity called the Wedding Angels who help young couples who can't afford to get married to achieve their dream wedding. She meets Rachael Penrose who runs the charitable wedding boutique in Salford and explores why there is a need for such a charity and how faith inspires the work that they do. Claire also meets a couple whose wedding 2 years ago was organised by the Wedding Angels and had their dream wedding organised at a hugely reduced rate.
Same Sex Marriage
Since the beginning of this year the law has allowed same sex couples to marry in Scotland. Some members of the clergy support the change and are looking forward to the day when they can officiate at gay Christian weddings in church.
Credits
| Role | Contributor |
| --- | --- |
| Presenter | Bill Turnbull |
| Presenter | Josie D'Arby |
| Presenter | Claire McCollum |
| Series Producer | Matthew Napier |
| Executive Producer | Dave Stanford |