Main content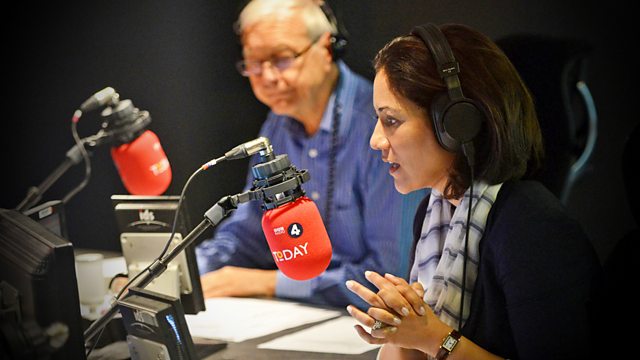 30/07/2015
Morning news and current affairs. Includes Sports Desk, Weather, Thought for the Day.
Clips

Today's running order
0650
After an astonishingly one-sided first day at Edgbaston, England will push for a big score in the Ashes today. We hear from Will Windeatt, Captain and Groundsman at Earlswood Cricket Club in Solihull.
0655
There's been another mass attempt on the Channel tunnel by migrants attempting to reach the UK overnight. We talk to Roger Broad, the director for the Institute of Directors in the south east of England.
0710
RBS releases its half year results this morning, and we discuss this with CEO Ross Mcewan.
0715
French investigators are examining a piece of aircraft debris washed up on an Indian Ocean island, which reports suggest could be from a missing Malaysian plane. Contributing to the programme is Malaysia's Transport Minister, Liow Tiong Lai and Dr Stephen Wright, an aviation lecturer from the Faculty of Engineering at the University of Leeds.
0720
The US dentist who killed a lion in Zimbabwe has apologised to his patients in Minnesota for the disruption caused by the anger directed at him. Dr Andrew Loveridge of the Department of Zoology at Oxford University was involved in a research project involving Cecil the Lion.
0725
Henni Zuel is a female English professional golfer who's the youngest player to join the Ladies European Tour as an amateur. She will be looking ahead to the Ricoh Ladies Open at Turnberry, which begins today.  
0730
President Obama called the historic deal struck earlier this month to limit Iran's nuclear programme a 'step towards a more hopeful world'. We hear from Silvan Shalom, Israeli deputy prime minister and member of the Likud party.
0740
The phenomenon that causes the "northern lights" has been spotted outside of our solar system for the first time. Dr Stuart Littlefair, Astronomer at University of Sheffield, explains the significance of this.
0750
China's free-falling commodity prices are reverberating throughout the global economy, and have now caused currencies in emerging markets to slump to 15-year lows. We hear from Stephanie Flanders, chief market strategist for Europe for JPMorgan Asset Management, and David Jollie, head of research at Mitsui Precious Metals.
0810
Following another overnight mass attempt on the Channel tunnel by migrants attempting to reach the UK, Zoe Conway reports live from Calais, and we talk to Eurotunnel spokesman John Keefe and Christophe Premat, Socialist MP for Northern Europe.
0820
The legendary horse-racing commentator Sir Peter O'Sullevan "The Voice" died yesterday after a long illness at the age of 97. Contributing to the programme is Brough Scott, the renowned horse racing journalist and former jockey and good friend of Sir Peter O'Sullevan.
0825
Angus Fraser is the England cricket selector and Middlesex managing director, and he will be discussing with Today's Sara Orchard  the third test at Edgbaston.
0830
UKIP leader Nigel Farage will today urge the NO campaign for the forthcoming referendum on the EU to get moving. Mr Farage joins us live in the studio.
0835
The FBI has told the BBC that levels of child trafficking for sex across America have reached almost epidemic proportions. Our international correspondent Ian Pannell reports on this special investigation from Baltimore.  This item contains some harrowing testimony.
0840
The Afghan authorities have said that the Taliban leader, Mullah Omar, is dead, although the President's office says it believes he died two years ago in Pakistan. Afzal Ashraf is a counter-insurgency expert and former internal security advisor to the minister of interiors in Afghanistan.
0850
On yesterday's programme we discussed new guidelines on how the NHS in England should care for people in the last few days of their lives. Today we are joined by Sacha Langton-Gilks, lead champion for the Brain Tumour Charity's Headsmart Campaign, and Hermione Elliott, former palliative care nurse.
All subject to change.