Main content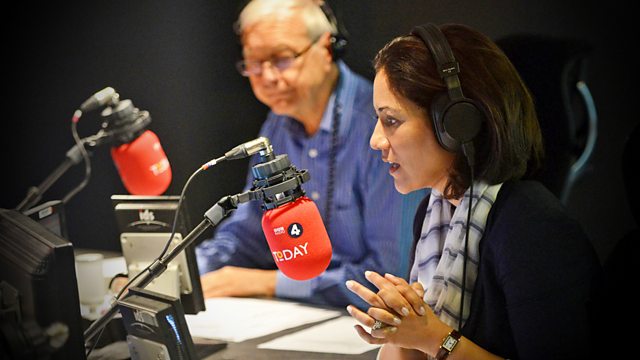 07/08/2015
Morning news and current affairs. Includes Sports Desk, Weather, Thought for the Day.
Clips

Today's running order
0650
England put themselves in a strong position to win the Ashes by battering Australia on the first day of the fourth Test. Jon Donnison is our correspondent in Sydney.
0710
Criminal proceedings against Lord Greville Janner will come to court today on allegations of historical sexual abuse. Paul Mendelle QC was recently involved in a similar type of case.
0715
This year, more than 10,000 migrants have made it from the Middle East to the island of Kos in Greece. James Reynolds reports.
0720
UK interest rates have been held at 0.5% again by the Bank of England's Monetary Policy Committee.   We speak to Merryn Somerset Webb, editor in Chief of Moneyweek, and Chris Williamson, chief economist of data provider Markit.
0725 
We're joined by Chris Broad, father of Stuart, who's back with us to react to his excellent play yesterday, which saw him take his 300th Test wicket.
0730
After the first debate of the Presidential campaign, how did the Republican candidates fare? Ron Christie is former Republican strategist and adviser to George Bush.
0740
We saw one of the most spectacular batting collapses in cricketing history at Trent Bridge yesterday. England fast bowler Stuart Broad took 8 wickets for 15 runs as Australia were bowled out for 60 on the opening morning of the fourth Ashes Test. We speak to Steven Samuelson, the online Sports Editor of the Sydney Morning Herald.
0750
A 21-year-old man from Romford, who became one of the first people to be convicted of the new "revenge porn" offence earlier this year, is to be sentenced today. We hear from Folami Prehaye, who was a victim of revenge porn, and Jef Mcallister, managing partner at law firm McAllister Olivarius, which represents victims of revenge pornography.
0810
UK interest rates have been held at 0.5% again by the Bank of England's Monetary Policy Committee. We speak to Ben Broadbent, Bank of England deputy governor, and Robert Peston, our economics editor.
0820
The Edinburgh Fringe officially opens today. Artistic boundaries and freedom of expression is a big theme this year. We speak to writer and director Cressida Brown and writer and performer Chris Thorpe.
0825 
Jonathan Agnew and Glenn McGrath will look ahead to the second day of the fourth test. Yesterday England bowled the Aussies all out for 60, the shortest first innings in Test history.
0830
Saudi Arabia is selling bonds in order to raise $27bn by the end of the year. Commentators say this is the starkest sign yet that the low oil prices are harming the Saudi economy. Professor Nick Butler is a former Head of Strategy for BP. Professor Paul Stevens is an expert on Middle East energy.
0840
The Government has held crisis talks to draw up emergency plans to support children who were being helped by the charity Kids Company, which has closed suddenly. Enver Solomon is director of evidence and impact at the National Children's Bureau.
0845
Care, an American charity that supplied and hundreds of thousands of packages of food to Britain after the Second World War, is trying to find people who received them. We speak to Nicola Peckett, from Care International.
0850
Australia were well and truly thrashed by England in the Ashes yesterday. Is it easy to recover from such a mauling? We speak to sports writers Jim White and Sue Mott.
All subject to change.