Main content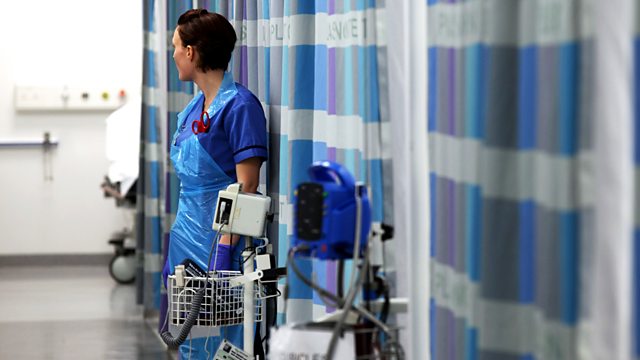 Teenager Refuses Chemotherapy
Ashley is 15 and refusing the cancer treatment that could save his life. Should the medical team and his mother persuade him? Or should they accept his decision?
Ashley is 14 years old when doctors discover a brain tumour. Tests reveal that it's highly treatable; there's a 95% chance of cure if he has a course of radiotherapy.
Ashley begins the treatment but he has to wear a mask which makes him very anxious and the radiotherapy itself makes him sick. He finds it increasingly difficult to bear and he starts to miss his sessions.
Despite patchy treatment Ashley's cancer goes into remission. He and his mother are thrilled but a routine follow-up scan a few months later shows that the cancer has returned.
Ashley is adamant that he will not have the chemotherapy that is recommended this time. He threatens that he will run away if treatment is forced on him. Although Ashley is only 15 he is 6'2" and restraining him would not be easy.
Should the medical team and his mother persuade him to have the chemotherapy? Or should they accept his decision, even though he is only 15?
Joan Bakewell and her panel discuss the issues.
Producers: Beth Eastwood & Lorna Stewart
Photo Credit: Christopher Furlong / Getty Images.
Last on

More episodes
Next
You are at the last episode
The Panel
Emma Cave
Reader in Law at Durham University, who has published widely on medical ethics and the law as it applies to adolescents
Sue Morgan
Nurse consultant at Leeds General Infirmary who runs the teenage and young adult cancer service for Leeds
Mathew Enright
Member of Great Ormond Street Hospital's 'Young People's Forum' who himself had treatment for brain cancer at the age of 15
Your Comments
I used to dismiss this programme as something which was not for me and yet found the last two episodes compelled listening.
(Barbara Zielinska)
---
Another fascinating programme, and what a very thoughtful and admirable young man. But again people on all sides of the question were not understanding the case from the patient/child's point of view.
This question of real empathy seems to me to be quite a problem in medicine. Parents, doctors, psychologists, psychiatrists, you name it, all too often do not seem to be able to see certain cases as anything other than a problem to be solved as they see best or as they want it to be. I wonder too whether that ghastly process of being screwed down with a tight-fitting face mask on was really the only way to administer treatment? I bet that if exactly that was done to the doctor to show him what it is like, some new way would very soon be devised.
That sounds harsh I know, but I feel that something must be done about this question of real empathy from medical professionals. They might well have learned how to do things that (might) make patients well again, but truly thinking themselves into each individual - and almost always unique - situation as another aspect of treating each patient is surely also very important. Or so it seems to me.
Thanks for another great and challenging series.
(Janet Skea)
---
I had the good fortune to catch episode 4 of season 11 today. Whoever was involved in the making of it has a right to feel extremely proud of what they have achieved. Life can be so cruel and so tragic and what you produced with a story that demonstrated this was thoughtful, understanding, compassionate and in the end inspirational.
It's rare we take the time to reflect upon how brilliantly our society has developed to deal with such tragic events. That we have so many people who devote their lives to try and eradicate the causes of such tragedy. That we have a society that when faced with an individual complex case, does all in it's power to try and do the right thing by a teenager.
Seriously brilliant work and exactly the type of thing that the BBC should hold up as an example of why it is so important that we must protect an institution capable of fostering such greatness.
I'm so proud to be British today and if I could be, I'd be proud to be a broadcasting corporation too!
Keep being brilliant. I hope you're having a good week.
Thank you and all the best
(Tom Hill)
---
I was curious that there was no mention of attempts to quell Ashley's phobia with tranquillizers. My own experience was nothing like as drastic: just wisdom teeth out, under local anaesthetic. But with a simple shot of Valium, I endured the operation completely at my ease (and somewhat out of it), even though it involved vigorous cutting away of gums and a fearsomely noisy circular saw in the back of my mouth. Moreover, since I knew in advance that there would be Valium, I felt no trepidation beforehand.
Obviously, to be effective, such measures should be applied sooner rather than later, when the phobia is established. The growth of phobia was central to this tragedy, and from quite early on dominated all Ashley's decisions. Could it be that tranquillizers were tried but failed, and were cut from the narrative to avoid unnecessary complexity?
(Luce Gilmore)
---
Hi, why couldn't Ashley have had a coma induced for his second round of treatment? 50-60% chance of cure is high and he is too young to realise a small amount of time could grant him a longer, and possibly cured, life. Ridiculous that his height keeps being mentioned as if it makes him more mature.
Such a sad story,
(Donna)
---
I was so upset by the tenor of the deliberations of the 'ethics committee' concerning this case. The perspective taken was one of incredible hubris in the face of the failings of the medical team involved. Ashley was let down by almost everybody who came into contact with him. Underlying the reported conversations with Ashley from the outset, one sensed a sneaky but apparent self doubt on the part of his consultant - an almost self denied realisation that Ashley may have not been as mature at the beginning of his treatment that his height and superficial demeanor indicated - though how could any adult not see that his taking of the 'important' seat in the medical consultation room could ever be any more of an indication of childish bravado and certainly not ever, ever, an indication of maturity - in spite of his 'tallness'.   Anybody with an ounce of common sense could have seen that Ashley needed much much more emotional support from the start and throughout his treatment - he was just a little boy. He needed the company of other young-teen cancer sufferers yes, but mostly he needed drugs to stave off his anxieties and enhance his mood, he needed adequate sedation during his radiotherapy and he needed his whole treatment,emotional as well as medical, to be properly managed by the adults who were responsible for him. My heart bled for his poor mother who could not see - or could not bear to see at the time and still apparently fails to see - how badly he was let down by all his medical carers. In the same circumstances, with a child in his position, I would have jumped up and down, shouted, banged the table and threatened legal action and would still be doing so. No wonder poor little Ashley gave up on his treatment and excellent chance of recovery with a medical team like that, what else could he do? A more than 90% chance of survival reduced to nothing. Almost murder. The final insult was Joan Bakewell so blithely demonstrating that even so far after the event, and with plenty of time for reflection, that as far as she was concerned there was only an 'ethical issue' to be discussed and a programme to be made. In the end Ashley was the only adult in that hospital and all those round him were idiots. It made me cry.
(Anne Downer)
--- 
Deeply moved by today's programme and Ashley's story. Simply told but with deep conviction, led by the marvellous Joan Bakewell. Only Radio 4 and 'Ethics' can tackle this genre and only radio and pure 'sound' can do it justiceI suspect many people of my generation will carry a greatly enhanced vision of 'teenage' forward with them after today.
Thank you BBC!!
(Peter Grimsdall)
---
I am a long standing fan of this series, it is Radio 4 at its best ... and it keeps bettering itself. I thought today's episode was the most outstanding of yet another outstanding series – informative, thought provoking, sensitive and extremely moving. Joan Bakewell is the ideal presenter as she steers us through the thinking and decision making processes, treating all contributors with equal dignity and l respect. Both she and the team who research and construct this series deserve to be put forward for awards. My thanks and congratulations to all – and I hope future series are planned. I also think all the series should be packaged as training professional resources.
(Catherine Moorhouse)
---
I'm a 'cancer mum'
I'd really like you to alert listeners to 'The Compassionate Friends' which is an organisation that supports bereaved families.
I'd also like to comment that, as the parent of a 24 year old I felt totally invisible. My son had the best possible treatment and his death could not have been prevented. I would not recognise any members of the team that supported him if I fell over them. Two and a half years on I still feel totally invisible and I don't even feel like a real person. I fully understand about patient confidentiality. My son went with his dad to his appointments and I supported him in this decision. His dad fed back to me and I refused to believe that my son would die. Denial is all consuming. I really needed one conversation with the people who were treating my son and so did his siblings (his sister and his identical twin). I feel that this might have taken some pressure off my son too as I was relentlessly optimistic which was so hard on him. I think all patients must have a family of sorts, whether by birth or not, and maybe it would be good for the patient if the consultant spoke to them for a few minutes and helped them to understand and face up to the inevitable.
---
Thank you so much for today's programme though I am typing this as I cry.
 
Raymond died in 1990, aged 15, of brain cancer.  The programme, particularly the description of the radiotherapy mask, took me back across 25 years.
 
He went through 2 years of treatment but I too believe in young people having the right to decide and would have supported him if he had wanted to withdraw, as it was a tough time all round.  Treatment was tough, as was some of the ward culture, all backed by a steady decline in his physical and mental abilities as treatment took its toll.
 
He died at home after we had a prognosis of him having around 2 weeks to live.  He was surrounded by friends, family and his cat as the house was filled by visitors from far and wide.
 
(Alison)
---
Thank you for broadcasting the Inside the Ethics Committee programme today.  I am studying medical law and most of the case law on capacity are ones which have been subject to court rulings.  It was therefore very useful and informative for professional practice to hear of a case which involved a patient and health professionals that did not go to court.  I am grateful that the people affected agreed to take part.
(Anna Lincoln – BSc (Hons) Occupational Therapy)
---
I am listening to your programme in Scotland. It is extremely interesting but as a National station Radio 4 should explore differences in the law if they exist in the Home Nations. In Scotland a 15 year old teenager with capacity can withhold consent. At the moment non legally qualified Scots are being misinformed by your programme, of course it is ongoing and you may remedy the defect by the end.
(Elaine Coull – Accredited Specialist in Medical Negligence)
---
Why is Joan Bakewell using the absurd 'historical present'? All the other non media contributors are correctly using the past tense.
The use of the 'historical present' is not clever, it does not make the events seem immediate, or have any other impact other than to be irritating
(Colin Picton)
ENDS
Programme Transcript - Inside the Ethics Committee
Downloaded from www.bbc.co.uk/radio4 
THE ATTACHED TRANSCRIPT WAS TYPED FROM A RECORDING AND NOT COPIED FROM AN ORIGINAL SCRIPT.  BECAUSE OF THE RISK OF MISHEARING AND THE DIFFICULTY IN SOME CASES OF IDENTIFYING INDIVIDUAL SPEAKERS, THE BBC CANNOT VOUCH FOR ITS COMPLETE ACCURACY.
INSIDE THE ETHICS COMMITTEE
Programme 4 – Teenager Refuses Chemotherapy
TX:  06.08.15 
PRESENTER:  JOAN BAKEWELL
PRODUCER:  LORNA STEWART
Bakewell
Cancer can call for severe often stressful treatment: but how can you explain that to a child:  and at what age can they decide whether they want it or not:  who decides on what could save their life?
Welcome to Inside the Ethics Committee.
It's the year 2000 and Ashley is 12 years old when he starts to feel unwell.
Mother
He'd actually been on holiday with my sister to Ibiza and when he came back he told me that he'd been having migraines while he was away.  So we went to see the GP and they said that it was quite common for a 13 year old boy to get them and every time the headaches got worse they suggested that we take a different type of tablet and this went on for approximately two years.
Bakewell
Then one day when Ashley's 14, he collapses at home.  He's taken to his GP who sends him in an ambulance to the local hospital. Tests reveal a brain tumour.  At once Ashley's transferred to the regional hospital for emergency surgery - doctors need to take a biopsy of the tumour so they can identify its type and determine the best course of treatment.  
Mother
He did obviously pull through the operation, thank god.  He was quite ill to start off with.  He was in intensive care for 24 hours.  He actually asked them to take pictures of him while he was in there so that he could show people how poorly he looked with all these wires coming out of him.  He was more concerned about waking up and watching football in the morning than what he'd just been through.  He then obviously went on to the ward.  Bit devastated that they'd shaved him head but I did tell him that obviously he could have his hair done once it came back.
Bakewell
Over the next week or so, Ashley recovers on the ward of the regional hospital.  He meets the cancer specialist there. 
Doctor
I'd noticed him on the ward as being a very tall young man, six foot two or thereabouts, but he was on a children's ward and he looked kind of out of place because he looked like a young adult.  Yet he must have been under 16 because that was the age limit of the ward at the time.  And as a paediatrician I'm aware of that, as being always a potential source of misunderstanding and conflict in how you speak to people.  We met in a clinic room along the corridor, so we had some confidentiality.  And when I came into the room he was sitting in my chair at the desk.  I realised that this was an indication that he was at a kind of conflict with his age, his maturity and his physical size and he was making somebody know he wanted to establish himself in his eyes.  So I went and sat in the play box, which seemed to be the right thing to do as a paediatrician.
Bakewell
The doctor talks to Ashley about the type of brain tumour he has and explains that, with treatment, he has a 95% chance of being cured and having a normal life expectancy.
Mother
At the time they offered him radiotherapy he was quite positive because of the odds they'd given us.  So at that point we thought yeah brilliant we'll have the radiotherapy, you're going to be fine.
Bakewell
The doctor explains that Ashley will need radiotherapy once a day, five days a week, for five to six weeks.  But the process requires Ashley to wear a mask.
Doctor
In order for the radiotherapy to be precisely delivered to the parts of the brain you want it to we have to make a mould of your head which we put on you when you're lying face down on the table, there's a hole in the table that you can look through, so that you're in that position and that position can be reproduced every day so that you're always in the same position.  Making the mould involves covering your head in plaster of Paris and then letting that set and then making the mould of that plaster of Paris mould.  And if you're claustrophobic or find having your face covered upsetting that is quite a difficult thing to do.
Mother
He didn't like having the mask made, he got very agitated over that but I think anybody would have done, having your whole face covered and just a straw coming out of your mouth to breathe.
Bakewell
Despite his anxiety Ashley manages to get through the process with the specialists' help but he finds the next stage just as overwhelming.
Doctor
When he actually went in to do what they call the simulation, which is practising lying on the table with the mould bolted over his head, he became claustrophobic and extremely anxious and refused to go in the room.
Bakewell
Ashley needs radiotherapy five times a week to treat his brain tumour. It only takes about a minute to deliver it but the process of being put in the mask, bolted to the table and positioned correctly can take several more.  Children under the age of five can be put under anaesthetic for this but older children and adults are taught techniques to help them cope.
But try as they might, it's too much for Ashley.
Doctor
A variety of people became engaged.  The radiation therapy technicians use a very skilful psychological approach to reduce any symptoms and normally what happens people become more confident and they can put their fears to the back of their mind and gradually manage to accept it.
Bakewell
But the mask isn't the only problem… Ashley's having side effects of severe vomiting which is made worse by the fact that he and his mum have to travel by car for over an hour to get to the hospital each day.
Mother
All the way home we had to have sick bowls because he couldn't stop vomiting.  We'd get back home and the vomiting was still continuing and we'd have to phone a nurse to come and give him an injection to help to stop the vomiting.  And by the time it had stopped all he wanted to do was go to bed and go to sleep.  It was horrendous to be quite honest, watching your own child go through that.
Doctor
This can happen when the radiotherapy is being applied to a bit of the brain which controls vomiting and this was very distressing to him.  So he was on regular medicines to reduce the anxiety.  And he was on anti-sickness medicines but they weren't 100% effective, this sometimes happens.
Bakewell
The nursing assistant tries to support Ashley throughout the treatment. 
Nurse
He was told how important it was to have this treatment on a regular basis but he never saw it that way.  He would have it sometimes and then he wouldn't have it.
Mother
He got to a point where he was – I can't do this anymore – and injections – because he was so frightened of needles, so the fact that he'd got to have one every single day really agitated him.
Nurse
He would run from the site and his mum didn't know where he'd gone.  Sometimes when I did find him I would just put my arms round him and he was a very tall young man to put my arms round.  And he actually always reciprocated.  And say - why is this happening to me.
Bakewell
The team all try to persuade Ashley that treatment is crucial to saving his life, but he sees things differently.
Nurse
He said – who knows if this is going to work, it might just get better on its own because apart from having some headaches to all intents and purposes he was a healthy 14 year old.  And we told him he wasn't.  And that was hard for him to deal with.
Bakewell
In order to cure Ashley's cancer, radiotherapy needs to be given at regular intervals – at the same time each day.  But Ashley is reaching the end of his tether.
Mother
When we got to the third week he just refused to go.  Really went very depressed and down.  He just basically lived in the dark in his bedroom.
Bakewell
Discussing Ashley's case today are Sue Morgan – a nurse consultant at Leeds General Infirmary who runs the teenage and young adult cancer service for Leeds and Mat Enright a member of Great Ormond Street Hospital's 'Young Person's Forum' who himself had treatment for leukaemia at the age of 15.
Mat, what was that like?
Enright
So I was diagnosed when I was seven initially and then unfortunately I relapsed with leukaemia in my central nervous system when I was 15.  I was really angry actually, I felt furious.  I can remember going into a toilet and shouting and screaming, kicking whatever was in there.  For me then, after a few weeks of being absolutely angry, I kind of was of the mind-set that I want to get back to bring normal.
Bakewell
So you accepted that you would go through the treatment?
Enright
Yes, I was going to have chemotherapy and radiotherapy.
Bakewell
So then it's radiotherapy and chemotherapy and it's the mask, now tell me about this mask.
Enright
So I've brought the mask…
Bakewell
Just lift it up and then I – it is indeed like something out of a space horror movie.
Enright
Yeah it's not…
Bakewell
It has no charms of any kind.
Enright
No.  Mine's slightly different from Ashley's.  So I was lying head up on the table and this mask it covers your entire head, your eyes are covered in, your nose is covered in and you just have a small gap for your mouth to breathe through.
Bakewell
Do you feel quite comfortable breathing like that, you don't feel you're going to choke or…?
Enright
I wouldn't say it's comfortable, it's incredibly claustrophobic, so you're basically screwed down on to a table, so your entire head is covered and the mask is screwed in.  So you can move your arms and legs around but your head and your neck are bolted on to a table.
Bakewell
And what about – I mean you were teenager at this time, so life was completely collapsed around you, you weren't doing any of the teenager things.  How did you feel going through this process?
Enright
Yeah just stuck in a room lying in bed just looking out the window, kind of thinking – think about what all my friends were doing, it was a summer holiday so I was thinking I could be down at the park playing football, all those sort of things.  But then other times I would think like this isn't what it's always going to be like, I'm going to be – I'm going to be better soon and I'm going to look forward to seeing my friends as a normal person.
Bakewell
Sue, Mat's experience is quite different from Ashley's of course but should we expect, since both of them were teenagers, that they would know their own minds?
Morgan
Yes I think that teenagers most certainly know their own minds.  The one thing I think that's different is that Mat had already been through treatment and knew that he had to stick with it in order to get better.  I think that Ashley clearly didn't feel particularly unwell and so couldn't understand the reason for treatment.  Teenagers and young people do understand their own mind but what they see is one day at a time, rather than looking into the future.
Bakewell
So how do you handle that, how do you persuade them to have the treatment?
Morgan
More often than not the teenagers will have their treatment.  I work on a teenage cancer trust unit, which is specifically for teenagers and young adults with cancer, so it's for 13-25 years of age.  So they're all nursed together.  So a lot of what we do is about peer group support, so they're always with the same aged young people.  So a lot of that peer support is very important in getting young people to have their treatment.
Bakewell
We have mentioned that young children can be put under anaesthetic…
Morgan
They can.
Bakewell
… why can't you do that for someone who is claustrophobic, why couldn't you do that for Ashley?
Morgan
I think that if somebody is severely claustrophobic you could under certain mitigating circumstances you could do general anaesthetics but general anaesthetics also come with risks.  So it's always better to try and do the treatment without a general anaesthetic because of the risks involved.
Bakewell
Right well let's resume Ashley's story now.
It's 2002 and he's at home, in his bedroom, refusing his daily radiotherapy sessions.  His doctor, meanwhile, is trying to turn the situation around.
Doctor
I met with his mother and we discussed the implications of his refusal.  He was then just 15 and we felt that his emotional reaction to the treatment and his phobia meant that he wasn't in a position to truly give his own consent and therefore have the right to refuse it at that time.  And we persuaded him, and his mother played a big part in this, to stay in hospital, at her request, but recognising that it was against his wishes.
Bakewell
Ashley hasn't had any radiotherapy for over a week now, so the team really hope he won't miss any more. Back in those days, it's 2002, hospitals weren't really set up for a 15 year old boy like Ashley.
Doctor
In 2002, you'd be in a female dominated environment where nurses were in charge of everything.  They would talk to him about all his physical functionings on a regular basis, which most teenagers don't like doing, and on the one minute there would be two year olds screaming and crying all night and if he wanted to watch the television people would be telling him to turn it off at nine o'clock and there might be some other teenagers around but many of them may have been disabled because he was on a neurosurgery ward.  So he would have felt that he wasn't amongst his peers.
Bakewell
Despite all this, Ashley manages to stay in hospital for a few weeks to see the rest of his treatment through to the last session. The moment it's over Ashley smashes his mask. His mother.
Mother
I can remember at the end of him picking it up and walking out the hospital and literally smashing it into pieces, like it's over, it's done, never want to see that thing again as long as I live.
Bakewell
Ashley and his mum return home and, despite his patchy treatment, brain scans reveal the tumour has gone and he is in remission.  For 95% of patients, this means the cancer won't return for at least five years and, for most, it will never return.  So this is great news for Ashley.
Mother
He felt over the moon, glad it was all over.  The fact that he could come home.  So we're thinking yes it's worked, we can move on, you can have a life.
Bakewell
Ashley is being followed up by the team in his local area. The plan is to scan his brain every three to six months to confirm the cancer hasn't returned.  While Ashley and his family and friends are relieved he's well, domestically it's proving a gruelling few months.  Ashley has two younger brothers, and the months of juggling their day to day needs with Ashley's cancer treatment is taking its toll on his mother.  She remembers how she felt.
Mother
Very low, very low.  I think once you've been through something like that you sort of come down with a crashing bang where you just go on autopilot and you have no choice, you have to function, you have to go day by day.
Bakewell
The psychologist in the local team visits his mother at home. 
Psychologist
We would sit around the kitchen table very informally and Ashley was in the sitting room listening to music or watching something on telly but now and then he would throw a comment through the open door and then one day he literally just came into the kitchen, lit up a cigarette and sat down with us.
Bakewell
From then on Ashley joins the meetings and gradually he starts to talk.  He's got a lot on his mind. He's worrying about his future.  He's always dreamed of being in the army but, with his cancer diagnosis, this now seems out of reach.
Mother
What he'd chosen as a career before all this started had been taken away from him.  Plus because he'd been so poorly he'd lost so much time off school, he was so far behind, he was like well how do I do exams.  And I was – we're work around it.  But he was still – my career's gone and I don't know what to do.
Bakewell
And then another idea crops up in the conversation.
Psychologist
Ashley had heard mum make a comment that she was worried that if he relapsed what would they do.  And I think it was at that stage that he had said something like – I will not have any treatment if it relapses.
Mother
I couldn't see why he would say that or how he could expect me to live through that.  So I basically was yes you will if we have to, you're not going anywhere, I need you to stay here, you're my baby.
Psychologist
He was very clear that he had felt so ill that he couldn't bear the thought of going through that again.
Mother
That would be the worst nightmare.  I can remember saying you will go through it if we have to, you will have treatment if you need to have it again.
Psychologist
And mum was adamant that she would get the courts involved straightaway.  And he was saying well you know it's my life and it's my body and you can't do that to me.
Bakewell
Over the next few months, the psychologist works through Ashley's concerns with him – in one to one sessions, and also with his mother.  But it's difficult to get to the heart of what his problem actually is.
Psychologist
Everything that happens in a young person's life impacts and so will their personality.  It would take many years to begin to tackle all of those tricky issues that were impacting on this particular situation.  He saw his mother's side of it, he saw the doctors' side of it but he was totally set in his belief that he couldn't go through it.
Bakewell
Joining Sue Morgan and Mat Enright now to discuss this case is Emma Cave, Reader in Law at Durham University, who has published widely on medical ethics and the law as it applies to adolescents.
So Emma, let's start with you in this situation, let's step back – Ashley is 15, what is he allowed to decide for himself at that age?
Cave
Well once Ashley is 18 and viewed in law as an adult then at that point he's allowed to consent to or refuse medical treatment, even if others consider that the decision he's making is irrational.  And that applies unless it is found that he lacks capacity to make that decision.  Until then though, although he may be able to consent to treatment if he is seen as competent to do that he isn't necessarily able to refuse it, if others consider that treatment to be in his best interests.
Bakewell
Right, so he does not have that right.  Are people ever allowed to make medical decisions below the age of 18?
Cave
Absolutely, yeah.  So if he was seen as Gillick competent he would be able to consent to treatment.
Bakewell
Can you explain that?
Cave
Certainly, so the case of Gillick was a 1980s case where it was held that children under the age of 16 are able to consent to treatment provided they fully understand the decision that they're making.
Bakewell
So it's rather strange isn't it, you can get married at 16, you can drive at 17, you can serve in the army, you can't vote till you're 18 – I mean what kind of logic is going on here?
Cave
Indeed, this is one of the most contested areas of medical law.  And the law attempts to balance on the one hand his autonomy interests, his right to be independent and to think for himself, and on the other hand the fact that he's still in law a minor.  So the framework that applies is that of the Children Act 1989 which says that the paramount consideration is his welfare.
Bakewell
We can appreciate that in a situation in which someone is very young and needs to be cared for but Ashley's 15 and he's got a lot of opinions, he appears intelligent and makes his views heard, is there no nuance in the law that allows for this?
Cave
There is indeed.  It's a balancing exercise and it will be different in every single case.  There is a checklist, a welfare checklist, in the Children Act and the first point on that checklist is the views and wishes of the child.  So it's very important to ascertain those views and wishes.  But those factors are balanced with other issues and there's a very strong presumption in favour of preserving life.
Bakewell
So do those conditions amount to more than tokenism – we'll listen to the child but we'll do what we want?
Cave
Yes I think they do.  One factor is well what does this child want but another is well how competent is this decision that the child's making or the young person, in this case we're dealing with a young person at the age of 15.  So the doctor will want to make sure that Ashley fully understands the decision that he's making.
Bakewell
Mat, let's talk about this situation in the hospital because he's a teenager and he's not among teenagers.  What was it like for you?
Enright
Very, very strange.  Certainly on the ward I was in there was no one above the age of maybe 10.  I remember there would be play specialist would come in and try and get me out of my room to play with all these little children, I said no way, there's no way I'm leaving my room to do that.  I still have shudders now when I hear the Balamory theme tune, that was something I'd always hear, I'd wake up after a – after some treatment and hear that and, yeah, still don't – still don't like that song.
Bakewell
So did it impact on your state of mind anymore seriously than you just being irritated?
Enright
Thinking back to when I was diagnosed the first time, so I was seven when I was initially diagnosed, I can remember having fond memories even of being at Great Ormond Street of playing with children my age and that was certainly something didn't have the second time.
Bakewell
Now Sue things have changed since then, how extensively have they changed and what do the changes consist of?
Morgan
Things have changed immensely over the years and right across the country there are now specific units for teenagers and young adults with cancer.  And on my unit, for example, it's been designed with and for young people, so they've made it look bright and friendly, there are beautiful murals all over the wall.  We have complementary therapy that come in, we have youth support coordinators that will provide experiences for the young people to do in the day, so that distracts them from the fact that they might feel sick because they've had chemotherapy or radiotherapy, they're being distracted, they feel better.  And the other thing about having distraction and things to do is that they then talk to professionals who are working alongside them without actually realising they're talking to professionals because they're engaged in doing other things.
Bakewell
How important is it for young teenagers who are ill to be among their peer group?
Morgan
Peer group support is pivotal to what we do, absolutely pivotal.  Because the young people then are together, they can share experiences, they realise that they're not the only young person in the country who's got cancer, that there are other young people who are going through it in the same way as they are.  And they get tremendous support from each other.
Bakewell
I mean you make it sound terrific on your ward but how widespread is this kind of…?
Morgan
It is across the country now.  There are units in every principal treatment centre in the country, largely funded by teenage cancer trusts but working alongside government and the NHS to develop this, massive network.
Bakewell
Now Mat you're part of this yourself, you're actually campaigning about it, can you tell me what you've managed to do?
Enright
Yes so I'm part of the Young People's Forum at Great Ormond Street.  So things that we try to emphasise are how you talk differently to someone that's a young person rather than a child.  So, for example, something just as simple as the doctor actually addressing the patient, rather than talking to their parents. 
Bakewell
Let's get back to our real-life story now.
Ashley is in remission and he's trying to get back to normal life but several months in, Ashley isn't well.
Mother
He was telling me he got migraines again.  He'd had them for a few weeks and hadn't dared to tell me.
Bakewell
A brain scan reveals the news they've been dreading.
Mother
We went back into the room and sat down and this doctor said that it was back and Ashley's first words were well how long have I got.
Bakewell
Ashley is so distressed he punches the walls and the doors in the clinic.  He asks to see the psychologist who comes over to the hospital at once.
Psychologist
He was pacing around outside, hyperventilating and I just walked beside him.  And he was saying oh I can't have treatment, I can't, I just can't go through it, I can't, you do understand.
Bakewell
The cancer specialist at the regional centre, who oversaw Ashley's radiotherapy, is deeply saddened by the news, but not surprised.
Doctor
We felt the delays in the primary treatment was probably contributory.  Although you can never be sure because some tumours are more resistant than others.  My difficulty was that we'd never really repaired our relationship after I'd admitted him against his will to hospital and so I was working through my colleague at the local hospital who had built a relationship with him.  We did discuss further treatment.  He was offered chemotherapy that would need the insertion of a central venous line which you put into the chest to avoid us having to stick needles in people because he was already needle phobic.  It would need blood tests.  He would lose his hair.  There may well be significant problems with vomiting, weight loss, he would be very ill for six months, needing a hospital existence.  He wouldn't be able to go to school.  Many young people and children are able to get through it but it is not an easy process.
Bakewell
The team at the local hospital explain to Ashley that if they start the chemotherapy soon, there is a 50-60% chance of curing him.
Mother
I asked him to sit and listen to what the options were, what the percentages were this time.  To me the best option was to go with the chemo but he just looked at me and said – Mum, I can't do it.  He told me point black – no way.
Bakewell
Different members of the team, including one of the nurses, try to encourage Ashley to agree to the treatment. 
Nurse
My initial thoughts were if we spoke to him quite a bit about what the treatment would involve and what sickness drugs that we could give him and how everything would go ahead then perhaps we could change his mind because it was a different type of treatment than the radiotherapy.
Bakewell
But Ashley is resolved in his decision.  And even if the chemo works, he can't face the chance of the tumour coming back.
Psychologist
Every day for the rest of my life, this is what he said, I will have to wake up and think – is it coming back today – and I can't live like that.
Doctor
We were all very upset, to be honest, it wasn't a situation we encounter very frequently.  He was quite clear – I'd rather die, rather than to have treatment.
Mother
My head – I think it just completely went because all the words prior from him saying I'm not going through this again all started coming back.  And all he kept saying was that – I'm a teenager that should be going out with the friends, getting ready to go to college, to get the job that I want to get and – he says – everything's gone, there's nothing left.
Bakewell
As Ashley continues refusing life sustaining treatment, the team consider whether they should force him to have it.   This is possible in young children when it's deemed to be, as the phrase has it, in their best interests, but Ashley is a strapping 15 year old with a mind of his own.  
Nurse
When you're talking Ashley being six foot two and having him sitting there with a cannula going into the back of his hand for his intravenous treatment, he said he would rip the cannula out if we put a cannula in and it was very risky to actually even do that.
Psychologist
How do you force somebody to go through months of chemo, what do you do, do you make them unconscious and handcuffed to a bed, how do you do that, how do you actually practically do that?
Doctor
We couldn't have put him to sleep every time for his therapy because there were so many treatments over such a period of time and forcing somebody to have an anaesthetic is not something you can do safely.
Mother
He kept saying that if we were to force him he would run away and he would die on the streets where nobody knew where he was.
Bakewell
Another consideration for the team is this – is Ashley capable of making an informed decision to refuse life-saving treatment?
When Ashley first had radiotherapy, the doctor and his mother felt that Ashley didn't know enough about cancer treatment to refuse it, and they managed to persuade him to have it. This time round, the doctor feels differently.
Doctor
He'd been through treatment once already.  So although he was taking a particular view he actually knew what treatment was like, so he was fully informed.  And so we couldn't say that he wasn't informed and therefore couldn't make the judgement.
Bakewell
The doctor seeks the opinion of another cancer specialist who agrees with the treatment being offered.  He also gives his view on Ashley's capacity to decide for himself.
Doctor (2)
My clear impression was that he was making a considered decision.  I didn't necessarily agree with the decision but this wasn't just fear of treatment, it was beyond that, and you wouldn't question it at all in someone who was older.
Psychologist
He's one of the few young people who's ever candidly talked about dying with me.  He even understood what that meant in terms of his genes carrying on into the future.  He had a very clear understanding of what dying meant.
Doctor (2)
I have never seen a young person who has made that decision before, it's the first time that this has happened in my career and you can kind of question well who's doing the right thing here, is it me, is it the patient, should we be doing something different.
Mother
Everybody was pressurising him to say yes – his aunties, his nan – they all wanted him to go through with it.  But all he kept saying is he couldn't do it, please could they understand that.
Nurse
The conflict as well at the time was that mum was desperate for him to have the treatment.  The anxiety that mum went through was awful.
Mother
My head's spinning around and round and round and I'm thinking he's not going to do it, he's not going to do this, what do I do.  They told him that if he did nothing he would basically have four to eight weeks.
Bakewell
We return now to our panel – Sue Morgan, Emma Cave and Mat Enright.
Mat, let's stay with you because you've been through something similar to this, and this is a terrible situation for Ashley.  What do you think he's feeling?
Enright
It's just the worse possible news you can ever hear.  A couple of years ago I actually thought that I had relapsed.  I'd just finished university, I was planning to go travelling with my friends, I was going to start on a graduate job afterwards, everything was going so well.  And I can really remember thinking – and I even spoke about it with my mum and dad like I'm going to go travelling, I thought know what is going to be down the road if I carry on having chemotherapy and radiotherapy and for me – and I can sympathise with Ashley as well there – you have to think about what life is and for me I wanted to go out and have fun and then maybe down the road maybe I'd start.
Bakewell
So you considered delaying the treatment, did you ever consider refusing the treatment?
Enright
No, I thought I would delay it and do this thing that I want to do and then I'll start on it.  And luckily for me that wasn't a decision that I had to make because I hadn't relapsed.
Bakewell
Emma, can I come to you because this is a really serious situation now, and the team are even considering whether to take Ashley's case to court.  Now are there situations where this has happened with teenagers?
Cave
Well doctors now view Ashley to be making a competent decision and if Ashley, the doctors and his mum all agreed that treatment shouldn't continue then there really wouldn't be a place for the law in this.  If there is disagreement, however, or if the doctors felt that they wanted to get an independent assessment of what is in Ashley's best interests in this case, then they could take the case to the court.  And one option for the court would be to make a specific issue order, saying whether or not treatment would be in Ashley's best interests in all of the circumstances, given all the facts.  But one of the relevant facts here, in addition to his competence, in addition to the clinical factors, would be the feasibility of actually requiring him to have this treatment over the course of six months.  So forcing him to stay in hospital.  And then in addition to that forcing him to have the treatment on a weekly basis.
Bakewell
How do you do that?
Cave
Precisely, if it can't be done then the court would not require the hospital to do it.  Now there has been a case recently reported by the media from Connecticut in the United States.  It involved a girl who was 17 and she refused chemotherapy for Hodgkin's Lymphoma and it was decided in court that she should be confined to hospital to have that chemotherapy and she was confined there for a period of four to five months.  But there are very big differences between that case and this one.  One difference is that the court there decided that she wasn't a mature minor, she wasn't able to make a competent decision.  The evidence in the media is that at first she had to be restrained, it seems that after that she was fairly compliant.  The evidence in Ashley's case however seems to be that he probably wouldn't comply and that makes the case really quite different.
Bakewell
So what about the situation in the UK – do the courts every force chemotherapy on a 15 year old?
Cave
There is no case that I know of where that has happened.  The courts have forced treatment on minors but it tends to be a single treatment, a one off treatment, for example a blood transfusion, where the restraint necessary would be fairly minimal in comparison to the restraint they'd be looking at in this particular scenario.
Bakewell
Now Sue have you ever been forced to give treatment?
Morgan
No, we had a very similar case about 10 years ago.  A big lad who had a bone tumour, who was 15 years of age, six foot two, and he was refusing his chemotherapy and mum didn't want to force him.
Bakewell
Now Ashley's mother is adamant that she wants Ashley to have the treatment.  Emma, does a parent have any legal status to ask for treatment, insist on treatment even?
Cave
The paramount consideration here is the welfare of Ashley, not the mother's rights and interests in saying what ought to happen.
Bakewell
Sue, have you had situations in which the parents wants one thing and the teenager wants something else?
Morgan
Yes that happens very often and it's not always about whether they have treatment or if they don't have treatment, there are other decisions along the way.  And more often than not they're resolved by listening and having expert discussions with the families and resolving it together.  But the big issues of the child not wanting treatment and the parents wanting them to have treatment are few and far between and very difficult to resolve, like – in cases like this.
Bakewell
Mat, did you have any disagreements at all with your parents?
Enright
Not any major ones, the only one I can think of is when you're having chemotherapy they'll try all different drugs and you could either have the option of going on the trial for the new drug or taking the old tried and tested one.  I think my mum and dad wanted to go with the tried and tested and I wanted to take the new one because it would potentially help other people in the future.
Bakewell
And which way did you go?
Enright
Yeah I went my way, so I went for the new trial, the new trial drug.
Bakewell
Do young people change their minds Sue?
Morgan
Oh yes they certainly do.  They change their mind from day to day often.  I mean sometimes they might not want something then they'll say okay I'll have something instead.  It's very rarely the other way round.
Bakewell
This rather suggests that teenagers are in fact not competent – consistently competent to make an ongoing decision, doesn't it?
Cave
Well yes but at the same time adults can equally change their mind over the course of time. 
Bakewell
Okay, now I want to know what advice you would give to the medical team who are treating Ashley at this stage.
Cave
I think if there's a continuing disagreement then the doctors might be best advised to seek the advice of a judge and I would suspect that the judge might issue a specific issue order that this treatment would be in the best interests of Ashley but probably wouldn't go further than that.  And that the judge might do so in the hope that that would just be enough to persuade him to comply.
Bakewell
And Sue you're nodding agreement here.
Morgan
I am nodding agreement.  I also think that we need to listen to the fact that he didn't want treatment and we cannot force him to have treatment.  But I would like to think that once you'd said okay you don't have to have treatment he might go away and think okay I'll have it now.  So accept that he doesn't want the treatment but leave the door wide open for him to come back.
Bakewell
Mat, what would you say to Ashley?
Enright
If he's really worried about being sick constantly and then potentially for the rest of his life worrying that he's going to relapse that maybe isn't – that isn't a life to him and maybe the best way forward for him is to enjoy what time he's got left.  So I would go with his decision but again I'd really hope that he would change his mind.
Bakewell
Well let's find out what happened in this case.
It's a matter of a few days since Ashley received the shocking news that his cancer has returned and he's now refusing treatment.  Everyone is trying to persuade him to change his mind.  But it's his mother who starts to see things differently.
Mother
After he said that he would run away from home and die on the streets I eventually I suppose started listening to him.  I did sit him down, when we were on our own, and I said to him I've got to ask you please do it, I'll be there all the way.  And he just looked at me, big sad eyes and said I can't mum.  He even said, and I can't believe that he said this at his age, that everybody has a purpose and his purpose was that it was his time to go and he accepted that so I needed to accept that.  And I think him saying that….made me realise that it was his life not mine.  And for as much as I knew it was going to kill me inside I needed to do what was best for him, not me.
Bakewell
The team decided not to take Ashley's case to an ethics committee, or to court.
Psychologist
The dilemma of whether or not to take things through the court was resolved I think mostly by mum coming across to support Ashley.  That made our decision much easier, closely followed by the fact that he fully understood what his refusal would mean.
Doctor
I think the judge would have taken the view that he couldn't override his autonomy at that age.  And I think that even if the judge said you should have this treatment, the actual delivery of the therapy with a reluctant six foot two young adult would have been impossible.
Mother
After the decision was made he then started to plan what he wanted as a funeral. It was I don't want you have to go through this so let me do it for you mum.  And what a wonderful young person. With them only giving him a month to two months we didn't have much time.  If that meant that I needed to squeeze a lifetime in whatever weeks he had left then I wanted to make sure I could do that for me.
Bakewell
Ashley was driven by limousine to watch his favourite football team and meet the players. 
Mother
I always said, even when he was a little boy, that I'd throw him a big 16th birthday party.  And within two days I'd got a disco, food was coming from every but which way from people.  By that weekend he was having a 16th birthday party, even though it was weeks and weeks early, but he was having it.
Psychologist
Friends were coming in and out all day and there was music and his grandma was around.  At one point he said something about being scared and I spoke to the doctor and she said – well ask him if he wants to change his mind because we can start treatment straightaway.  He was absolutely adamant he didn't want to change his mind.  He asked me if I'd ever been through this with anybody else and I said no.  And then he said – you know if you want to use this sort of situation in talking to other young people, if that helps, then I'm okay with that.
Mother
Within three weeks he couldn't get out of bed, unless he was in a wheelchair.  So it all seemed to happen fairly fast from that point.
Bakewell
Ashley died at home three weeks' later, 22 days before his 16th birthday.  His story stays with his cancer specialist to this day, and has inspired his efforts to improve cancer treatment for teenagers.
Doctor
We all felt that we'd all tried our hardest but we'd got a point where communication was not good enough in Ashley's eyes for him to listen to what we were saying.  And I think it's experiences like Ashley that promoted the energy amongst us all to say this has to happen and the network of teenage cancer trust centres across the country have been developed since Ashley was diagnosed.
Mother
It's been nearly 12 years, I miss him as much now as I did then.  I'd give anything for him to be here with me now.  But for him, if nothing else, because there's loads of questions you have when something like this happens, the only thing I do know, and I can answer, is I did right by my child, I know I did the right thing.
ENDS
Broadcasts

Podcast
Joan Bakewell and a panel of experts wrestle with the ethics of a real-life medical case.