Main content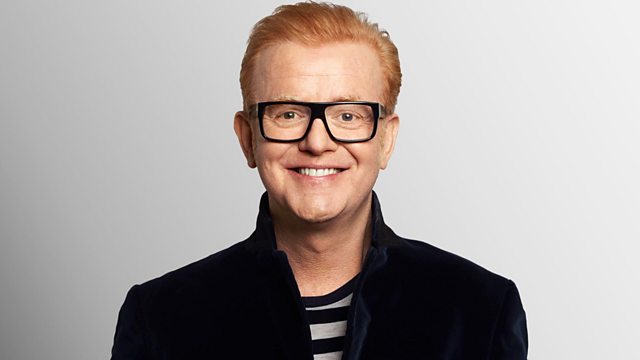 19/08/2015
Mary Berry talks to Chris about how the bakers tackle bread ahead of the week's episode of the Great British Bake Off.
Mary Berry talks to Chris about how the bakers tackle bread ahead of this week's episode of The Great British Bake Off!
The Not So Mystery guest is The Pearly King Of Peckham, George Major.
And today's show is dedicated to anyone who feels like something has finally clicked in their life...providing it's not somehwre in their back.
Pause For Thought
From Reverend Sharon Grenham-Thompson, Anglican Priest and Prison Chaplain:
I've been teaching my 8 year old daughter Maddie to knit this week – it's been really lovely, snuggled up on the sofa together, laughing when we get into a tangle and at last she got it! I could see the sense of achievement on her face, and although she's got a way to go before she's making me a jumper for Christmas, she's mastered the basics. 
I remember my Nan teaching me the same thing, when I was about the same age as Maddie. Although I'm still not that good at knitting, it was something handed down to me from that special lady who passed away a long time ago.
Her husband, my granddad, has been on my mind too this week, as it would have been his birthday yesterday, and he was one of those servicemen who was a prisoner of war in Burma, who've been very much in the news as part of the VJ day celebrations. Again, I have some really happy memories of a lovely man, now sadly gone from us.
Just recently, someone I know moved from the house where he'd been living for many, many years , and one of his friends asked him how he would cope, 'leaving behind' all those memories. But the truth is, we don't leave them behind – memories come with us wherever we find ourselves. OK, they might not always be good ones, and we have to try to overcome the difficulties that some memories cause us. I know too that some people as they get older have trouble with memory. But mostly those happy memories from long ago stay with us, and people we love live on in the things they said and did.
My faith often talks of eternal life – and I find that quite a difficult concept – clearly we don't all live in this world for ever.  But I believe memories do go on. And you know, the way we live OUR life, and the memories WE leave behind for others, do last, often down the generations. I wonder what my grandchildren, when and if they arrive, will remember about me – probably not my knitting!!!