Main content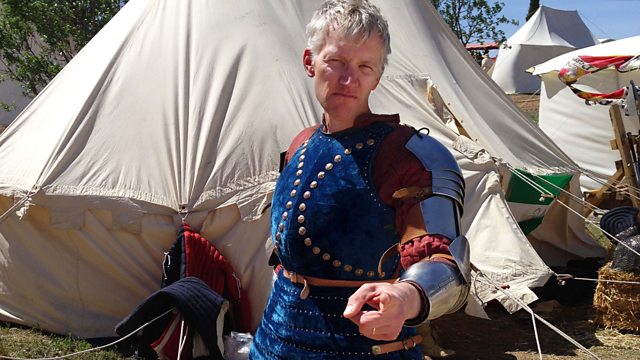 04/08/2015
Tom Holland is joined by Dr Francis Young and Dr Charles Insley to discuss Aethelwold's rebellion, the cult of Saint Edmund and how Catholic martyrs turned execution into theatre.
Aethelwold's Rebellion
Dr Ryan Lavelle from the University of Winchester marks a little remembered rebellion in the Dorset town of Wimborne which was brought on by the death of King Alfred in 899 and which tells us something about the succession of kings and queens in the early middle ages.
When Alfred died in 899 Aethelwold had a claim to the West Saxon throne. His father was Ethelred, Alfred's brother  but Aethelwold was too young to succeed him in 871. In 899 he had a powerful claim, but Alfred had been grooming his son Edward to become king. Aethelwold chose Wimborne as the place of his rebellion because his father was buried in the minster there. Edward laid siege to the town and Aethelwold escaped north to Northumbria where, according to the  Anglo Saxon Chronicle, he was crowned 'king of the pagans'. He died at the Battle of Holme somewhere in the East Anglian fens in 902 or 903.
See Ryan Lavelle's chapter in "The Politics of Rebellion: The Ætheling Æthelwold and the West Saxon Royal Succession, 899–902" 2009). In Skinner, Patricia. Challenging the Boundaries of Medieval History: The Legacy of Timothy Reuter. Turnhout, Belgium: Brepols.
Also Williams, Ann (1991a). "Æthelwold Ætheling d. 903". In Williams, Ann; Smyth, Alfred P.; Kirby, D. P. A Biographical Dictionary of Dark Age Britain. London, UK: Seaby. p. 33.
Yorke, Barbara (1988). "Æthelwold and the Politics of the Tenth Century". In Yorke, Barbara. Bishop Æthelwold: His Career and Influence. Woodbridge, UK: The Boydell Press.
The enduring cult of Saint Edmund - Catholic king and martyr
Dr Francis Young has recently published a paper in the journal Folklore which examines the cult of the East Anglian king, Edmund in which he explores the fact that the reputation and importance of this catholic martyr grows after the reformation right up until the present day. This is the abstract to that paper:
St Edmund, King and Martyr survived the Reformation as a hero and emblem of East Anglian regional identity. This article traces the development of the post-Reformation Edmund in 'popular' sources, including his continuing presence in the landscape and the influence of the nineteenth-century 'cult of commemoration' on perceptions of the saint.
We know little about the man, his rule or where he met his death, but Edmund is now not only a symbol of East Anglia, found on flags and even beer bottles, but a candidate, for some, to be England's patron saint.
See The Cult of St Edmund in Medieval East Anglia by Rebecca Pinner. Published by Boydell and Brewer. ISBN: 9781783270354
Catholic martyrs and the 'theatre of death'
In a paper published by The Society for Renaissance Studies, Dr Emilie Murphy from the National University of Ireland in Galway has been exploring the evidence of music and song to understand how Jesuit priests facing death would own the space of their execution in what she describes as a 'theatre of death'. Dr Murphy argues that these catholic martyrs would learn and rehearse songs which they would then sing before being hanged. In her paper she quotes the best known of these victims, Edmund Campion:
"We are made a spectacle, or a sight unto God, unto his Angels, and unto men: verified this day in me, who am here a spectacle unto my lorde god, a spectacle unto his angels & unto you men"
From: Thomas Alfield, A True Reporte of the Death and Martyrdom of M. Campion 1582
See also:  
 J. A. Sharpe, 'Last Dying Speeches: Religion, Ideology and Public Execution in Seventeenth-Century England 'Past and Present' No. 107
Thomas S. Freeman and Thomas F. Mayer (eds.), Martyrs and Martyrdom in England (Woodbridge: Boydell & Brewer, 2007);
Susannah Brietz Monta, Martyrdom and Literature in Early Modern England (Cambridge: Cambridge University Press, 2005)