Main content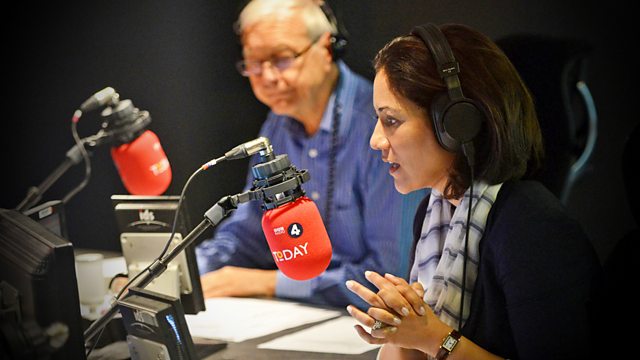 03/08/2015
Morning news and current affairs. Including Sports Desk, Weather and Thought for the Day.
Clips

Today's running order
0650
A non-invasive, inexpensive urine test for early stage pancreatic cancer now looks possible. We hear the latest from Professor Nick Lemoine, director of Barts Cancer Institute at Queen Mary University.
0710
Jeremy Corbyn's "starry-eyed hard-left" economic strategy would push up inflation and interest rates, undermine support for public services and deliver a decade or more of Conservative rule.  That's the warning from Labour's shadow chancellor Chris Leslie, who we speak to today.
0715
The Greek Stock Exchange is opening today after being closed for five weeks. Constantine Michalos is head of Hellenic Chambers of Commerce and Industry.
0720
A brain-training computer game has been found to help people with schizophrenia. Barbara Sahakian is a professor of Clinical Neuropsychology at Cambridge University and led the team working on 'Wizard'.
0730
Child abuse is still a problem in Rotherham. Today the UK's biggest specialist project to tackle the sexual exploitation of children will be launched in the area. We hear from a 23 year old who was groomed in Rotherham from the age of 11 and Javed Khan, chief executive of Barnardo's.
0740
Edinburgh's Fringe Festival gets underway starts this week and this year a special programme titled The Sick of the Fringe will bring together scientists, doctors and performers to explore mental illness. We speak to artist Brian Lobel and stand-up comedian Tom Allen.
0750
Lord Coe, who's running to be president of the world athletics governing body, the IAAF, says the organisation is taking the latest allegations of doping in the sport "extremely seriously".   Michele Verroken is former director of ethics and anti-doping at UK Sport. Rebecca Adlington is double Olympic Gold Swimmer.
0810
Landlords could face up to 5 years in jail unless they check the status of illegal immigrants before they rent to them. Richard Lambert is chief executive of the National Landlords Association. Greg Clarke is secretary of state for Communities and Local Government.
0820
Books of condolence will open in Liverpool today to allow people to pay tribute to Cilla Black, the singer and entertainer, who died at the weekend. Gerry Marsden is a musician best known for being leader of the British Merseybeat band Gerry and the Pacemakers. Lord John Birt is former director-general of the BBC.
0830
Two Turkish soldiers were killed and 31 wounded in a bomb attack on a military police station in the far east of the country over the weekend. Onur Oymen is former Turkish ambassador to NATO.
0840
The only surviving Navy ship from the ill-fated Gallipoli campaign opens to the public this week, at the National Museum of the Royal Navy in Portsmouth. Matthew Sheldon is the museum's project director. Lesley Wills is granddaughter of Richard Chapple, a Royal Marine who was aboard the ship.
0845
Nigeria's commercial capital Lagos badly needs new transport infrastructure. A new railway has been promised for decades, but it's only recently that the project has actually taken off, with more than a little help from China. Our Nigeria correspondent Will Ross reports.
0850
Books of condolence will open in Liverpool today to allow people to pay tribute to Cilla Black, the singer and entertainer, who died at the weekend. Alex and Sue Tatham got married after meeting on Blind Date.
All subject to change.