Main content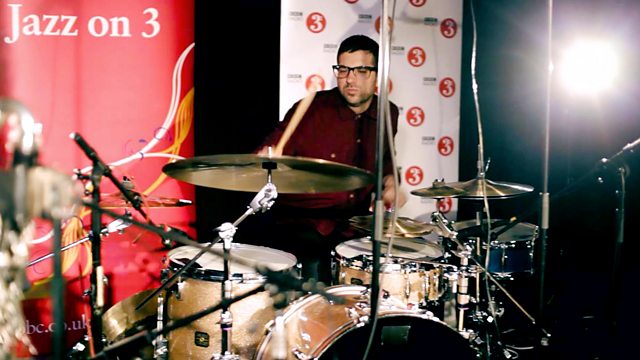 Adventures in Sound: Mark Guiliana, Chris Morrissey, Shabaka Hutchings
Drummer Mark Guiliana and bass player Chris Morrissey perform together with saxophonist Shabaka Hutchings for the first time in an exclusive Adventures in Sound improvised session.
American drummer Mark Guiliana and bassist Chris Morrissey meet British saxophonist Shabaka Hutchings for the first time in an improvised 'Adventures In Sound' session.
Known for his machine-like precision and complex groove work, Mark Guiliana has built a career as a true drummers' drummer, and one of the most in-demand beatsmiths of the New York scene. Whilst collaborations with players such as Brad Mehldau (as Mehliana) are testament to his pedigree, Guiliana also leads Beat Music - a sonic exploration that fuses ideas from jazz, dub, and electronic music - and it's his rhythm section partner from that band, bassist Chris Morrisey who joins him for this intimate session recorded exclusively for Jazz on 3. When posed with the opportunity to pick a British musician to join them in the studio, the pair jumped at the chance to work with Sons of Kemet's Shabaka Hutchings, who joins on tenor saxophone and clarinets in a totally spontaneous first meeting.
Presenter: Jez Nelson
Producer: Chris Elcombe.
Clips

Music Played
New Release

Mark Guiliana, Chris Morrissey and Shabaka Hutchings in conversation

Mark Guiliana, Chris Morrissey and Shabaka Hutchings in session on 26 May 2015 at the Jazz on 3 Studios

Unsung Heroes: Sarah Gail Brand in conversation with Steve Noble

Steve Noble and John Butcher in session for Jazz on 3 in 2001

New Release

Liam Noble pays tribute to pianist John Taylor